I received this book for free (hey, thanks!) in exchange for an honest review. I promise that this does NOT affect my opinion of the book or the content of my review. For real.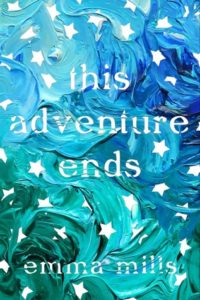 This Adventure Ends
by
Emma Mills
on October 4th 2016
Also by this author:
First & Then
,
Foolish Hearts
,
Famous in a Small Town
,
Something Close to Magic
(320 pages) •
Goodreads
•
Amazon
•
Barnes & Noble

Sloane isn't expecting to fall in with a group of friends when she moves from New York to Florida—especially not a group of friends so intense, so in love, so all-consuming. Yet that's exactly what happens.
Sloane becomes closest to Vera, a social-media star who lights up any room, and Gabe, Vera's twin brother and the most serious person Sloane's ever met. When a beloved painting by the twins' late mother goes missing, Sloane takes on the responsibility of tracking it down, a journey that takes her across state lines—and ever deeper into the twins' lives.
Filled with intense and important friendships, a wonderful warts-and-all family, shiveringly good romantic developments, and sharp, witty dialogue, this story is about finding the people you never knew you needed.
Initial Excitement
After loving FIRST & THEN to absolute pieces back when I read it, I was so eager to read THIS ADVENTURE ENDS. I loved Emma Mills' style of storytelling and super charming, yet flawed, main character(s). I was so excited to end up with an advanced copy of this one and I'm surprised I waited until the end of August to finally read it.
Summary in a Second
Sloane and her family move to her childhood vacation town in Florida after living in NY. Her father is a famous author and he needs to get his writing mojo back, so the family opts for a change of scenery. Sloane quickly falls in with a pair of twins, Vera and Gabe, and their friends Aubrey, Remy, and Frank. When Vera/Gabe lose sight of a painting their deceased mother left them, Remy and Sloane make it their goal to track it down. This is a story about friendship, love, family, and fandom!
Storytelling & Setting
The whole premise behind this story was so intriguing. It had elements of my favorite tropes, like road trips, slow burn romance, friends-to-more romance, fandom/writing/reading, and strong, sassy main characters. I loved following Sloane on her journey with Remy to track down the painting while watching her friendships strengthen with the various people in the group. She was also a fantastic singer, so there were some elements of "will I be singing for the rest of my life and/or college career?" that were fun to uncover too.
Her father was a famous author (similar to Nicholas Sparks) who had many of his books made into movies. There is a sub-plot about him and his writing as he gets into a TV show with a huge online fanfic fanbase. It was fun to read about those elements in a really accessible and interesting way. It just added a little something to the story.
About those Characters
Sloane was a really interesting character. She was super guarded with her feelings and often made jokes instead of giving straight-up answers to things. She wasn't good at expressing herself and never really had friends (let alone best friends that you'd "straight-up kill for") in the first place. It was fun to watch her open up without losing sight of that personality.
The rest of the friend group was really interesting! Vera and Gabe had the twin thing going on, which is always a good time, and Aubrey and Remy had the exes-forced-to-be-friends-again thing. Frank was just… Frank. Inexplicable! Everyone had their own issues they were dealing with and honestly it would take me forever to unpack everything. I think Mills did a good job of covering each person and their unique circumstances without taking too much time away from the main plot OR under-developing things for the sake of brevity.
The familial relationships were also great. I loved her relationship with her father, little sister, and mom. Some of the relationships were more understated and her father took center stage in the story.
All the Feels
Ugh so many feeeels. The biggest was definitely friendship-oriented. Watching Sloane fall into a group of friends that she legitimately clicked with was fantastic. The banter between all of them! SO GOOD. I could have read way more basic, everyday conversations with them. I laughed like a moron and smiled throughout the entire book because of the constant jokes and back-and-forth. The baby sweat thing was so funny (it sounds weird but take my word for it, okay?). I loved it so much.
So, What's the Problem?
To be completely honest, I can't put my finger on it. I don't feel like there was anything really missing from the story; it felt really well-rounded! However… there just IS a little something missing. I think that my brain didn't process a lot of what was happening as I sped through to the end. It was super addicting to read and I loved that, but maybe I didn't give myself enough time to really focus and enjoy it. This seems like the kind of book that would be even better upon a second read. I loved the characters and story so much!
I don't want to spoil anything about the romance because it was suuuuper duper incredibly slow burn. But, for those who have read it: View Spoiler »I can't believe they didn't even kiss until the last chapter of the book! I felt the tension the entire time even though Sloane was denying it. It would have been really nice for there to be some kind of focus around it instead. I would have wanted more time with Gabe and Sloane together! « Hide Spoiler
How it Ends
I was pretty satisfied with the ending! Without giving anything away, I would have liked a little more from it. It was good and made me happy, but you can check the spoilers for more of my thoughts on the ending. My biggest "issue" is the romance. Kind of.
TL;DR?
Suuuuch a cute, wonderful book about finding friends and managing those friendships. There were so many fun elements about fandom and fanfic too. I'd recommend this book for anyone who enjoyed Mills' debut, because this one was probably even better. Even if you didn't love it, you'll likely enjoy this story. I loved the banter between friends and the hint of romance.
Quick & Dirty
Describe it in a word: nearlyperfect
Recommended for readers who: LOVE GREAT BOOKS
Drink this beverage with it: hmmm I think lemonade
Recommended overall? ABSOLUTELY
Thoughts in a Gif
Rating Breakdown
| | |
| --- | --- |
| Plot & Premise | |
| Characters | |
| Writing Style | |
| Pacing & Flow | |
| Feels or Swoons | |
| Addiction Level | |
| Overall: | 4.7 |
Break it Down, Icon Style
Related Posts