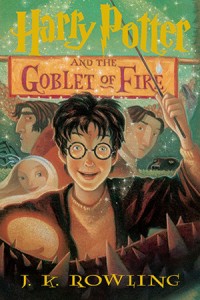 Harry Potter and the Goblet of Fire
by
J. K. Rowling
Series:
Harry Potter #4
Genres:
Fantasy
,
Young Adult
Published by
Scholastic
on July 8th 2000
Also by this author:
Harry Potter and the Sorcerer's Stone
,
Harry Potter and the Chamber of Secrets
,
Harry Potter and the Prisoner of Azkaban
,
Harry Potter and the Order of the Phoenix
,
Harry Potter and the Half-Blood Prince
,
Harry Potter and the Cursed Child
Format:
Audiobook
(734 pages) •
Source:
Library
Goodreads
•
Amazon
•
Barnes & Noble

The summer holidays are dragging on and Harry Potter can't wait for the start of the school year. It is his fourth year at Hogwarts School of Witchcraft and Wizardry and there are spells to be learnt and (unluckily) Potions and Divination lessons to be attended. But Harry can't know that the atmosphere is darkening around him, and his worst enemy is preparing a fate that it seems will be inescapable ...With characteristic wit, fast-paced humour and marvellous emotional depth, J.K. Rowling has proved herself yet again to be a master story-teller.

This is the first book I had to anxiously await reading! Since I finished the first three books before this one's release, I had to wait and wait for it to come out. My parents were pretty good about letting me preorder the books (especially because they were addicted to them at this point, too!) and I remember being so damn excited for it to arrive.
This book is huuuuge in size and I remember walking around everywhere with it in my hands, barely able to fit. I also loved the Triwizard Tournament aspect of this book. It was such a cool idea and kept the action dispersed throughout the book. I knew that this was kind of the "turning point" in the series, where Voldemort is officially back; the books get much darker from here on out.

Duh, Harry Potter! I always wanted to reread this series. Beyond that, though, I was almost the most anxious to reread this one out of all of them. I knew that #3 and #4 were close favorites of mine, but I always said Prisoner of Azkaban was my favorite. I wanted to reread this one to see if my reigning favorite would remain, or if this one would take its place!
Well, I'm pretty sure this one has officially become my favorite! It feels weird to say that, but I guess my tastes have changed. I just LOVED the whole tournament, the new characters, and the fact that this book is THE book that kind of sets everything in motion. From here on out, the books become more focused on Voldemort and trying to take him down; they become less and less focused on Hogwarts. It's pretty bittersweet, but I just think this one is so well-rounded.

Absolutely! Again, I want to reread the whole series every couple of years. I'll probably listen to the audiobooks again too, since the narrator is pretty amazing.
Related Posts