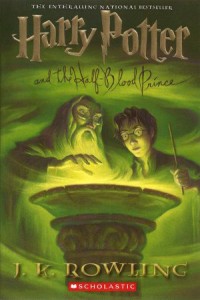 Harry Potter and the Half-Blood Prince
Series:
Harry Potter #6
on July 16th 2005
Format:
Audiobook
(652 pages) •
Goodreads
•
Amazon
•
Barnes & Noble

The war against Voldemort is not going well; even Muggle governments are noticing. Ron scans the obituary pages of the Daily Prophet, looking for familiar names. Dumbledore is absent from Hogwarts for long stretches of time, and the Order of the Phoenix has already suffered losses.
And yet... As in all wars, life goes on. Sixth-year students learn to Apparate — and lose a few eyebrows in the process. The Weasley twins expand their business. Teenagers flirt and fight and fall in love. Classes are never straightforward, though Harry receives some extraordinary help from the mysterious Half-Blood Prince.
So it's the home front that takes center stage in the multilayered sixth installment of the story of Harry Potter. Here are Hogwarts, Harry will search for the full and complex story of the boy who became Lord Voldemort — and thereby find what may be his only vulnerability.

I remember getting this one in the mail as a preorder… and reading it right away! My parents were reading them after me, so they would always bug me to finish right away. Of course, that was never a problem. I usually raced through these!
Ugh, the feels again. This book and the previous totally slayed me the first time around. I mean, honestly. I couldn't believe that she KILLED THEM BOTH. So cruel. (It was so hard to keep this information to myself the first time I read them too… I kept being like MOM PLEASE FINISH I NEED TO DISCUSS THIS WITH SOMEONE!) I also remembered that this is the one where Harry finally gets an idea of what it will actually take to kill Voldemort. The quest for horcruxes kicks off.

Can my answer still just be: Harry Potter + reread = DUH. I mean, really, who do you think I am? I'm pretty surprised I didn't reread these sooner honestly. Jim Dale's narrator voice is totally bae.
SAD AS USUAL. Ugh. I have to say, it feels weird to finally be at this part of the reread! Only one book left. Unfortunately I remember not loving the 7th book much until about halfway through. That period of time where they're literally walking around and setting up camp was so boring. ANYWAYS BACK TO THIS BOOK. So there were actually lots of things I forgot about! I didn't remember that he and Ginny started dating in this book for some reason. It's dumb because I kind of did know, but also didn't. Yeah. Also, the Hermione + Ron ship starts to form even more. I never picked up on those ~vibes~ from them in previous books, honestly. This book is when I was like oh my god guys open your eyes. Also, I decided on my general ranking as well – my favorites in order are: 4, 3, 1, 6, 5, 2. I'm pretty sure the final book will come in somewhere around the middle/end of my ranking, just for the boring parts.

DUH. I hope I can better prepare for the sadness towards the end next time, though. Good lord. These books will never stop being perfect to me.
Related Posts