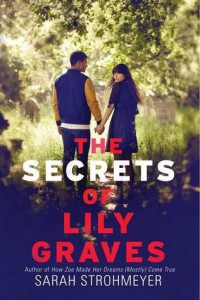 The Secrets of Lily Graves
by
Sarah Strohmeyer
Genres:
Mystery/Thriller
,
Young Adult
Published by
Harper Collins
on May 13th 2014
Format:
Paperback
(304 pages) •
Source:
Library
Goodreads
•
Gone Girl meets Six Feet Under in bestselling author Sarah Strohmeyer's romantic YA mystery about a girl who must unravel a web of lies in her small town before it's too late.

Descended from a long line of female morticians, Lily Graves knows all about buried secrets. So after senior-class president Erin Donohue—perfect saint to the community—turns up dead, Lily believes it's her job to find the culprit. But Lily has feelings for Erin's ex-boyfriend, Matt, which makes both of them suspects and makes Lily's investigation . . . complicated. As her world crumbles around her, Lily must figure out the difference between truth and deception, between genuine love and a web of lies. And she must do it quickly, before the killer claims another victim.Fans of Sara Shepard who enjoy realistic contemporary fiction with a dash of mystery will love the secrets, lies, and romance swirling in this sexy, intriguing novel.
I had pretty low expectations when starting this book because I had seen a lot of pretty negative reviews. Most people said that it was glaringly predictable, but I am SO BAD at predicting things in books. Mysteries and thrillers always catch me off guard because I kind of try not to make theories about what's going to happen because I would rather be surprised…. but even when I do make predictions, they're wrong. I was thinking that I would be the black sheep and actually end up liking this one, but I was nervous about the ending. (I had a feeling this was going to a book that's success hinged on the ending, and I was right.)  I think the overall concept and setting was really cool. It was the epitome of a story that sounds GREAT in theory but was poorly executed.
What Worked
The fact that the main character, Lily, was in a family that ran a funeral home was pretty sweet. I thought that would be a good setup for an interesting story that obviously involved death. It was able to give Lily some insider information to help her solve the mystery. That whole aspect was interesting and kept me reading.
In general I think Lily was veryyy generally characterized, which is obviously not a good thing, but there were a few instances where humor and feminism shown through. I liked that she stayed true to herself no matter what.
The pacing was pretty good. It was a pretty engrossing story to read. I liked that little things kept being revealed and the characters were trying to solve the mystery themselves. I finished the book in the day and reaaaally thought I was going to end up liking it.
What Didn't Work
Maybe this is stupid, but the title doesn't work. Lily really didn't have a lot of secrets. Everyone else did.
I didn't care about the characters. As I said, Lily was very bland and characterized in a general sense. We didn't learn much about her aside  from a few good snarky remarks. Her unwavering belief that Matt was innocent was pretty annoying because we didn't see anything about their relationship aside from flashbacks, and even then…
The romantic element was AWFUL. So underdeveloped! We're supposed to believe that these two are somehow a match made in heaven despite the fact that all evidence of their relationship building up was stupid, set in the past, and did not show ANY chemistry whatsoever. I don't get it. Her support of Matt and the freaking ending View Spoiler »when we're supposed to believe these two are somehow meant to be and live happily ever after… I just don't get it. I don't see the chemistry. I don't ship it one bit. « Hide Spoiler
Some of the language and interpretation of high school was annoying to me. Lily and Sara had nicknamed a group of people the "Tragically Normals," which was just cheesy to me. The fact that the author chose the last name of Graves for a family who runs a funeral home was also kind of cheesy. Just some of the setup and background information seemed unnecessary and/or stupid.
Everything starts escalating to the end and the typical red herring situation is setup. Obviously it's never that easy. The rest of the ending and the final conclusion though… I just don't believe it. View Spoiler »There were some hints that implied it was Sara and their family throughout the book but it really just didn't make sense to me. It seemed REALLY forced. Would she really go that far to help her father cover something like that up? Couldn't they have just fled to India like they planned WITHOUT killing anyone? Let the girl have the baby and since you're gone, no one will even know the difference. « Hide Spoiler
Related Posts