Hello friends! I'm here today for my stop on the DREAMLAND BURNING blog tour. (If you're visiting my blog for Top Ten Tuesday, you can see the belated post tomorrow!) This book has some really important and interesting connections to previously overlooked historical events, so I hope you like what I put together today. You can find more information about the book and a mini review from me at the bottom of the post.
---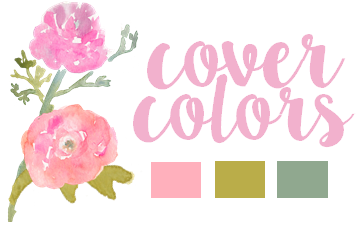 It's no secret that I'm obsessed with book covers. I love the colors, the typography, the different designs that cover artists can create. I even have a guest post feature where people share their favorite book covers and bookmarks! I decided to start up this random feature where I draw color inspiration from my favorite book covers. I may create an outfit, pick out some nail polish, or design a quote graphic.
Today's cover is… Dreamland Burning by Jennifer Latham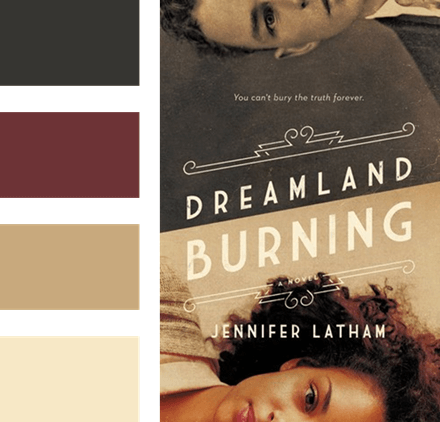 I've never done such a muted cover before for this feature, but I love how these colors use the sepia tones to imply history. I don't read a lot of historical fiction, but the connections between past and present for this story really intrigued me. I pulled colors from the backgrounds, text, and hair to create the old-timey palette. I grabbed the above quote from a section of the synopsis before even reading the book. This quote could not be more relevant to feature here, both from a historical perspective and from the book itself.
This book is about the Tulsa Race Riots that happened in Tulsa, OK in 1921. Before this blog tour, the publisher shared how these riots were essentially wiped from history books up until 2011. Some books still don't even mention what happened. It was one of the deadliest race riots in history and is now finally being widely discussed. There is an exhibition in The Smithsonian's new African American History Museum and John Legend's production company is working on Black Wall Street, a series about the community that was burned down and looted in the two-day rampage. (Much of this information paraphrased from the publisher email.)
I did a little investigating of my own and found the Tulsa Historical Society & Museum website, which talks about their exhibit for the race riots. The following information is from that site and explains some details of what happened during that timeframe:
In the early morning hours of June 1, 1921, Black Tulsa was looted and burned by white rioters. Governor Robertson declared martial law, and National Guard troops arrived in Tulsa. Guardsmen assisted firemen in putting out fires, took imprisoned blacks out of the hands of vigilantes and imprisoned all black Tulsans not already interned. Over 6,000 people were held at the Convention Hall and the Fairgrounds, some for as long as eight days.
Twenty-four hours after the violence erupted, it ceased. In the wake of the violence, 35 city blocks lay in charred ruins, over 800 people were treated for injuries and contemporary reports of deaths began at 36. In 2001, the Tulsa Race Riot Commission released a report indicating that historians now believe close to 300 people died in the riot.
I was going to make one of my usual collages here, but couldn't think of anything really appropriate. The topic of the book is heavy – a cold case murder during these Tulsa Race Riots, so I didn't think an outfit/accessory post would really work in this case. I wanted to share a few photos from the aforementioned website, and you can see them above and below this paragraph. (Click the photos for their source.) I really encourage you to do more research on this topic, because I truly had no recollection of learning about it in school. It makes me wonder what else has been eliminated from our history books.
---
I received this book for free (hey, thanks!) in exchange for an honest review. I promise that this does NOT affect my opinion of the book or the content of my review. For real.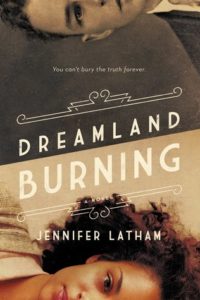 Dreamland Burning
by
Jennifer Latham
on February 21st 2017
(365 pages) •
Goodreads
•
Amazon
•
Barnes & Noble

Some bodies won't stay buried.
Some stories need to be told.

When seventeen-year-old Rowan Chase finds a skeleton on her family's property, she has no idea that investigating the brutal century-old murder will lead to a summer of painful discoveries about the past... and the present.

Nearly one hundred years earlier, a misguided violent encounter propels seventeen-year-old Will Tillman into a racial firestorm. In a country rife with violence against blacks and a hometown segregated by Jim Crow, Will must make hard choices on a painful journey towards self discovery and face his inner demons in order to do what's right the night Tulsa burns.

Through intricately interwoven alternating perspectives, Jennifer Latham's lightning-paced page-turner brings the Tulsa race riot of 1921 to blazing life and raises important question about the complex state of US race relations – both yesterday and today.
Quick Thoughts
I have to admit, this book doesn't really scream "Lauren" at first glance. I don't read a lot of historical fiction, especially with the mystery element included (instead of fantasy/magic). For some reason, this summary of this book stayed on my mind when I first saw it, and I decided to step out of my comfort zone. I'm so glad I did! All of the information above, when I did a little research, got me even more intrigued to start reading and learn about something new.
I saw a few early Goodreads reviews about how it was so easy to keep turning pages and wanting to find out what was going to happen next. I totally agree; I couldn't put this down. I LOVED how short the chapters were and it wasn't too confusing going back and forth between the two points of view. The two different timelines and manners of speaking definitely helped, and the quick chapter changes upped the pacing and urgency. I keep thinking of the the word "tense" because I was on the edge of my seat and  nervous to see what was going to happen next when I got back to that particular timeline.
I loved seeing the two timelines come together and connect. This started early on in the book, which also added to the fast and intriguing pace. Even as things started coming together, it didn't feel "predictable" because the reader is figuring things out faster than the MC, since we have the ability to see into the past and present as both unfold. I predicted part of the ending but was definitely still surprised by quite a few things. I've never read about mysteries set across time, but I'll be on the lookout for more now!
---
About Jennifer Latham
LINKS: Website | Twitter | Facebook
I'm a grown-up army brat with two kids, two dogs, and a husband. After working in a morgue, a maximum-security prison, a heroin detox, and assorted middle and high schools, I decided to try may hand at writing. Happily, it stuck.
I love watching people.
And I love writing about the characters who live inside my head—even when they don't play nice.
---
Blog Tour Schedule
---
Giveaway
3 finished copies of DREAMLAND BURNING (US/Canada only)
Related Posts