I received this book for free (hey, thanks!) in exchange for an honest review. I promise that this does NOT affect my opinion of the book or the content of my review. For real.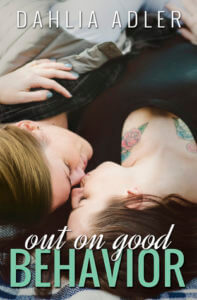 Out On Good Behavior
by
Dahlia Adler
Series:
Radleigh University #3
on June 14th 2016
Also by this author:
Behind the Scenes
,
Under the Lights
,
Just Visiting
,
Last Will and Testament
,
Right of First Refusal
,
His Hideous Heart
(168 pages) •
Goodreads
•
Amazon
•
Barnes & Noble

Content warning: because of its genre and/or because it has older characters than you normally see on my blog, it may contain sex, drinking/drugs, and/or violence.
Frankie Bellisario knows she can get anyone she sets her sights on, but just because she can doesn't mean she should—not when the person she's eyeing is Samara Kazarian, the daughter of a southern Republican senatorial candidate. No matter how badly Frankie wants to test her powers of persuasion, even she recognizes some lines aren't meant to be crossed.

But when Frankie learns she's been on Samara's mind too, the idea of hooking up with her grows too strong to resist. Only Sam's not looking for a hookup; she wants—needs—the real thing, and she's afraid she'll never find it as long as Frankie's in her head.

Forced to choose between her first relationship and losing the girl who's been clawing her way under her skin, Frankie opts to try monogamy...under her own condition: 30 days of keeping things on the down low and remaining abstinent. If she fails as hard at girlfriending as she's afraid she might, she doesn't want to throw Samara's life into upheaval for nothing. But when neither the month nor Frankie's heart go according to plan, she may be the one stuck fighting for the happily ever after she never knew she wanted.

I am too sad that this series is over. New Adult can be truly hit or miss for me. I find that I'm not a fan of a lot of drama and angst between the couples. I'm prettttty much here for the college-aged-setting and sexytimes. I really love Dahlia's books in general, but she pretty much slays at NA. She has a great mix of the hot stuff, the relationship development, and most importantly – FRIENDSHIP.
The saddest thing about this series is that I don't have the ability to hang out with Lizzie, Cait, and Frankie anymore. I love them so much. Between the dirty jokes and the fact that they're always there for each other, they are legit #squadgoals. I'm going to miss them.
The previous two books had a lot of family feels and issues brought in, but this one had almost zero. It's really not a big deal and I didn't notice that much when I was reading… but it's odd in hindsight. Samara had the issue of her parents and telling them she's gay but that wasn't at the forefront. We heard a little about Frankie's parents but no interaction with them at all.
The relationship between Sam and Frankie was really sweet. Frankie is known in the previous two books for doing whatever she wants with whoever she wants, so it was clear she'd need some character development for her to be monogamous. She didn't change herself for a girl though – she made changes because she finally found the right person and wanted to on her own. I loved seeing her grow into that.
I love that Frankie is pansexual and talks about what that means. It's refreshing to see that because it definitely doesn't happen that often! The romance in general was very hot. It's the first F/F NA that I've read (oddly enough the only other F/F I've read was also by Dahlia…) and I will definitely be reaching for more.
The second book in this series was my favorite but this one had a lot of great elements too. If you haven't read these books yet, please please please do yourself a favor and get started.

| | |
| --- | --- |
| Plot & Premise | |
| Characters | |
| Writing Style | |
| Pacing & Flow | |
| Feels or Swoons | |
| Addiction Level | |
| Overall: | 4 |

Related Posts