I received this book for free (hey, thanks!) in exchange for an honest review. I promise that this does NOT affect my opinion of the book or the content of my review. For real.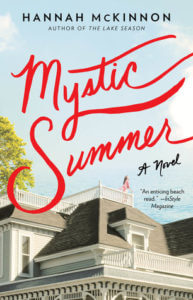 Mystic Summer
by
Hannah McKinnon
on June 7th 2016
(304 pages) •
Goodreads
•
Amazon
•
Barnes & Noble

A chance run-in with a college boyfriend puts a young woman's picture-perfect life in perspective in this warm-hearted and lyrical novel—from the author of The Lake Season.

Since finishing graduate school, Maggie Griffin has worked hard to build an enviable life in Boston. She's an elementary school teacher in a tony Boston suburb, a devoted sister, and a loving aunt. With her childhood best friend's wedding quickly approaching and her own relationship blossoming, this is the summer she has been waiting for.

But when Maggie's career is suddenly in jeopardy, her life begins to unravel. Stricken, Maggie returns home to seaside Mystic, Connecticut, where she expects to find comfort in family and familiarity. Instead, she runs into Cameron Wilder, a young man from her past who has also returned home, and whose life has taken a turn that puts Maggie's city struggles in harsh perspective. When tragedy strikes for Cameron, Maggie is faced with big decisions as she weighs what matters most and strives to stay true to the person she's become.

Set against the gorgeous backdrop of a New England summer when past and present collide, Mystic Summer is a gorgeous novel about looking back, moving forward, and the beauty that blooms when fate intervenes.

It is my absolute favorite thing to read books that take place in towns or cities I've been to before. What's even better? When it's a location I know very well and is in my home state! I adore Mystic and haven't been there in way too long. This book absolutely inspired me to get in the car some weekend soon and take a trip down there. It's only an hour-ish from where I live and is full of fun things to do. So, needless to say, the setting for this book was pretty wonderful. The author did a fantastic job of setting the scene for people who may have never been there. I'm positive that all readers want to visit Mystic after reading this.
Aside from the setting, this book was incredibly enjoyable. Maggie, the main character, starts spending time in her hometown of Mystic when her summer vacation starts. She was a teacher in a Boston prep school but finds out that she may lose her job due to budget cuts. She's in the midst of helping her best friend plan a wedding, figuring out where she'll live when her friend moves out, and determining some next steps with her actor boyfriend. When she comes home, she discovers her ex-boyfriend from high school has also returned to Mystic…with a lot going on that she didn't expect. The two spend time together and you can imagine the rest!
I enjoyed Maggie's personality a lot and loved being inside her head. She cared so deeply about the people around her – anyone from her friends to her family to children. She was just a good person and I loved reading that. A lot of the book is spent thinking about her teaching job and her future, as well as reminiscing on her past. Returning home just has that effect on her. It doesn't help when Cam comes back in the picture 😉
The book touches on a lot of different aspects of life and adulthood. She's approximately my age and dealing with a lot of uncertainty, which I can totally relate to. I can't pinpoint any issues I had with the book, but there was just a little something missing that stops me from giving it five stars. I enjoyed reading it so much and sped through most of the book in one sitting. I could have used a little more oomph and maybe some more pages towards the end!
If you like summery novels with charming characters set in picturesque beach towns, this is totally the book for you! I'm really excited to check out McKinnon's other novel The Lake Season as well. (Both of these covers are gorgeous and I can't stop staring at them.)

| | |
| --- | --- |
| Plot & Premise | |
| Characters | |
| Writing Style | |
| Pacing & Flow | |
| Feels or Swoons | |
| Addiction Level | |
| Overall: | 4.2 |


Author Website • Facebook • Twitter
Hannah attended her first young author's conference in Mrs. Meyer's third grade class and was never the same since. Growing up exploring the woods and waters of New England, she developed an affinity for nature, animals, and all stories involving the two.
An avid reader, Hannah enjoyed an early career in education. One spring afternoon, while reading a particularly heartfelt passage from a favorite novel, she looked up to see tears rolling down her students' eyes. Her first thought was, "Wow, look at the impact this book is having on these kids." Her second thought was, "Why aren't I doing this?"
Hannah's first two novels for young adults were the critically acclaimed Franny Parker, and The Properties of Water, with FSG/MacMillan in 2009 and 2010 respectively.
Recently, Hannah segued into commercial fiction. Her debut novel, THE LAKE SEASON, was published by Emily Bestler Books of Atria/ Simon & Schuster in June 2015. It was featured by CNN, Cosmo, and InStyle Magazine as a best summer read. Her next novel, MYSTIC SUMMER, comes out June 21st, 2016. Look for it in bookstores this summer!


Instead of doing a Rafflecopter giveaway for this one, I decided to do something a little different. Comment on this post and tell me: have you ever been to Mystic? What makes you want to read this book? Have you read the author's other book? Anything like that! Just show some love for the book and the post and I'll enter you to win a giveaway. Ends in one week – June 20th – and is US only!
Related Posts