I received this book for free (hey, thanks!) in exchange for an honest review. I promise that this does NOT affect my opinion of the book or the content of my review. For real.
Gone Too Far
by
Natalie D. Richards
Genres:
Mystery/Thriller
,
Young Adult
Published by
Sourcebooks
on January 6th 2015
Also by this author:
One Was Lost
Format:
eARC
(304 pages) •
Source:
Fantastic Flying Book Club
Goodreads
•
Amazon
•
Barnes & Noble

Keeping secrets ruined her life. But the truth might just kill her.

Piper Woods can't wait for the purgatory of senior year to end. She skirts the fringes of high school like a pro until the morning she finds a notebook with mutilated photographs and a list of student sins. She's sure the book is too gruesome to be true, until pretty, popular Stella dies after a sex-tape goes viral. Everyone's sure it's suicide, but Piper remembers Stella's name from the book and begins to suspect something much worse.

Drowning in secrets she doesn't want to keep, Piper's fears are confirmed when she receives an anonymous text message daring her to make things right. All she needs to do is choose a name, the name of someone who deserves to be punished...

Review
This is definitely a book that got stronger as it progressed. The first person perspective threw me off a little because I feel like most of the books I've read lately haven't been. It's a completely different reading experience, in my opinion. Some of the writing felt awkward at first because of that, but then I definitely got used to it. A lot of character names were introduced right away and I felt like they all blended together, but again I slowly got used to it and they all started to differentiate. Our main character, Piper, was definitely a character that developed over time. It was reminiscent of the character development in Dangerous Boys by Abigail Haas. The character starts out with pretty general characterizations, (she's interested in photography and just your average high schooler) and then becomes more involved with some darker stuff. She isn't a villain or anything that serious, but she gets mixed up in some bad things for a little while. It's very cool to see a character develop and change in a non-traditional way. Also, there were some majorly swoony scenes with a cute boy… which is always a plus. I like when there's a realistic romantic relationship included in mystery/thriller books. It adds a little something else to the plot.
I like books where I'm suspicious of every character because it makes things more interesting. I'm normally very bad at solving the mystery before the end of the book. I had a lot of theories of who was behind everything, but surprisingly the one character that I didn't suspect ended up being the one! Go figure. Things definitely got pretty crazy towards the end and kept me on the edge of my seat. I love when thrillers are scary but not creepy, if that makes any sense. The finale of the book was a whirlwind that finally answered all of the little mysteries.
Overall, this was a really great mystery that kept me guessing until the very end! It was well-paced and consistently engaging throughout.
Favorite Quotes
My favorite book quotes are often the ones that make me laugh out loud or show the funny, sarcastic side of a character. You can definitely tell that Piper fit the bill for that, based on my favorite quotes!

"Want to go on a run?"
My brows arch so high I think they brush my hairline. "Not unless there's an axe murderer standing behind me."

"Oh, you like him and you know it," he says, waving it off. "You get me a drink?"
"Your arsenic should arrive shortly."

 There are a handful of people on the porch smoking, and even from here I can hear the music pounding. Girls in micro-skirts and guys in collared shirts are wandering in and our of the house. It looks like… everything I hate about high school.
"Partial truths can be dangerous things. They leave a lot of room for lies."
About the Author
At seven, Natalie D. Richards wrote about Barbara Frances Bizzlefishes (who wouldn't dare do the dishes.) Now she writes about awesome girls, broody boys, and all things dark and creepy. Natalie lives in Ohio (Go Bucks!) with her techno-wiz husband, three amazing kids, and a seventy pound dust-mop who swears he's the family dog. Her psychological thriller, Six Months Later, will be released in October 1, 2013 by Sourcebooks Fire. Until then, you'll probably find her writing her next book or trying to wade through the towers of dog-eared paperbacks that have taken over her bedroom.
Author Links: Website / Blog / Goodreads / Twitter / Facebook / Pinterest
Giveaway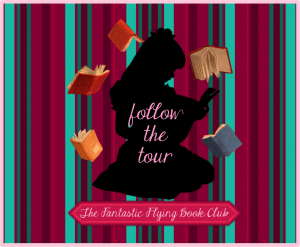 Click on the image to see the tour page and schedule!
Related Posts