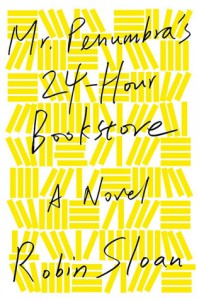 Mr. Penubra's 24-Hour Bookstore
by
Robin Sloan
Genres:
Adult
Published by
Macmillan
on October 2nd 2012
Format:
Paperback
(288 pages) •
Source:
Purchased
Goodreads
•

The Great Recession has shuffled Clay Jannon away from life as a San Francisco web-design drone and into the aisles of Mr. Penumbra's 24-Hour Bookstore. But after a few days on the job, Clay discovers that the store is more curious than either its name or its gnomic owner might suggest. The bookstore's secrets extend far beyond its walls.

-------------------------

August 1969 San Francisco. Ajax Penumbra seeks a book — the single surviving copy of the Techne Tycheon, a mysterious volume that has brought and lost great fortune for anyone who has owned it. Late one night, after another day of dispiriting dead ends, he stumbles across a 24-hour bookstore, and the possibilities before him expand exponentially.
I read Mr. Penumbra's 24-Hour Bookstore a few months ago for my Book Club. I saw it in the store and was intrigued by the story, and then I had the excuse to push it higher on my list for the meeting. I really enjoyed it; the concept was beyond what I normally read. When I saw that there was a prequel, I was definitely interested in reading it eventually too. I saw it on Audible recently and it was only an hour and 45 minutes long. Without further ado, here are my MINI REVIEWS for both books!
Mini Review: Who wouldn't want a 24-hour bookstore, with high ceilings and infinite shelves of books? The summary Mr. Penumbra's 24-Hour Bookstore immediately grabbed me. Clay begins working in this peculiar store when he loses his job within advertising. He has the late, overnight shift and makes crappy money. He wonders how the bookstore stays open when there are so few actual customers. The only people who really enter the shop are not even buying books – they're taking them out as if it were a library. He becomes curious about the old books he needs to climb up to the ceiling to get. Clay and his friends slowly uncover the mysteries of the bookstore and its clientele. Clay begins cataloging the books and the store's clients, when he starts to notice some odd patterns. He eventually learns the secrets of Mr. Penumbra's store and what the readers are looking to achieve. This book is about technology's impact on the book world. It's about the inevitable merging of these two forces and how they will affect each other. The book was a little boring at parts, but the intrigue was generally always there. Sloan's writing was beautiful and imaginative; he really describes the store and the characters perfectly to create the world. It's a perfect book for people who love books – that's really all it comes down to! What's better for readers than a book about the magical world of books and what they can do??  I can't give too much away plot-wise, as it is much more fun to unravel the mysteries and crack the codes along with the characters. The ending was a little disappointing in some ways, but the moral of this story is that the journey is more important than the destination. The characters learn so much about themselves and what they're capable of; it doesn't even really matter what the mystery actually ends up being. There isn't too much to say about the prequel, Ajax Penumbra 1969, besides the fact that it gives you very cool insight about how Ajax Penumbra ended up entangled in his business. It was definitely worth reading (in my case, listening to), just to catch another glimpse of their world. I highly recommend reading the prequel second, so nothing at all is spoiled for the book itself.
Related Posts