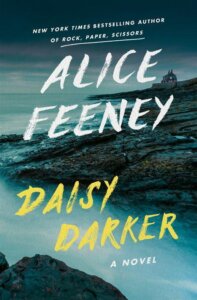 Daisy Darker
by
Alice Feeney
Genres:
Adult
,
Mystery/Thriller
Published by
Macmillan
on August 30, 2022
Format:
Audio/Physical
(352 pages) •
Source:
Library
,
Scribd
Goodreads
•
Amazon
•
Barnes & Noble

The New York Times bestselling Queen of Twists returns…with a family reunion that leads to murder.
After years of avoiding each other, Daisy Darker's entire family is assembling for Nana's 80th birthday party in Nana's crumbling gothic house on a tiny tidal island. Finally back together one last time, when the tide comes in, they will be cut off from the rest of the world for eight hours.
The family arrives, each of them harboring secrets. Then at the stroke of midnight, as a storm rages, Nana is found dead. And an hour later, the next family member follows…
Trapped on an island where someone is killing them one by one, the Darkers must reckon with their present mystery as well as their past secrets, before the tide comes in and all is revealed.
With a wicked wink to Agatha Christie's And Then There Were None, Daisy Darker's unforgettable twists will leave readers reeling.
This was such an interesting reading experience – I can now see why this is such a polarizing book haha. This is my first Alice Feeney and I'm not sure if that's a good thing or not. I have really weird expectations for what her other books may be like??
DAISY DARKER follows Daisy and the Darker family as they head out to her grandmother's island house for her 80th birthday. They all assume they'll be learning what they'll be getting for inheritances because her grandmother always expected to die at age 80. It follows the traditional AND THEN THEY WERE GONE plotline where people start being killed one by one.
There's a big ol' twist that plenty of people predicted but I felt like an absolute idiot because I didn't see it coming at all. The book itself was really sad, seeing how they treated Daisy throughout her life. It was super depressing. Because I managed to not really predict anything correctly, I can't help but give this a pretty high rating. BUT the twist itself is kind of cheesy at this point. Even if I'm not sure I liked it in many ways, it's definitely going to stick with me.
I read this book in one day – I listened to the audiobook when tooling around the house and read the physical copy whenever I had the chance. I'm never mad about an unputdownable book, so I won't complain too much!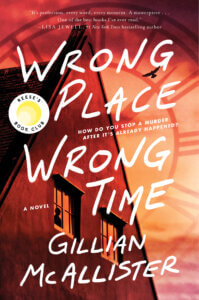 Wrong Place Wrong Time
by
Gillian McAllister
Genres:
Adult
,
Mystery/Thriller
Published by
William Morrow
on August 2, 2022
Format:
Audio/eBook
(416 pages) •
Source:
Hoopla
,
Scribd
Goodreads
•
Amazon
•
Barnes & Noble


Can you stop a murder after it's already happened?


Late October. After midnight. You're waiting up for your eighteen-year-old son. He's past curfew. As you watch from the window, he emerges, and you realize he isn't alone: he's walking toward a man, and he's armed.

You can't believe it when you see him do it: your funny, happy teenage son, he kills a stranger, right there on the street outside your house. You don't know who. You don't know why. You only know your son is now in custody, his future shattered.

That night you fall asleep in despair. All is lost.

Until you wake . . .
. . . and it is yesterday.
And then you wake again . . .
. . . and it is the day before yesterday.

Every morning you wake up a day earlier, another day before the murder. With another chance to stop it. Somewhere in the past lies an answer. The trigger for this crime--and you don't have a choice but to find it . . .
I'd been told by some friends I really should read WRONG PLACE WRONG TIME and I'm glad I finally prioritized it, clearly! It has a ton of high ratings and I can totally see why. I gave this one five stars because I truly didn't see anything coming, and it had such a unique premise.
Jen, the MC, witnesses her son murder someone in the street and get arrested. The next day she wakes up and it's actually the previous day. She continues to go back in time each day she wakes up; she quickly figures out that she is meant to pull clues together from each day that she relives in order to save her son and family.
A random POV gets added somewhat early in the book and I was dying to see how it connected. There were multiple jaw-dropping moments for me (in that POV as well as during Jen's). I loved attempting to piece the mystery together but was never actually able to!
Some reviewers thought it was slow at times but I didn't experience that at all – I was constantly trying to make sense of what was happening and always curious to see what Jen would learn in the next day she woke up on. The ending was REALLY fascinating. I love how the author pulled everything together and made it "realistic" about how Jen would live her life now.
Overall, this premise was so well-executed and I'm PUMPED to read her next book – no matter what it's about!
Related Posts