In an effort to cut down on posts and burnout, my Review Roundups will feature 2-4 books I've read or listened to recently. Sometimes they're newer releases and sometimes they're all backlist titles. My ARC reviews usually get the solo treatment. Enjoy the mini reviews!
---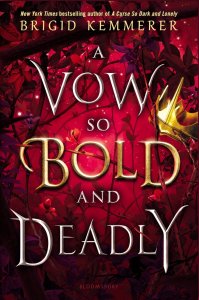 A Vow So Bold and Deadly
by
Brigid Kemmerer
Series:
Cursebreakers #3
Genres:
Young Adult
,
Fantasy
Published by
Bloomsbury
on January 26, 2021
Also by this author:
Letters to the Lost
,
A Curse So Dark and Lonely
,
A Heart So Fierce and Broken
Format:
Audio/eBook
(408 pages) •
Source:
Purchased
Goodreads
•
Amazon
•
Barnes & Noble

Face your fears, fight the battle.

Emberfall is crumbling fast, torn between those who believe Rhen is the rightful prince and those who are eager to begin a new era under Grey, the true heir. Grey has agreed to wait two months before attacking Emberfall, and in that time, Rhen has turned away from everyone—even Harper, as she desperately tries to help him find a path to peace.

Fight the battle, save the kingdom.

Meanwhile, Lia Mara struggles to rule Syhl Shallow with a gentler hand than her mother. But after enjoying decades of peace once magic was driven out of their lands, some of her subjects are angry Lia Mara has an enchanted prince and a magical scraver by her side. As Grey's deadline draws nearer, Lia Mara questions if she can be the queen her country needs.

As the two kingdoms come closer to conflict, loyalties are tested, love is threatened, and a dangerous enemy returns, in this stunning conclusion to bestselling author Brigid Kemmerer's Cursebreaker series.
I enjoyed the first two books in this series but my mind was a blank when starting this final book in the trilogy. Even worse? All of my book recap websites didn't have a summary for book two! I was able to piece everything together pretty well from spoilery reviews at least.
Usually I get very sidetracked and unmotivated to read fantasy books, especially this year. I'm so behind on my challenge that I've been focusing on quick contemporary books or mysteries. However, VOW really kept my attention. I was always interested in reading it and didn't feel like putting it down every two seconds to check my phone.
Reviews for third or final books can be challenging because I don't want to give everything away from the first two, but I'm going to hope most people reading this review read the first two books. I won't say anything major though. The character in the last book who was very terrible is on the path to redemption, in a way, in this book. I didn't remember the gory details from book two but remember thinking "since when is he like this?!" All in all, a very interesting character arc there.
I liked getting all four character's POVs in this one. It was necessary given the scope of the story and how everything finally came together. I don't think a lot happened in this book though, to be honest. It wasn't boring because I was always interested in reading it and seeing how things ended up, but for some reason the plot didn't really wow me in any way. The stakes were high but not high enough, almost?
In any case, I would definitely recommend this trilogy overall. I love portal fantasies and this one kind of is in the first book, leading into this world. I wish there was a little more of that element but that's just my personal preference!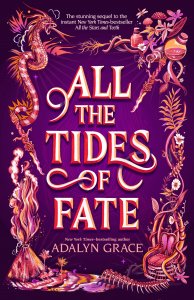 All the Tides of Fate
by
Adalyn Grace
Series:
All the Stars and Teeth #2
Genres:
Young Adult
,
Fantasy
Published by
Macmillan
on February 2nd 2021
Also by this author:
All the Stars and Teeth
Format:
Audio/eBook
(368 pages) •
Source:
Purchased
,
Scribd
Goodreads
•
Amazon
•
Barnes & Noble
Through blood and sacrifice, Amora Montara has conquered a rebellion and taken her rightful place as queen of Visidia. Now, with the islands in turmoil and the people questioning her authority, Amora cannot allow anyone to see her weaknesses.

No one can know about the curse in her bloodline. No one can know that she's lost her magic. No one can know the truth about the boy who holds the missing half of her soul.

To save herself and Visidia, Amora embarks on a desperate quest for a mythical artifact that could fix everything―but it comes at a terrible cost. As she tries to balance her loyalty to her people, her crew, and the desires of her heart, Amora will soon discover that the power to rule might destroy her.
My review for book one was not helpful in trying to remember what happened before book two. Luckily I found just a little recap somewhere to help refresh my memory. This book KIND OF stands alone though, which helped.
I have to be honest, I don't ever remember these books. The pirate stuff is fun and I love that they're out there adventuring, but nothing about this series is super memorable for me. Reading the book was generally a fun and entertaining experience; I like the characters as I'm reading and it kind of held my attention more than I expected, but I never feel like much happens when I finish and look back.
I'm always glad that book club is around for books like this because it helps me try to remember what happened and clarify anything. The whole ending portion was fine and expected, but right before that (during the main ~action~ part) was confusing.
All in all, this is an accessible, easy to read fantasy duo. I enjoyed the books but they won't stick in my mind.
Related Posts