In an effort to cut down on posts and burnout, my Review Roundups will feature 2-4 books I've read or listened to recently. Sometimes they're newer releases and sometimes they're all backlist titles. My ARC reviews usually get the solo treatment. Enjoy the mini reviews!
---
A Heart So Fierce and Broken
by
Brigid Kemmerer
Series:
Cursebreakers #2
Genres:
Young Adult
,
Fantasy
Published by
Bloomsbury
on January 7, 2020
Also by this author:
Letters to the Lost
,
A Curse So Dark and Lonely
,
A Vow So Bold and Deadly
Format:
Hardcover
(464 pages) •
Source:
Library
Goodreads
•
Amazon
•
Barnes & Noble


Find the heir, win the crown.

The curse is finally broken, but Prince Rhen of Emberfall faces darker troubles still. Rumors circulate that he is not the true heir and that forbidden magic has been unleashed in Emberfall. Although Rhen has Harper by his side, his guardsman Grey is missing, leaving more questions than answers.

Win the crown, save the kingdom.

Rumored to be the heir, Grey has been on the run since he destroyed Lilith. He has no desire to challenge Rhen--until Karis Luran once again threatens to take Emberfall by force. Her own daughter Lia Mara sees the flaws in her mother's violent plan, but can she convince Grey to stand against Rhen, even for the good of Emberfall?
The heart-pounding, compulsively readable saga continues as loyalties are tested and new love blooms in a kingdom on the brink of war.
In the sequel to New York Times bestselling A Curse So Dark and Lonely, Brigid Kemmerer returns to the world of Emberfall in a lush fantasy where friends become foes and love blooms in the darkest of places.
I saw some lower ratings for this one ahead of reading it and most stemmed from people thinking this would be about Harper/Rhen again. I knew what to expect going into it (Grey and another new character as the POVs) so that definitely helped with my enjoyment. Like the first one (and most fantasy books), it was a bit slow-going at first. I broke my reading up into sections to pace myself out for a week until book club's meeting date.
I do think I was a bit disappointed by this one though, and I think – like everyone else – it had to do with the characters being slightly less interesting to follow. Grey fascinated me in book one and he did keep me interested here, but Lia Mara was much less interesting than Harper was. The plot involved them, plus a few other characters, making their way to another country. I tend to enjoy books where a couple of characters go on a journey and there's some fun magic and banter involved, but this one didn't have as much going on for me.
One thing, romance-wise, that I've enjoyed about these books is that they don't jump right into loving each other (even if the circumstances kind of demand it). The girls especially say they feel that they COULD love their respective partners, in time, but there's no rush of instalove. It's just refreshing to read honestly!
It's a bit weird that a lot of the character development from book one was essentially eliminated here, which is why it'll be important to hear from Rhen/Harper again in book three (I hope). I don't want to give anything away but clearly Rhen and Grey are at odds, and only one of them comes out of it looking like a decent person…
I'm definitely comparing book one to book two with my rating, because it just wasn't quite AS good as the first one. I'm hoping and assuming the final book in the trilogy will include all perspectives, which should round things out for a strong conclusion… hopefully!

I received this book for free (hey, thanks!) in exchange for an honest review. I promise that this does NOT affect my opinion of the book or the content of my review. For real.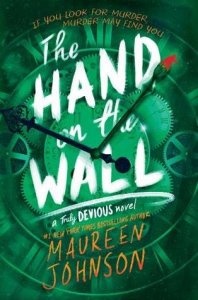 The Hand on the Wall
by
Maureen Johnson
Series:
Truly Devious #3
Genres:
Young Adult
,
Mystery/Thriller
,
Historical Fiction
Published by
Harper Collins
on January 21, 2020
Also by this author:
Let It Snow
,
Truly Devious
,
The Vanishing Stair
,
The Box in the Woods
,
Nine Liars
Format:
Hardcover
(384 pages) •
Source:
Publisher
Goodreads
•
Amazon
•
Barnes & Noble

Ellingham Academy must be cursed. Three people are now dead. One, a victim of either a prank gone wrong or a murder. Another, dead by misadventure. And now, an accident in Burlington has claimed another life. All three in the wrong place at the wrong time. All at the exact moment of Stevie's greatest triumph . . .
She knows who Truly Devious is. She's solved it. The greatest case of the century.
At least, she thinks she has. With this latest tragedy, it's hard to concentrate on the past. Not only has someone died in town, but David disappeared of his own free will and is up to something. Stevie is sure that somehow—somehow—all these things connect. The three deaths in the present. The deaths in the past. The missing Alice Ellingham and the missing David Eastman. Somewhere in this place of riddles and puzzles there must be answers.
Then another accident occurs as a massive storm heads toward Vermont. This is too much for the parents and administrators. Ellingham Academy is evacuated. Obviously, it's time for Stevie to do something stupid. It's time to stay on the mountain and face the storm—and a murderer.
In the tantalizing finale to the Truly Devious trilogy, New York Times bestselling author Maureen Johnson expertly tangles her dual narrative threads and ignites an explosive end for all who've walked through Ellingham Academy.
New York Times bestselling author Maureen Johnson delivers the witty and pulse-pounding conclusion to the Truly Devious series as Stevie Bell solves the mystery that has haunted Ellingham Academy for over 75 years.
As usual, I received a gorgeous finished copy from the publisher… and as usual I put off reading it longer than I'd like! I was honestly a little nervous to read the finale of this series because I've enjoyed it so much, and was definitely afraid of how it'd all end. Stevie's love for true crime was a wonderful plot point and motivation for the series, because I definitely enjoy it as well.
Usually I'm trying to solve the mystery along with the protagonist for books like these, but this series had such a complicated web of crimes, murders, and suspicious deaths (both in the past and present!). I knew I didn't really stand a chance in trying to figure this one out! I was pretty shocked at the end and really loved the way Stevie presented her findings to everyone.
I ended up really enjoying this installment! I wish I didn't have to leave Ellingham Academy, Stevie, and all of her friends though. This was kind of a slow burn with not a lot of plot happening, which is okay. I really didn't mind just ruminating in things as Stevie figured them out. It wrapped up so nicely and left me very satisfied. It's so hard to review finales because you can't really share all the feels without spoiling things, so I'll just tell you that I really didn't see the ending/solutions coming – in all the connected cases!
I'm now definitely determined to finally read some other books by Maureen Johnson! She has a great writing style. Overall, sincerely loved this series!

Royce Rolls
by
Margaret Stohl
Genres:
Young Adult
,
Contemporary
Published by
Disney-Hyperion
on April 4, 2017
Format:
Hardcover
(393 pages) •
Source:
Owned
Goodreads
•
Amazon
•
Barnes & Noble
Sixteen-year-old Bentley Royce seems to have it all: an actual Bentley, tuition to a fancy private school, lavish vacations, and everything else that comes along with being an LA starlet. But after five seasons on her family's reality show, Rolling with the Royces, and a lifetime of dealing with her narcissistic sister, Porsche, media-obsessed mother, Mercedes, and somewhat clueless brother, Maybach, Bentley wants out. Luckily for her, without a hook for season six, cancellation is looming and freedom is nigh. With their lifestyle on the brink, however, Bentley's family starts to crumble, and one thing becomes startlingly clear--without the show, there is no family. And since Bentley loves her family, she has to do the unthinkable--save the show. But when her future brother-in-law's car goes over a cliff with both Bentley and her sister's fianc inside-on the day of the big made-for-TV wedding, no less-things get real. Really real. Like, not reality show real.
Told in a tongue-in-cheek voice that takes a swipe at all things Hollywood, Royce Rolls is a laugh-out-loud funny romp with an LA noir twist about what it means to grow up with the cameras rolling and what really happens behind the scenes.
Can you believe I finally "read" this book???? Seriously I have spoken about it since before it even came out in 2017. It was a random book I was so excited about, to the point where I even preordered it (rare for me from an unproven author)… and it sat on my shelf for years. I knew when I picked the white color for January's RTACU challenge that I would *finally* be forced to read it for legitimate reasons. I was basically hooked after the first "chapter" was just a brief headline, followed by the next pages of emails. I love that kind of format and the story grabbed me at first.
This story is clearly a parody or direct retelling of the Kardashian family. In this case, each member of the family was named after a type of car (Mercedes, Bentley, Maybach, and Porsche) and "famous for no reason." I'm a sucker for books based on rich people and/or Hollywood life – I literally always have been. The A-List was my first foray into it and for whatever reason, I'm still drawn to books like this!
Unfortunately, this book completely derailed my reading month in February. I was never interested in reading it. I also hate to say I'm a bit confused too, I think this is supposed to be a memoir (thanks to the footnotes from the producers of the show? or something?) but there are so many little things that I don't understand. Is it trying to be meta? Idk, but I had to quit. I decided to keep the review here because I did make the attempt.
Related Posts