Let It Snow
by
John Green
,
Lauren Myracle
,
Maureen Johnson
Genres:
Holiday
,
Young Adult
Published by
Penguin
on October 1st 2009
Also by this author:
Turtles All the Way Down
,
YOLO
,
How to Be Bad
,
Truly Devious
,
The Vanishing Stair
,
The Hand on the Wall
,
The Box in the Woods
,
Nine Liars
Format:
Paperback
(368 pages) •
Source:
Purchased
Goodreads
•
Amazon

Sparkling white snowdrifts, beautiful presents wrapped in ribbons, and multicolored lights glittering in the night through the falling snow. A Christmas Eve snowstorm transforms one small town into a romantic haven, the kind you see only in movies. Well, kinda. After all, a cold and wet hike from a stranded train through the middle of nowhere would not normally end with a delicious kiss from a charming stranger. And no one would think that a trip to the Waffle House through four feet of snow would lead to love with an old friend. Or that the way back to true love begins with a painfully early morning shift at Starbucks. Thanks to three of today's bestselling teen authors—John Green, Maureen Johnson, and Lauren Myracle—the magic of the holidays shines on these hilarious and charming interconnected tales of love, romance, and breathtaking kisses.
Let It Snow is a compilation of three interconnected stories. I'll review them each separately, then include an overall rating and my thoughts!
The Jubilee Express by Maureen Johnson 
I absolutely LOVED the main character of this story, Jubilee. She was funny and adorable. The writing style was very quirky and definitely made me LOL at times. I immediately looked for other books by Maureen Johnson as I was reading this one. The story was certainly very predictable, but I didn't care. I also LOOOVED Stuart, our main boy. He was adorable, smart, and just seemed like an all-around great guy. I would totally read this as a full-length story just to get more of these characters! The ending was adorable but it definitely left me wanting more. I think it was a good ending View Spoiler »in the sense that it left a lot open, while also letting the reader know that the two of them will try to make a relationship work long-distance. Hopefully! Major swooning. « Hide Spoiler, but I would seriously love to see more of these two and what happens next. I can't think of really anything I disliked about this one. It's almost hard to review because you would have to read it yourself to really get how fun and interesting Stuart and Jubilee were.
A Cheertastic Christmas Miracle by John Green 
Oh John Green, you never cease to amaze me. A lot of reviewers seemed somewhat disappointed by this story, so I was a little nervous, but I ended up really enjoying it. It's been a while since I've read John Green (I've read all of his books, but last read TFIOS the year it came out. Due for a reread of them all!), so I feel like I forgot about how much I love him. Nonetheless, this story was a cute adventure filled with mishaps. I absolutely adored the friendship between the Duke, Tobin, and JP. They seemed to really love each other… and love making fun of each other. It was definitely realistic and entertaining. I didn't like that the two boys were very male-oriented and focused on a lot of gendered expectations that I hate, especially in regards to the Duke. I loved it when she went off on them about sexism; I was like, took ya long enough! The ending was not surprising, but it was appropriate and cute. View Spoiler »Not much was done to build up their chemistry. It was more just a sudden realization that, oh yeah, the Duke is a girl and maybe we could date. I loved JP and Keun's reaction to them kissing, too. Very realistic and funny! « Hide Spoiler I almost wish the story ended sooner; I feel like the final 2-3 paragraphs were only there so John Green could inject his usual meaning and morals into the story. It was fine, just felt kind of overworked? Regardless, still a strong 4.5 stars from me!
The Patron Saint of Pigs by Lauren Myracle 
I saw a lot of reviews that this was people's least favorite story of the bunch. I guess technically it was for me too, but it ended up being totally worth it in the end! The first 3/4 of the story was kind of boring and not very fun. The main character, Addie, complained the entire time about how much it sucked to be her, how everyone thought she was selfish (she was!), and how badly she had screwed up her relationship (truth!). I wanted her to quit moping around and do something. It was a story about heartbreak for a while, and that didn't put me in the Christmas spirit. Once it got going, I was more invested in the story and waiting to see how it came together. I LOVED the ending of this story View Spoiler »and the complete interconnectedness of the three stories. Everyone came back together in good ol' Starbucks! « Hide Spoiler I generally liked the writing style too. I don't think it measured up to other two stories as far as writing and flow goes, but it was still a good fit for the book.
Overall, these stories were such great, heartwarming Christmas tales! I'm so happy with how it all turned out for all of the characters. Books that have interconnected stories/characters are some of my very favorites. I would absolutely reread this one around Christmas each year!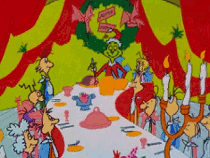 Related Posts