This month I'll be highlighting different holiday or Christmas-oriented books on the blog. I love reading based on the season, so stay tuned for more wintery reviews. To learn more about what's coming and my holiday book rating system, check here!
---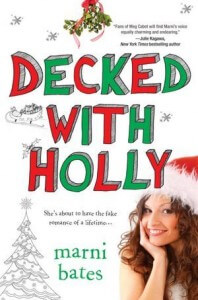 Decked with Holly
by
Marni Bates
on September 25th 2012
(244 pages) •
Goodreads
•
Amazon
•
Barnes & Noble
Taking a Christmas cruise with her two cousins from hell isn't Holly's idea of a good time. And when seasickness forces her into an open suite, she's pepper-sprayed by a gorgeous guy called Nick. But when Holly makes her exit, she's greeted by a horde of screaming teenage fans. Because Nick happens to be Dominic Wyatt, drummer for one of the hottest bands in America. Suddenly rumours are swirling and Holly's face is plastered all over the Internet. The band can't risk a scandal destroying their family-friendly image, so Dominic convinces Holly to be his fake girlfriend - just for two weeks. How bad could it be to be "fauxmantically" involved with a cute rock star? She's about to find out...
When Rachel reached out asking if I wanted to Buddy Read, I happily agreed! Then, of course, I messed up the date we were supposed to post and we ended up just having a casual Google Hangouts chat! She's posting her review today as well, and we wanted to keep it informal. We both agreed that this book wasn't the best, but was cute enough to read. Rachel gave it 3 stars and I was a little more generous with 3.5 stars 😉
We started out with how we both generally liked Dominic, but I had some reservations. In hate-to-love romances, there's always some tension and dislike towards the beginning. He took it a little too far, with commenting nonstop about her appearance. She looked bad when they first met because she was seasick. He also jumped to a lot of conclusions about her right away and didn't strike me as the sharpest tool in the shed.
Lauren: It kind of bothered me how he didn't seem to like Holly and judged her appearance for a long time. I'm a fan of the hate-to-love romance trope, but I don't like that he was kind of mean about her. It took adding makeup and having a full makeover for him to really like her in some ways!
Rachel: Yeah I agree. I thought it was pretty messed up how rude he was about talking about how dirty and messy her face was when he first met her. I think that part of his judgmental attitude was the world that he came from, but it still wasn't an excuse. I do like the hate-to-love romance but it did feel kind of sudden when he was admitting his feelings but still treating her badly. It did seem like he only noticed her with the makeup which felt a bit wrong.
The hate-to-love element is definitely one of my favorites as far as tropes go, but this one felt sudden and abrupt. They went from negative feelings to maybe-I-like-them to full-on liking them – boom, boom, boom. I want some buildup and genuine tension in between!
Holly is an orphan and has lived with her grandfather since she was a small child. She talked nonstop about how important he was to her (understandably so) but I wasn't okay with how he behaved at times. He was protective when it came to Dominic, but not around the rest of the family. Her cousins were BEYOND TERRIBLE to her (and so was their mom!).
Lauren: It really bothered me how she basically idolized her grandpa (I understand why because he basically took her in when no one else did) but he never stuck up for her to the rest of her family! How was it was okay to just let them berate her all the time like that? She kept saying that if her parents were alive they would probably help her in those situations, but I really don't see how old her grandpa should be held to a different standard. They were blatantly being mean to her and commenting on her weight and he just sat there. If I were her, I would not appreciate that at all.
Rachel: She always said that he was the only one on her side, but I did agree that he seemed to just let them be mean to her. I thought she said that they mostly did it whenever the Grandpa wasn't around or when he couldn't hear, but it still seemed like he should be aware of it. I know the cousins threatened her that if she told her Grandpa, they'd show him the pictures of her from the mall thing.
There were some instances where his lack of intervention was obvious, and that bugged me. If my relatives were being terrible and rude to me in the middle of dinner, I would want my guardian to stick up for me! Along those same lines, there was no explanation for why they acted that way. There was literally no reasoning for her cousins to be that terrible to her, and call her things like Little Orphan Annie. What did they have against her anyways?!
Lauren: I wish there was a bit more reasoning behind why they were so terrible. Like you said on Goodreads, they were way too mean for it to even be realistic… and there was no explanation for why they "hated" her so much.
Rachel: Exactly! And I wish there was some kind of resolution to it but they never changed. It seemed like they were almost used as a plot device of some sort.
So we did a lot of complaining at the beginning, but there are some things we enjoyed about the book. On my end, I was a fan of the following:
Holly had a cool, blunt, straightforward personality. She took the hand she had been dealt in life and kind of rolled with it the best way she could.
Dominic was pretty down to earth… considering that he was a celebrity and everything.
Hate-to-love and banter in general are some of my favorite tropes.
I didn't enjoy how the timelines were kind of weird with the dual POV factor. For example, Holly would have a chapter. It would then switch to Dominic's chapter, but not continue from where Holly's left off – it would kind of go back a little in time, then show what happened from his point of view. BUT there were parts of the story that didn't do this. I think the writing was inconsistent.


The story centers around them going on a cruise for Christmas. They get home in time for New Year's, which is when the end of the book takes place. Most of the holiday-related parts are nonexistent, except a little at the beginning. I was definitely hoping for something more Christmassy, especially since I read it during the week of Christmas (and the cover was misleading a bit)!
| | |
| --- | --- |
| Plot & Premise | |
| Characters | |
| Writing Style | |
| Pacing & Flow | |
| Feels or Swoons | |
| Addiction Level | |
| Overall: | 3.5 |
Related Posts