The Honeymoon Crashers
by
Christina Lauren
Series:
Unhoneymooners #2
Genres:
Adult
,
Contemporary
Published by
Simon & Schuster Audio Originals
on August 1, 2023
Also by this author:
The Unhoneymooners
,
Twice in a Blue Moon
,
The Honey-Don't List
,
In a Holidaze
,
The Soulmate Equation
,
Something Wilder
,
The True Love Experiment
Format:
Audiobook
(120 pages) •
Source:
Scribd
Goodreads
•
Amazon
•
Barnes & Noble

A perfectionist maid of honor and a carefree, surfer-bro best man team up to plan a wedding and end up finding a spark of their own in the first audio original from author duo Christina Lauren, a full-cast sequel to their New York Times bestseller The Unhoneymooners.

Ami is determined to break the Torres family wedding curse. Her own disaster of a reception ended with all the guests getting food poisoning, and she left her cheating husband soon after. But even though she's still processing her own divorce, Ami won't let her twin sister Olive's day be anything but perfect. Olive may think she wants a private ceremony in Maui, where she and her fiancé Ethan first fell in love, but Ami knows better and secretly flies the whole Torres family out to surprise the couple. Now she and her meticulously organized binder have less than two weeks to get everything together for the big day, thousands of miles from home.

Enter Brody, Ethan's best man, who happens to be living in Maui and insists on helping with the preparations. His playfully elaborate schemes and happy-go-lucky attitude are the last thing Ami needs. When sparks start to fly, could it derail all her carefully laid plans?

Equal parts hilarious and swoon-worthy, this full-cast production is your ticket to the ultimate destination wedding, bringing to life both a captivating couple and an unforgettable family. The Honeymoon Crashers is Christina Lauren at their charming, hilarious best.
I was so excited when I learned that THE UNHONEYMOONERS was getting a "sequel" in any capacity. Learning it was an audio exclusive with a full cast, sound effects, and generally full production was even MORE exciting for me. This novella-length audiobook follows the best man and maid of honor for Olive and Ethan's wedding on Maui! The two announce to Olive's family they're just going to elope and get married on the island alone. Cue her twin sister Ami and brother Diego deciding instead to invite 18 family members to surprise the two of them there with a real wedding instead of an elopement.
The production here was awesome, and appropriately sparse (if that makes sense) – there were a handful of scenes with background noise and sound effects like the ocean or breezy music, but not all the time. It was perfectly done to not be distracting! Many of the conversations between characters alternated between them like they were actually talking, with the voice actors taking turns and no "he said" or "she said" in between like you would read in the book.
I liked Ami and Brody a lot – I think the book did a good job of building up their romance and chemistry in a shorter time period, but I totally could have seen this being a full-length book instead. They had different personalities but in a way that balanced each other out. Plus, you learn a bit more about Brody at the end of the story that makes you realize they have more in common than you're led to believe, which just makes them an even better fit for each other.
It was excellent to see Olive and Ethan again too. Overall, I'd highly recommend this quick and breezy audio novella if you enjoyed the first book! You'll likely enjoy this too.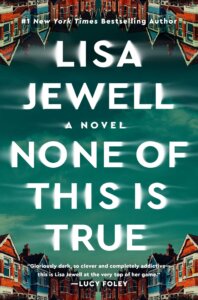 None of This Is True
by
Lisa Jewell
Genres:
Adult
,
Mystery/Thriller
Published by
Atria Books
on July 20, 2023
Also by this author:
Then She Was Gone
Format:
Audio/Physical
(384 pages) •
Source:
Audible
,
Book of the Month
Goodreads
•
Amazon
•
Barnes & Noble

Lisa Jewell returns with a scintillating new psychological thriller about a woman who finds herself the subject of her own popular true crime podcast.

Celebrating her forty-fifth birthday at her local pub, popular podcaster Alix Summers crosses paths with an unassuming woman called Josie Fair. Josie, it turns out, is also celebrating her forty-fifth birthday. They are, in fact, birthday twins.
A few days later, Alix and Josie bump into each other again, this time outside Alix's children's school. Josie has been listening to Alix's podcasts and thinks she might be an interesting subject for her series. She is, she tells Alix, on the cusp of great changes in her life.

Josie's life appears to be strange and complicated, and although Alix finds her unsettling, she can't quite resist the temptation to keep making the podcast. Slowly she starts to realise that Josie has been hiding some very dark secrets, and before she knows it, Josie has inveigled her way into Alix's life—and into her home.

But, as quickly as she arrived, Josie disappears. Only then does Alix discover that Josie has left a terrible and terrifying legacy in her wake, and that Alix has become the subject of her own true crime podcast, with her life and her family's lives under mortal threat.

Who is Josie Fair? And what has she done?
This book became one of my most highly anticipated for some reason! I liked the other Lisa Jewell book I read but never prioritized her thrillers after that. The synopsis of this one involving a podcast definitely sold me though. I saw a ton of great reviews come out as I was awaiting my copy – my BOTM ended up being super late so they had to send me a second box. It didn't arrive until after mid-August so I feel like I was waiting forever and whining like a spoiled brat haha. I decided to also pick up the audiobook because I saw it was full cast and had some fun production elements and sound effects as well. Was the book worth the wait?? YES.
I wasn't sure how well it was going to work for me in the beginning. The premise intrigued me but it seemed a little too straightforward. I read a bit before the weekend and then didn't continue for a few days because it wasn't grabbing me. The minute I picked it back up, I was addicted.
The story follows Alix, a podcaster, and her latest subject, Josie. The two women realize they have the same birthday and were born in the same hospital. Josie tells Alix she's on the cusp of changing her life and really wants to be interviewed for her podcast. Alix is in the mood to try something new so she gives it a go, having no idea just how much Josie is going to change her life.
I found myself thinking I had this figured out and then the final chapters knocked the wind out of me. I'm honestly not sure if other people will find it as surprising as me or manage to predict it, but hopefully everyone is as surprised as I was! I don't think it's overly twisty though. I think a lot of people have some issues with the actual end of the book and I can understand why – I have slightly mixed feelings on it as well. I haven't read a lot of Lisa Jewell books so I'm not sure if this is par for the course or if her endings are usually different than this (don't want to say too much about it!).
Overall, this was such a fun and addicting read once I got going! If you like domestic thrillers, you'll likely enjoy this one. The format was awesome to read; there were podcast excerpts, interviews, and explanations of documentary footage. The audiobook was even better for those reasons. I decided to buy it once I heard it was full cast and production with sound effects for all of the mixed media – definitely an awesome way to read the book.

One of Us Is Back
by
Karen M. McManus
Series:
One of Us is Lying #3
Genres:
Young Adult
,
Mystery/Thriller
Published by
Delacorte Press
on July 25, 2023
Also by this author:
One of Us is Lying
,
Two Can Keep a Secret
,
One of Us Is Next
,
The Cousins
,
You'll Be the Death of Me
,
Nothing More to Tell
Format:
Audiobook
,
eBook
,
Hardcover
(360 pages) •
Source:
Libby
,
Library
Goodreads
•
Amazon
•
Barnes & Noble

The explosive third and final thrilling instalment in the acclaimed One of Us... series.

Ever since Simon died in detention, life hasn't been easy for the Bayview Crew. First the Bayview Four had to prove they weren't killers. Then a new generation had to outwit a vengeful copycat. Now, it's beginning again.

At first the mysterious billboard seems like a bad joke: Time for a new game, Bayview. But when a member of the crew disappears, it's clear this 'game' just got serious - and no one understands the rules.

Everyone's a target. And now that someone unexpected has returned to Bayview, things are starting to get deadly.
Simon was right about secrets - they all come out in the end.

The thing is, Simon was right about secrets-they all come out, eventually. And Bayview has a lot it's still hiding.
It's tough to review the third and final book in a trilogy, so I'll keep it brief! I was really excited for this book because (a) we were returning to Bayview and (b) I get excited for every new Karen M. McManus book! She's one of the most reliable YA mystery/thriller authors out there.
The story follows a few of the familiar characters from previous books as they deal with some of the fallout from books one and two (especially Phoebe – she was keeping a big secret when we left her). I liked being back around them but it was hard to remember who was who… even after reading some helpful book summaries online!
McManus had to rewrite some history to make this book happen – not in a bad or obvious way. We got a couple of perspectives that were set in the past that were clearly "new" things that weren't included or alluded to in previous books. Again, I don't want to spoil any of it, but it was really the only way she could structure this new story. I don't think it was poorly done in any means, and "rewriting" history may not be the best way to phrase it – more like she added to history. It felt a little wild at times because of this but was fun to read.
All in all, I think this was a worthy final installment! Not 100% sure it needed to exist in some ways, but I think it was great to catch up with all of the characters and get to see how their stories ended up. I'll continue to be excited for more books by McManus now that the Bayview Crew have moved on.
Related Posts