I received this book for free (hey, thanks!) in exchange for an honest review. I promise that this does NOT affect my opinion of the book or the content of my review. For real.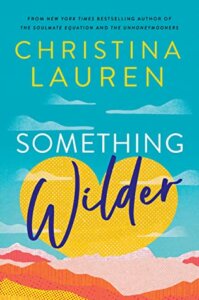 Something Wilder
by
Christina Lauren
Genres:
Adult
,
Contemporary
Published by
Simon and Schuster
on May 17, 2022
Also by this author:
The Unhoneymooners
,
Twice in a Blue Moon
,
The Honey-Don't List
,
In a Holidaze
,
The Soulmate Equation
,
The True Love Experiment
,
The Honeymoon Crashers
Format:
eARC
(384 pages) •
Source:
Publisher
Goodreads
•
Amazon
•
Barnes & Noble

Growing up the daughter of notorious treasure hunter and absentee father Duke Wilder left Lily without much patience for the profession… or much money in the bank. But Lily is nothing if not resourceful, and now uses Duke's coveted hand-drawn maps to guide tourists on fake treasure hunts through the red rock canyons of Utah. It pays the bills but doesn't leave enough to fulfill her dream of buying back the beloved ranch her father sold years ago, and definitely not enough to deal with the sight of the man she once loved walking back into her life with a motley crew of friends ready to hit the trails. Frankly, Lily would like to take him out into the wilderness—and leave him there.

Leo Grady knew mirages were a thing in the desert, but they'd barely left civilization when the silhouette of his greatest regret comes into focus in the flickering light of the campfire. Ready to leave the past behind him, Leo wants nothing more than to reconnect with his first and only love. Unfortunately, Lily Wilder is all business, drawing a clear line in the sand: it's never going to happen.

But when the trip goes horribly and hilariously wrong, the group wonders if maybe the legend of the hidden treasure wasn't a gimmick after all. There's a chance to right the wrongs—of Duke's past and their own—but only if Leo and Lily can confront their history and work together. Alone under the stars in the isolated and dangerous mazes of the Canyonlands, Leo and Lily must decide whether they'll risk their lives and hearts on the adventure of a lifetime.
I've come to know almost exactly what to expect from a Christina Lauren novel and write the same little spiel here every time I review their books. They're usually addicting, romantic, steamy, and enjoyable from start to finish. This book though… was definitely a different experience!
SOMETHING WILDER follows Lily and Leo. The two met and fell quickly in love when they were in their late teens and then Leo went back to NYC without ever speaking to each other again. Lily remained bitter and confused about what happened. Almost a decade later, Lily and her friend Nicole are hosting wild west/cowboy-style trips in the desert. She's been struggling since her dad died, trying to find her way and make ends meet. Leo and his friends Bradley and Walter end up being members of their tour during their annual vacation, with their added (annoying) "friend" Terry. The group set off on their cowboy camping trip while Leo and Lily try to ignore their history.
It's kind of hard to review this one without giving away a big thing that happens around 30% in but I'll try my best. The story abruptly changes – the synopsis explains that the trip goes "horribly and hilariously wrong" but I would argue its only the former. It's not your typical Christina Lauren romance – there's a lot of "heavier" stuff in here but I don't even know if that's the right world. It becomes more of a romantic suspense novel in some ways? You really need to suspend your disbelief for a bit.
I ended up enjoying this a lot more than I expected after the initial shock wore off. There were some good twists and turns (feels weird saying this in a "contemporary romance" novel…). The adventure was a lot of fun! Leo and Lily had some good chemistry but it was hard to get on board at times knowing that their relationship was based off of a five-month whirlwind romance many years prior.
All in all, I really enjoyed this one! I almost DNFed it around that 30% mark because I didn't know where the story would go from there but it ended up being a fun ride with good characters and a nice ending.
Related Posts