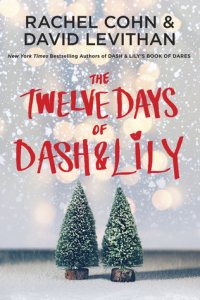 The Twelve Days of Dash and Lily by Rachel Cohn, David Levithan
Series: Dash and Lily #2
Genres: Young Adult, Contemporary
Published by Penguin Random House on October 18, 2016
Also by this author: Dash & Lily's Book of Dares, Sam & Ilsa's Last Hurrah, My True Love Gave To Me
Format: Audiobook (215 pages) • Source: Scribd
Goodreads • Amazon • Barnes & Noble

Dash and Lily have had a tough year since they first fell in love among the shelves of their favorite bookstore. Lily's beloved grandfather suffered a heart attack, and his difficult road to recovery has taken a major toll on her typically sunny disposition.

With only twelve days left until Christmas—Lily's favorite time of the year—Dash, Lily's brother Langston, and their closest friends must take Manhattan by storm to help Lily recapture the unique holiday magic of a glittering, snow-covered New York City in December.
Story
I'll keep it real – I did not love Dash and Lily as much as everyone else (and any good feelings that led me to rate it four stars have definitely faded over time for some reason). I like to eventually finish things I start though, so I decided to give the sequel a shot. It's a short book and therefore a short audiobook; I thought it'd be the perfect one to listen to during the Tis the Season-a-thon in early December.
I really loathe Lily because of her immaturity and Dash is so pretentious. It's hard to ship a couple when one of them feels like they're 10 years old and shouldn't be in a serious relationship. Speaking of which, how is it possible that after a year of dating, they're in the exact same place they were in the previous book/year? They did not communicate at all and it's frustrating to see that they were still dancing around things. I would hope dating someone for that long would open you up a bit. Aside from that, they were constantly running to catch up to each other (so to speak). They were never on the same page.
Wintry Setting & Holiday Feels
The story was mostly depressing with some holiday feels involved? It happens in the 12 days before Christmas, which should bring about the most Christmassy feels possible. While being in NYC for Christmas is the last thing I want to do because of the crowds, I absolutely love book settings there – it's so wonderful to hear about all of the decorations! Some scenes were good and decorated like a holiday story, but the black cloud over the story did not make me feel Christmassy. Lily was literally bitter about Christmas for the vast majority of her chapters, so why is that going to put me in the mood?
Overall
Because my feelings had soured on the first book over time, I'll admit that my opinion of this second book was going to be affected from the start. I was hoping they would win me over again and I'd have a quick, cute holiday audiobook to enjoy, but I was exasperated by them at every turn.


---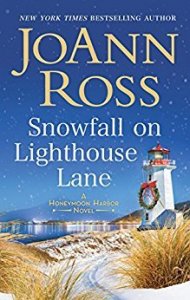 Snowfall on Lighthouse Lane
by
JoAnn Ross
Series:
Honeymoon Harbor #2
Genres:
Adult
,
Contemporary
Published by
Harlequin
on October 30, 2018
Also by this author:
Herons Landing
,
Summer on Mirror Lake
Format:
Paperback
,
Audiobook
(432 pages) •
Source:
Library
,
Scribd
Goodreads
•
Amazon
•
Barnes & Noble
Lose yourself in the magic, charm and romance of Christmas in the Pacific Northwest as imagined in JoAnn Ross's heartwarming Honeymoon Harbor series.

Growing up on the wrong side of the tracks, Jolene Harper is forever indebted to the mother who encouraged her to fly—all the way to sunny LA and a world away from Honeymoon Harbor. Although Jolene vowed never to look back, returning home isn't even a question when her mom faces a cancer scare. Which means running into Aiden Mannion all over town, the first boy she ever loved—and lost—and whom she can barely look in the eye.

Aiden's black-sheep reputation may have diminished when he joined the marines, but everything he's endured since has left him haunted. Back in Honeymoon Harbor to heal, he's talked into the interim role of police chief, and the irony isn't lost on the locals, least of all Aiden. But seeing Jolene after all these years is the unexpected breath of fresh air he's been missing. He's never forgotten her through all his tours, but he's not sure anymore that he's the man she deserves.

Despite the secret they left between them all those years ago, snow is starting to fall on their picturesque little town, making anything seem possible…maybe even a second chance at first love.
Story
I started the Honeymoon Harbor series earlier this year for a blog tour and really loved the town. I was excited to see that the next story would be a holiday one (or at least during the winter season) because those are some of my favorite "small town" book types. The story continues with another Mannion family member, which is also excellent.
The first half of the book didn't have enough interaction between the two leads, but the second half moved along better for them. Aiden was a good lead for the most part and I liked him overall, but I'm really not into books involving cops/military (he's both). Jolene was great and guarded for a while, but it was nice to see her open up. They moved kind of quickly otherwise, picking up where they left off in high school. Some parts felt super rushed at the end and I didn't think it was necessary for certain things to happen right then, but it wasn't bad. Can't really call it "instalove" if they've had feelings since high school kinda.
I think of the best things about this story is that I think they set up some great ideas and potential main characters for the rest of the companion novels. We were introduced to many side characters around town, people who owned various businesses or moved home recently, that could be future MCs in this series.
Wintry Setting & Holiday Feels
The first half didn't really have holiday feels, as it was the lead-up to Thanksgiving instead of Christmas. I wasn't aware of that or honestly I would have read this one in late November instead. Oh well. It was about 75% of the way through the book when Thanksgiving was over and they started to talk about Christmas. It ended with a LITTLE bit of Christmas but not really enough for my tastes.
Overall
I liked this book but I definitely wish I read it back in November. I don't like THINKING it'll be a holiday story and being disappointed, especially because I chose to read this one in late December when I reserve all of my super-duper-holiday books. I love this small town and am excited to read the next one, but I don't love this series NEARLY as much as I love Haven Point and others.


---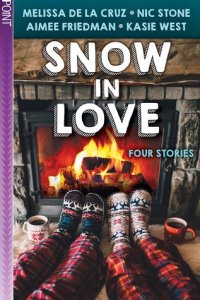 Snow in Love
by
Melissa de La Cruz
,
Nic Stone
,
Aimee Friedman
,
Kasie West
Genres:
Young Adult
,
Contemporary
,
Holiday
Published by
Scholastic
on October 30, 2018
Also by this author:
Mistletoe
,
Dear Martin
,
Dear Justyce
,
Two Summers
,
The Distance Between Us
,
Pivot Point
,
On the Fence
,
Split Second
,
The Fill-In Boyfriend
,
P.S. I Like You
,
Lucky in Love
,
Listen to Your Heart
,
Maybe This Time
Format:
Paperback
(256 pages) •
Source:
Purchased
Goodreads
•
Amazon
•
Barnes & Noble
What's better than one deliciously cozy, swoon-worthy holiday story? Four of them, from some of today's bestselling authors.

From KASIE WEST, a snowy road trip takes an unexpected detour when secrets and crushes are revealed.

From AIMEE FRIEDMAN, a Hanukkah miracle may just happen when a Jewish girl working as a department store elf finds love.

From MELISSA DE LA CRUZ, Christmas Eve gets a plot twist when a high school couple exchange surprising presents.

From NIC STONE, a scavenger hunt amid the holiday crowds at an airport turns totally romantic.

So grab a mug of hot cocoa, snuggle up, and get ready to fall in love...
Stories
Usually I'd read a "highly anticipated" holiday book much closer to the holidays, but I couldn't resist adding this to my TBR for the Tis the Season-a-thon, since they were specifically buddy reading it during the R-A-T. My sister raved about it too and loved Kasie West's story (as usual). Here are my quick thoughts on each story:
Snow and Mistletoe by Kasie West 
This was so cute! Can't resist a sweet, predictable, fluffy West book! This was about a road trip after being stuck at the airport due to a snow storm. The MC, who is fleeing her overseas year at a competitive singing school, randomly sees a high school classmate in the airport. He, along with his older sister and friends, offer her a ride home as they trek halfway across the country, back to California. I liked the cast of characters but could have learned a litttttle more about them maybe? The romance was adorable and yes, predictable, but I don't care. I love books about road trips.
Working in a Winter Wonderland by Aimee Friedman 
There are a lot of things I appreciated in this story, but the romance was lacking for me. I haven't read many books with Jewish characters in general, especially seeing how they deal with the explosion of Christmas each year, so this was a great start. The MC works in a department store as an elf, hoping to get with her longtime crush (whose father owns the store). It felt like the story didn't have too much going on and everything (romance-wise) was squished into the last few pages… literally. There was not nearly enough build to it. I liked the vibes of the story and wish I got to know the other co-workers more, as "books set in workplaces for teens" is one of my favorite settings/tropes.
The Magi's Gifts by Melissa de la Cruz 
I'm not the biggest fan of the "gift of the magi" trope that much, but it IS a classic holiday story that I should've known would be in here. This was a boring and short version of it though – I didn't like the characters too much (Kelsey spent most of the book trying to change her boyfriend and I'm supposed to ship them?). I feel like the ending could have been so much better; it was really abrupt and didn't offer any kind of real resolution to this mix-up. Overall, meh.
Grounded by Nic Stone 
I love stories in text/IM format. This was cute overall with the airport scavenger hunt and old ~friends~ reconnecting. I might have missed a few feels because of the format but I do think that was the best format for the story still? Frankly my biggest issue with this story is that the holiday feels were minimal. It could have been any airport during any season and the story wouldn't have changed at all. There were vague references to Christmas decorations and the fact that it technically took place on Christmas Eve, but the feels were totally missing here. The plot wasn't holiday-based at all really.
Overall
This was a sweet collection of stories that hit on some of my favorite (and least favorite TBH) tropes – both holiday and otherwise. I'm a huge fan of road trips, teen workplace settings, being snowed in, airports… and not a big fan of the gift of the magi. Most stories were strong and fun to read, with pretty good holiday feels.


---

Related Posts