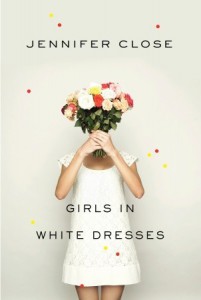 Girls In White Dresses
by
Jennifer Close
Genres:
Adult
,
Contemporary
,
Women's Fiction
on August 9th 2011
Format:
eBook
(294 pages) •
Source:
Purchased
Goodreads
•
Wickedly hilarious and utterly recognizable, Girls in White Dresses tells the story of three women grappling with heartbreak and career change, family pressure and new love—all while suffering through an endless round of weddings and bridal showers.

Isabella, Mary, and Lauren feel like everyone they know is getting married. On Sunday after Sunday, at bridal shower after bridal shower, they coo over toasters, collect ribbons and wrapping paper, eat minuscule sandwiches and doll-sized cakes. They wear pastel dresses and drink champagne by the case, but amid the celebration these women have their own lives to contend with: Isabella is working at a mailing-list company, dizzy with the mixed signals of a boss who claims she's on a diet but has Isabella file all morning if she forgets to bring her a chocolate muffin. Mary thinks she might cry with happiness when she finally meets a nice guy who loves his mother, only to realize he'll never love Mary quite as much. And Lauren, a waitress at a Midtown bar, swears up and down she won't fall for the sleazy bartender—a promise that his dirty blond curls and perfect vodka sodas make hard to keep.

With a wry sense of humor, Jennifer Close brings us through those thrilling, bewildering, what-on-earth-am-I-going-to-do-with-my-life years of early adulthood. These are the years when everyone else seems to have a plan, a great job, and an appropriate boyfriend, while Isabella has a blind date with a gay man, Mary has a crush on her boss, and Lauren has a goldfish named Willard. Through boozy family holidays and disastrous ski vacations, relationships lost to politics and relationships found in pet stores, Girls in White Dresses pulls us deep inside the circle of these friends, perfectly capturing the wild frustrations and soaring joys of modern life.
Review: I'm not really sure where to begin with this one. It was one of those books that I wanted to read for MONTHS before actually deciding to read it… and it was such a let down. Frankly, I should probably give it less than three stars. It got three because I think it had some redeeming qualities. I'll go with those first. In a lot of ways, this book was very relatable. Every girl in her 20s has experienced most of the situations in this book. Between friends getting married and having kids, moving away from home and/or college, losing friends, gaining friends, boyfriend problems, friend problems, etc… It touched on a lot of the basic issues that 20-somethings encounter at one point or another. I liked that. That's really all I liked.
The book ended very abruptly and offered literally a paragraph of "closure." We find out a sentence about like three of the characters and we're supposed to just wonder if things come through for them. I don't remember almost any of the names of the characters, but two of the final two girls that the book discussed seemed to be the main ones. This was another book that switched characters for every chapter; this is something I normally don't mind. But – this book had a million characters! Some of the bitches would only be in ONE chapter. What happened to them? Why even bother introducing them in the first place if they weren't going to have an relevance at all? I think she tried to slowly remove characters from the book as they got married/had kids. Not to mention, the characters were underdeveloped and one-dimensional. By the end, there were to single(ish) girls left with one of their friends, who had kids. I'm not sure the logic behind this. The last two "single" girls ended up totally settling for the wrong guys. One of them was dating an absolute weirdo and I have no idea why she would end up with him; it seemed like she barely liked him. The other girl fluctuated between liking and hating her boyfriend, yet made a pretty big relationship-related decision with him at the end of the book. (No spoilers).  But come on, dude. How are you going to write a book that should be extremely relatable to mid-20s girls and then leave the two main characters with the weird/wrong boyfriends? What is the moral of that story? "Settle for whoever you can kind of tolerate and then stay with them because there's no one else out there" is the message I got at the end of this. The only reason it got three stars was because I was feeling generous. This is another book that had SO much potential, that I was so excited about, but was poorly executed and had a shitty ending. Sometimes it was funny, sometimes it was obnoxious, but most of the time it was confusing.
Related Posts