I always wanted to read THE EARTH, MY BUTT, AND OTHER ROUND THINGS when I was younger, but was never sure what my mom would think if I tried to pick it out at the bookstore. I decided to give this "classic" a go when I saw the audiobook on Scribd. I later received the sequel, THE UNIVERSE IS EXPANDING (AND SO AM I) in the mail for review, so I decided to combine them here!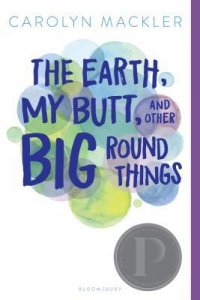 The Earth My Butt and Other Big Round Things
by
Carolyn Mackler
Series:
Virginia Shreves #1
Genres:
Young Adult
,
Contemporary
Published by
Bloomsbury
on July 14th 2003
Format:
Audiobook
(256 pages) •
Source:
Scribd
Goodreads
•
Amazon
•
Barnes & Noble
Carolyn Mackler's Printz Honor book--starring the unforgettably funny, body-conscious Virginia Shreves--returns in this 15th anniversary edition featuring a new cover, text updates, and never-before-seen material from the author.

Fifteen-year-old Virginia feels like a plus-sized black sheep in her family, especially next to her perfect big brother Byron. Not to mention her best friend has moved, leaving Virginia to navigate an awkward relationship with a boy alone. He might like her now . . . but what if he ever looks under all her layers of clothes?

In order to survive, Virginia decides to follow a "Fat Girl Code of Conduct," which works, until the unthinkable causes her family's façade to crumble. As her world spins out of orbit, she realizes that being true to herself might be the only way back.

Told in a perfect blend of humor and heart, this acclaimed, Printz Honor winner resonates as much today as it did fifteen years ago, now featuring a new cover, author foreword, text updates, and other never-before-seen back matter.
I have a lot of feelings about this book. The first thing I feel like I need to mention is that obviously it was written in the early 2000s, so a lot of the words and references are outdated. I knew that going into it. The weird thing is that the sequel coming out isn't like a "fifteen years later" kind of book. It takes place right after this ends. (More on that later.)
Virginia was an extremely difficult narrator for me. She spent the vast majority of the book — I mean every single page — talking about her fatness and her (horrible) family reacting to her (horribly). I can feel for her on a lot of things, because I personally get it, but oh my god. It's a very unhealthy and outdated (IMO) view of being a fat teen. She HAS to be sad and pathetic and unhappy with herself until she "gets healthier" in a very cliche way. I just don't feel like there's room for this portrayal of fat girls right now. I want more books with fat girls being happy with themselves or enjoying themselves without having to learn some ~let's get healthy and skinnier~ lesson involved. I would chalk this up to just being a book from 2003 and think that newer books (like Dumplin) should/do have more space in the market… but the fact that there's a sequel coming out definitely worries me. I hope Virginia has a better image of herself so readers don't have to slog through the negativity and sadness, and just be happy with themselves too.
I had no idea this book was going to be so ridiculously dark and hard to read at times! I cannot FATHOM why the word "funny" was used in the book's synopsis. I first saw this book when it came out when I was 12, and I always wanted to read it. In the million years since then, I assumed that it was one of those LOL-funny teen books, like Confessions of Georgia Nicolson or even moderately similar to the Jessica Darling series. NOPE. This book has some seriously heavy aspects to it, between Virginia's weight "issues," her very dark and negative and sometimes scary headspace, and the situation involving her brother. I didn't come close to laughing a single time; it was wholly depressing and hard to listen to. She was often suicidal (but in the way that the reader is somehow supposed to think is funny, even though it isn't) and self-harmed.
Even aside from all that, Virginia was very hard to relate to. She was a master of jumping to conclusions and setting unreasonable expectations. She ended things with Froggie and insulted him by saying they never "were anything," but then didn't understand why he stopped talking to her. Her teacher gently said that she enjoyed spending time with Virginia but that she needs to not isolate herself, and Virginia took it the wrong way.
Her family was absolutely terrible the entire book as well. Even when she started to find herself and her voice, her mom attempted to drown it out. Seriously, everyone was punchable and hypocritical. Her mom on the Paris vs. Seattle thing, not trying to help her daughter be her own person but preaching that during her speaking engagements… oh god, I couldn't handle it. Her dad was not great but definitely was a bit better toward the end? I can't help but feel like them "approving" of her had more to do with her losing weight than anything else.
I'll say that I think on some topics (specifically about Byron) are very timely. I can sort of see why a follow-up was created this year. The book and Virginia as a character did improve for me toward the end (like I said – she started to be her own person a bit) but not enough to fall in love here by any means.
PS: I love this review on Goodreads.
---
I received this book for free (hey, thanks!) in exchange for an honest review. I promise that this does NOT affect my opinion of the book or the content of my review. For real.
The Universe is Expanding and So Am I
by
Carolyn Mackler
Series:
Virginia Shreves #2
Genres:
Young Adult
,
Contemporary
Published by
Bloomsbury
on May 29th 2018
Format:
Audio/ARC
(304 pages) •
Source:
Publisher, Scribd
Goodreads
•
Amazon
•
Barnes & Noble
Virginia Shreves' world implodes again in this long-awaited follow-up to Printz Honoree The Earth, My Butt, and Other Big Round Things.

Sixteen-year-old Virginia Shreves' life is finally back on course: she's accepted who she is inside and out and is rebuilding her relationship with brother Byron, whose date-rape charge shattered everything.

But just as she adjusts to her new normal, her world turns upside down again. Sparks with boyfriend Froggy fade, her best friend bombshells bad news, and then the police arrest Byron. As Virginia struggles to cope, she meets Nate, an artist with his own baggage. The pair vow not to share personal drama. But secrets have a way of coming out, and theirs could ruin everything.

Just in time for The Earth, My Butt, and Other BIg Round Things' 15th anniversary, Virginia's hope-filled story of love, friendship, and the beauty in imperfection continues, by acclaimed author Carolyn Mackler.
I was definitely confused heading into the second book. Like I mentioned before, it's a sequel written 15 years later. The book doesn't technically take place 15 years later (meaning that Virginia isn't 30 years old in it). I read in the synopsis that the book's events happen right after the first book, within a few months. This would mean that the book technically takes place in 2003 and the author would continue those references… one would think. In the first chapter, the book Fates and Furies is referenced. This book came out in 2015! That means that this book takes place present day instead. ? Truthfully it was quite confusing at first because I really felt like, after reading the first, that Virginia's point of view was true to 2003. Was she going to be upgraded for a 2018 mindset?
Needles to say, I wasn't overly excited for this book. I didn't love the first one like I hoped but I was vaguely curious about what would happen next. It's incredibly timely to read about Byron's story in "the #MeToo era" and tbh I feel like maybe that's why they made a sequel happen so many years later? It was such a tough topic to think about because you're in the head of Virginia, the sister of a rapist. She obviously feels bad for her brother for many reasons, and often feels even worse for his victim. It's a challenging back-and-forth to read, but understandable and a unique perspective.
I'll be honest, I still don't quite love Virginia Shreves, but I liked her more in this book. She started to come into her own at the end of book one so it was good to see that MOSTLY continue throughout book two. I'm not okay with the still-problematic views of her weight and constantly being mad at all the ~skinny bitches~ around her. More on that a little later. Her situations with Froggy and Sebastian were somewhat interesting and frustrating at the same time. She so quickly moved on from Froggy, which is okay, but a little weird since we spent the entire book examining that relationship. And the next relationship with Sebastian? Even more complicated.
I still absolutely loathed her parents and wanted to punch them constantly. How could her mom, the child psychologist, not see what they were doing to her self-confidence? There were so many hypocritical and frustrating moments in their parenting toward Byron vs. Virginia vs. Anaïs. They only paid attention to her or cared about her when she was being the "perfect child" they were hoping for. Virginia lapped up the attention from them and didn't seem to care that it was only because she was behaving the way they wanted her to.
I think my overarching issue is that I expected this book, written in 2018, to make up for a lot of areas that the original 2003 book missed. It's CLEARLY an outdated story that doesn't hold up 15 years later, so there is plenty of room for the author to make the second one more relevant and timely. Some elements are, many elements aren't. Her views on other bodies and her own body are mostly just as bad as they were in book one. That was so long ago! If this book WAS updated to take place in present day like it seemingly was, Virginia should have an updated attitude. She says some positive things about dressing for her body type at Torrid, but she still makes up rude rules about the skinny girls getting boyfriends or being bitches.
These books were not at all what I was expecting or what I thought they would be when I was a kid. They weren't funny – they were often dark and have a lot of heavy themes.
Related Posts