I received this book for free (hey, thanks!) in exchange for an honest review. I promise that this does NOT affect my opinion of the book or the content of my review. For real.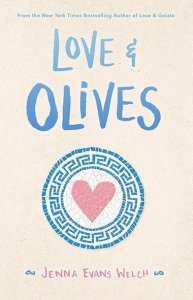 Love & Olives
by
Jenna Evans Welch
Series:
Love & Gelato #3
Genres:
Young Adult
,
Contemporary
on November 10, 2020
Also by this author:
Love & Gelato
,
Love & Luck
Format:
eARC
(352 pages) •
Source:
Publisher
Goodreads
•
Amazon
•
Barnes & Noble
From the New York Times bestselling author of Love & Gelato comes a Mamma Mia–inspired tale about a teen girl finding romance while trying to connect with her absent father in beautiful Santorini, Greece.

Liv Varanakis doesn't have a lot of fond memories of her father, which makes sense—he fled to Greece when she was only eight. What Liv does remember, though, is their shared love for Greek myths and the lost city of Atlantis. So when Liv suddenly receives a postcard from her father explaining that National Geographic is funding a documentary about his theories on Atlantis—and will she fly out to Greece and help?—Liv jumps at the opportunity.

But when she arrives to gorgeous Santorini, things are a little…awkward. There are so many questions, so many emotions that flood to the surface after seeing her father for the first time in years. And yet Liv doesn't want their past to get in the way of a possible reconciliation. She also definitely doesn't want Theo—her father's charismatic so-called "protégé"—to witness her struggle.

And that means diving into all that Santorini has to offer—the beautiful sunsets, the turquoise water, the hidden caves, and the delicious cuisine. But not everything on the Greek island is as perfect as it seems. Because as Liv slowly begins to discover, her father may not have invited her to Greece for Atlantis, but for something much more important.

Honestly, my experiences with this series so far have been hit or miss. Meaning, book one was a miss for me and book two was a major hit. This 50/50 record was enough to still keep me super excited for book three – a book set in Greece featuring the lost city of Atlantis? YES! And honestly, I loved LOVE & LUCK enough to know the first one was a fluke. My thoughts on LOVE & GELATO were as follows:
Pausing this for now. I don't mind the audio narrator but I think I would be better off reading this one instead. I'll wait for my library hold to come in. I have a feeling things may pick up, based on the synopsis, but I'm not going to carve out listening time for this one as it is right now.

——–

2nd time putting this one aside. Not sure why I can't get into it. I tried my physical copy and had no desire to pick the book up again. I feel like I would like it but it's not the time for me to read it. Idk. Gonna give it to my sister and see how I feel much later.
Anyways, I thought third time could definitely be the charm. I have no issue with skipping, DNFing, or avoiding the first book in a companion series in favor of book two if it still sounds up my alley. LOVE & OLIVES hit the mark for me in the synopsis, so I was eager to dive in. In 2020 where we can barely go between different states in the US, I was eager to read a book set overseas in a different pandemic-less time.
Olive, now Liv, has avoided her father's recent postcards, since he decided to take off back to Greece when she was eight without a word. His life goal/dream has been to find the lost city of Atlantis and believes they key is in Santorini. She's not eager to help him when he sends a postcard and a plane ticket for her to come "help him" the summer before her senior year, but her mother insists.
The first thing I thought was a little off or weird is that the synopsis says she "jumps at the opportunity" to come there and that he explains exactly what's happening in the postcard, I was a little confused. Maybe the book underwent some edits before the final version! She definitely was not eager and he was very vague in his postcard. Not a dealbreaker, just a little weird.
I loved the "hunting for Atlantis" storyline – it was so unique! It made me want to learn more about those theories and see how many things were real in Santorini. She meets Theo, the son of her dad's friend Ana, and the two hit it off. Liv is struggling with her boyfriend, Dax, who is home for the summer and just a little controlling about her future. (The thoughts about Dax slowed down throughout the book, which I appreciated.) Theo is helping film the documentary for National Geographic and the two have an easy, fun relationship as they film and organize everything together.
I loved reading the descriptions of Greece – I hope I can make it out there someday! It's easy to understand why someone would want to live there or why her dad would want to go back, but it took a while to get there. She basically avoided a lot of conversations with him until the end. This plays into the pacing issues I found with the book – there was a ton of amazing, heartfelt things in the final quarter of the book, but the first 75% took me a while to read. A lot of conversations could have or should have happened earlier to get to the good stuff toward the end.
Overall, the father/daughter feels, beautiful Greek scenery, hunt for Atlantis, and cute romance, made this one a solid addition to the series! I'd love to read more books by Strohm set overseas after this collection!
Related Posts