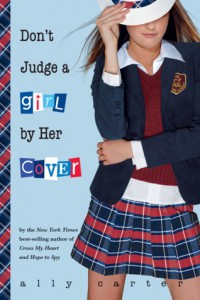 Don't Judge a Girl by Her Cover
by
Ally Carter
Series:
Gallagher Girls #3
Genres:
Young Adult
Published by
Disney-Hyperion
on January 1st 2011
Also by this author:
I'd Tell You I Love You, But Then I'd Have to Kill You
,
Cross My Heart and Hope to Spy
,
My True Love Gave To Me
,
Only the Good Spy Young
,
All Fall Down
,
Out of Sight, Out of Time
,
United We Spy
,
See How They Run
,
Take the Key and Lock Her Up
,
Not If I Save You First
Format:
Audiobook
(291 pages) •
Source:
Library
Goodreads
•
Amazon
•
Barnes & Noble
When Cammie "The Chameleon" Morgan visits her roommate Macey in Boston, she thinks she's in for an exciting end to her summer break. After all, she's there to watch Macey's father accept the nomination for vice president of the United States. But when you go to the world's best school (for spies), "exciting" and "deadly" are never far apart. Cammie and Macey soon find themselves trapped in a kidnappers' plot, with only their espionage skills to save them.

As her junior year begins, Cammie can't shake the memory of what happened in Boston, and even the Gallagher Academy for Exceptional Young Women doesn't feel like the safe haven it once did. Shocking secrets and old flames seem to lurk around every one of the mansion's corners as Cammie and her friends struggle to answer the questions, Who is after Macey? And how can the Gallagher Girls keep her safe?

Soon Cammie is joining Bex and Liz as Macey's private security team on the campaign trail. The girls must use their spy training at every turn as the stakes are raised, and Cammie gets closer and closer to the shocking truth.


So far this one is my least favorite. I guess I just feel like it was kind of boring and not much happened. It started out strong because the girls get involved with some kidnappers within the first few chapters, but then they're just hanging around school and rehashing the event. I think it opened things up to get more interesting in the rest of the series, though. I didn't remember anything about this book at all before rereading. Nothing ever came back to me as it got going either. My guess is that this one was my least favorite the first time around, too 😉
The romance aspect of this one was essentially nonexistent 97% of the book. I don't remember much about what happens with Cammie and her love interests in the rest of the series and I honestly don't know if I care which one she ends up with.
However, all was not lost! Here are the things I enjoyed, as always:
Strong friendship of Cammie and Bex/Liz/Macey
Learning cool things about spies and seeing how their school-related lessons intertwine with what actually happens to the girls
Crazy events at the end!
Related Posts