In an effort to cut down on posts and burnout, my Review Roundups will feature 2-3 backlist books I've read or listened to recently. My ARC reviews usually get the solo treatment. Enjoy the mini reviews!
---
Take the Key and Lock Her Up
by
Ally Carter
Series:
Embassy Row #3
Genres:
Young Adult
,
Mystery/Thriller
Published by
Scholastic
on December 27th 2016
Also by this author:
I'd Tell You I Love You, But Then I'd Have to Kill You
,
Cross My Heart and Hope to Spy
,
My True Love Gave To Me
,
Don't Judge a Girl by Her Cover
,
Only the Good Spy Young
,
All Fall Down
,
Out of Sight, Out of Time
,
United We Spy
,
See How They Run
,
Not If I Save You First
,
The Blonde Identity
Format:
Audiobook
(336 pages) •
Source:
Hoopla
Goodreads
•
Amazon
•
Barnes & Noble

THE PRINCESS IS DEAD. LONG LIVE THE PRINCESS.

Centuries ago, the royal family of Adria was killed . . . or so everyone thought.Now Grace Blakely knows the truth:

There was one survivor, and that survivor's blood runs through her veins. This simple fact could cause a revolution — which is why some people will stop at nothing to keep it from coming to light.

There is only one way for Grace to save herself, save her family, and save the boy she loves. She must outmaneuver her foes, cut through the web of lies that has surrounded her for years, and go back to the source of all her troubles, despite the risk.

If she wins, she will inherit a throne.

And if she loses, she will inherit the fate of all the dead princesses who came before her.
I'm a big Ally Carter fan… You can tell from all the books listed above that I've read by her. While the Gallagher Girls series is one of my favorites, Embassy Row didn't really disappoint until this final book. Many people were annoyed with Grace before but I kind of liked her closed-off ferocity. She had been through SO much; I really understood why she was so hardened to the world and how she didn't trust easily. That was a non-issue for me in the first two books, but really took a turn in TAKE THE KEY AND LOCK HER UP. I will admit that SO much of this had to do with the audiobook narrator. She over-acted and over-exaggerated her reactions to everything, so Grace was even more whiny, irritating, and hardheaded.
The story itself was lacking in some areas, but my issues with Grace really distracted me from anything else going on. She jumped headfirst into really stupid things… and then didn't understand why certain people would be mad at her for them. View Spoiler »She promises to marry the Prince so the bloodline can be restored. She tells this to her BOYFRIEND and is acting like it should be no big deal to him. Um, remember how you're dating him? You just casually broke it off to marry a prince. She also helped break Alexi's mom out of the Russian pyschiatric hospital, even though he didn't want to see her in the first place, but she pushed and pushed and pushed… THEN she left him behind WITH the mom he didn't want, so she could go live in the palace. « Hide Spoiler Seriously, such a moron! Her selfishness in this book astounded me. I don't know why it surprised me so much, but it did.
I thought the first half of the book dragged on a little bit because they were essentially on the run, had various (repetitive) conversations with people, and then something finally happened in the second half. It seemed like some things were too crammed at the end and maybe could have started earlier to keep the plot interesting. I picked up on some major clues before Grace did, which only added to my frustration. As a series ender, this book didn't really hit the mark for me.
Sidenote: I wish I had a dollar for every time Grace said something about being crazy. Seriously, I could have purchased three copies of this book. I know that she has a history with needing psychological help from PTSD, but calling herself crazy on every page was a little grating for SO many reasons.

I received this book for free (hey, thanks!) in exchange for an honest review. I promise that this does NOT affect my opinion of the book or the content of my review. For real.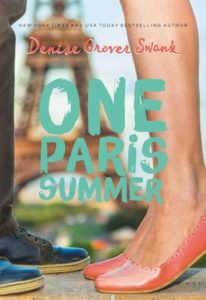 One Paris Summer
by
Denise Grover Swank
Genres:
Young Adult
,
Contemporary
Published by
Harper Collins
on June 7th 2016
Also by this author:
Twenty-Eight and a Half Wishes
Format:
Audio/eARC
(352 pages) •
Source:
Publisher, Hoopla
Goodreads
•
Amazon
•
Barnes & Noble
Most teens dream of visiting the City of Lights, but it feels more like a nightmare for Sophie Brooks. She and her brother are sent to Paris to spend the summer with their father, who left home a year ago without any explanation. As if his sudden abandonment weren't betrayal enough, he's about to remarry, and they're expected to play nice with his soon-to-be wife and stepdaughter. The stepdaughter, Camille, agrees to show them around the city, but she makes it clear that she will do everything in her power to make Sophie miserable.

Sophie could deal with all the pain and humiliation if only she could practice piano. Her dream is to become a pianist, and she was supposed to spend the summer preparing for a scholarship competition. Even though her father moved to Paris to pursue his own dream, he clearly doesn't support hers. His promise to provide her with a piano goes unfulfilled.

Still, no one is immune to Paris's charm. After a few encounters with a gorgeous French boy, Sophie finds herself warming to the city, particularly when she discovers that he can help her practice piano. There's just one hitch—he's a friend of Camille's, and Camille hates Sophie. While the summer Sophie dreaded promises to become best summer of her life, one person could ruin it all.
I've had the ARC of this one on my Kindle forever but kept putting it off. I saw it Hoopla recently and decided to start something a little summer-y in the middle of winter! I did a mix of reading the eARC and listening to the audiobook, but ended up reading the ARC to finish it off.
This book was not what I expected. I wanted a nice summer romance in Paris, with some good family feels. I knew there would be a sabotaging stepsister, but was totally not prepared for the level of "mean girl" trope Camille brought to the book. This plotline always bothers me in stories and I was shaking with rage as I read about her (not in a way that made me feel passionate about the story). There was nonstop drama from start to finish in EVERY area of Sophie's life. She fought with her dad. She had problems with her brother's friend. She had a major feud with Sophie. The romance with Mathieu wasn't easy either. Every chapter had some major issue or fight to overcome and it was exhausting. She got over certain things right away but stayed angry about other things longer than needed. I couldn't connect to her at any point. I understood her anger to her dad but they had the same fights and conversations every few chapters. It was exhausting.
The Paris setting couldn't make up for the endless angst. I did like it for a certain period after the halfway point but the very end of the book was the final straw for me. Miscommunication and lack of communication ran rampant throughout the whole thing. View Spoiler »It makes absolutely no sense that Mathieu wouldn't reach out to Sophie through ANY other means. He texted her FRENCH cell phone and was discouraged when she didn't respond. You mean to tell me he didn't go to her dad's apartment and get her real, US cell phone number? Or email address? Not likely at all. « Hide Spoiler So yeah, this book wasn't what I expected or hoped for at all.

Hope Was Here
by
Joan Bauer
Genres:
Young Adult
,
Contemporary
Published by
Penguin
on September 11th 2000
Format:
Paperback
(186 pages) •
Source:
Library
Goodreads
•
Amazon
•
Barnes & Noble

Hope is a 16-year-old girl, living a nomadic lifestyle with her aunt Addie. Addie is a chef and restaurant manager, and Hope works as a waitress. They're always moving from place to place, and the story opens with them up-rooting from Brooklyn, New York. Before she leaves, Hope scribbles 'Hope Was Here' onto the menu board - it's become her motto, a ritual she carries out whenever they have to hit the road - again. Hope's a city girl and she isn't sure how she's going to tackle life in 'cow country'. Things start hotting up for her, though, when she gets embroiled in the local politics of Mulhoney, Wisconsin while working at the Welcome Stairways diner- Soon, Hope is tackling big issues about her own past, while grappling with some surprising developments in her new home town.
I wasn't planning on reviewing this one on the blog, but I realized I had a good amount to say about it. I used to go to the public library after school in middle school, where I'd do homework and read random books until my mom picked me up. This was one of those random, older books that now make me feel so nostalgic for the early non-Gossip Girl books I'd read. I knew I wanted to reread someday, then picked it up on a whim from the library. I sat down on the Friday of the inauguration and read the whole thing in one sitting.
It was truly a bittersweet day to read a book involving a local crooked, corrupt, and overall shitty politician who lied all the time. Hmmm. Wonder why that was relevant? Either way, despite that jarring and timely plotline, this book was as good as I remembered. I think my standards in middle school were a little lower though, as expected. This book could have benefited from 50-100 more pages with more plot and more character/relationship development. Things felt like they moved SO fast without any good reason, just because the book was so short. I wish there was more time with certain characters and their relationships because (1) they were all enjoyable and (2) there wasn't enough to really FEEL much. The ending hit me pretty hard and I can't believe I read two books involving cancer in a row.
I can't wait to revisit Rules of the Road by Joan Bauer sometime soon; I already put in a library request for it. That's another one that I loved back in the day. I also just learned there's a sequel that I definitely never read, so it sounds like a quick binge for me.
Related Posts