I read two mystery/thriller stories in a row, and neither of them disappointed! They both had interesting political elements and little to no romance. (I had grown sick of reading back to back to back (etc.) romancey books in December and needed a new vibe to kick off the year.) I'm bringing some mini reviews your way for both of these highly recommended stories.
---
See How They Run
by
Ally Carter
Series:
Embassy Row #2
Genres:
Young Adult
,
Mystery/Thriller
Published by
Scholastic
on December 22nd 2015
Also by this author:
I'd Tell You I Love You, But Then I'd Have to Kill You
,
Cross My Heart and Hope to Spy
,
My True Love Gave To Me
,
Don't Judge a Girl by Her Cover
,
Only the Good Spy Young
,
All Fall Down
,
Out of Sight, Out of Time
,
United We Spy
,
Take the Key and Lock Her Up
,
Not If I Save You First
Format:
Hardcover
(336 pages) •
Source:
Library
Goodreads
•
Amazon
•
Barnes & Noble

Inside every secret, there's a world of trouble. Get ready for the second book in this new series of global proportions--from master of intrigue, New York Times bestselling author Ally Carter.

Grace's past has come back to hunt her . . . and if she doesn't stop it, Grace isn't the only one who will get hurt. Because on Embassy Row, the countries of the world stand like dominoes, and one wrong move can make them all fall down.

The twists get twistier and the turns get even more shocking in the second thrilling installment of Embassy Row.

After the major cliffhanger in ALL FALL DOWN, I was so anxiously waiting to see how things picked up in SEE HOW THEY RUN. I definitely should have reread the ending of the previous book before starting it, because I was a little lost for a while, but I started to remember things as time passed.
It did generally take me a while to fully feel invested in the story. I think the action didn't take off right away and for some reason I wasn't pageturning like crazy. Don't get me wrong – some crazy twists and turns happened in the beginning of the book too! It just didn't click with me right away.
In my review for ALL FALL DOWN, I said how I wanted more of her friends and to finally meet her brother. One of these hopes did come true, as her brother Jamie comes to Embassy Row with his friend from West Point. He was definitely a big presence in the book, but her friends weren't.
The pace quickened around the 200 page mark and I didn't stop reading until I was finished. I definitely didn't expect A LOT of the twists and turns, especially the one right at the end. It wouldn't be Ally Carter if there wasn't a huge cliffhanger. Overall, I liked the first book a bit better because my attention was captured the entire time, but this book was a really close second. NEED BOOK THREE.
---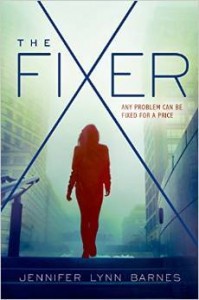 The Fixer
by
Jennifer Lynn Barnes
Series:
The Fixer #1
Genres:
Young Adult
,
Mystery/Thriller
Published by
Bloomsbury
on July 7th 2015
Also by this author:
The Long Game
,
Little White Lies
,
The Lovely and the Lost
,
Deadly Little Scandals
,
The Inheritance Games
,
The Hawthorne Legacy
,
The Final Gambit
Format:
Hardcover
(372 pages) •
Source:
Library
Goodreads
•
Amazon
•
Barnes & Noble

This thriller YA is Scandal meets Veronica Mars.

Sixteen-year-old Tess Kendrick has spent her entire life on her grandfather's ranch. But when her estranged sister Ivy uproots her to D.C., Tess is thrown into a world that revolves around politics and power. She also starts at Hardwicke Academy, the D.C. school for the children of the rich and powerful, where she unwittingly becomes a fixer for the high school set, fixing teens' problems the way her sister fixes their parents' problems.

And when a conspiracy surfaces that involves the family member of one of Tess's classmates, love triangles and unbelievable family secrets come to light and life gets even more interesting—and complicated—for Tess.

I read THE FIXER next and boooooy was it wonderful. I had heard that most people loved it and there was no romance, so I was definitely HERE FOR THAT. The story follows Tess as she moves to Washington DC to live with her sister, Ivy, who is a Fixer (for politicians and their scandals). She quickly gets involved in her own fixing-esque business and works with new friends to crack a case.
There was a lot of politics and power and death and twists and turns in this book, and I loved every second of it. Tess was really smart and definitely took after Ivy in her ability to GET SHIT DONE. I loved seeing her grow close to Ivy's friends (Adam, Bodie) and make her own allies/friends (Vivvie, Asher, Henry). I LOVED EVERYONE AND NEED MORE OF THEM.
This book was a complete pageturner and really kept me guessing! Lots of red herrings and suspects and clues scattered everywhere.
My only issue is feeling like I still don't know Tess. She was obviously a badass bitch and really kept everything to herself. She was very closed off – to everyone and to the reader. I wanted more about her, but still love the parts that she showed.
I was super impressed with this story and EAGERLY await the next installment. I just have to wait like six months for it. 🙁
Related Posts