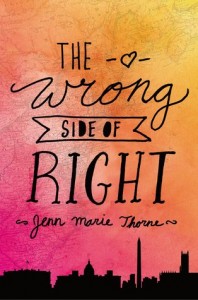 The Wrong Side of Right
by
Jenn Marie Thorne
on March 17th 2015
Also by this author:
Night Music
(390 pages) •
Goodreads
•
Amazon
•
Barnes & Noble

Kate Quinn's mom died last year, leaving Kate parentless and reeling. So when the unexpected shows up in her living room, Kate must confront another reality she never thought possible—or thought of at all. Kate does have a father. He's a powerful politician. And he's running for U.S. President. Suddenly, Kate's moving in with a family she never knew she had, joining a campaign in support of a man she hardly knows, and falling for a rebellious boy who may not have the purest motives. This is Kate's new life. But who is Kate? When what she truly believes flies in the face of the campaign's talking points, she must decide. Does she turn to the family she barely knows, the boy she knows but doesn't necessarily trust, or face a third, even scarier option?

Set against a backdrop of politics, family, and first love, this is a story of personal responsibility, complicated romance, and trying to discover who you are even as everyone tells you who you should be.

This book seriously made me feel ALL the things. So many different emotions at different times. It felt like I knew the characters and was dealing with them myself. I was enraged when Kate was pissed, I was happy and falling for Andy when she was, and I was confused and sad when she didn't know what to do. That is definitely the sign of a fantastic book.
A year after her mother passes away, Kate learns that her father is a Republican senator running for president. She is so quickly swept up into their house, the election, and their world. It's not easy, as her political opinions generally differ from her fathers, but she adjusts faster than I would have in her situation. She just felt SO REAL to me.
As for the political stuff, I liked that it wasn't beat over my head. There was one key issue that they focused on and dealt with, but the Republican stuff didn't bother me. If anything, I wish there was more politics! It would have been interesting for her to actually talk more with her father about her beliefs (because she clearly leaned left, although she hadn't made a decision really).
I loved the family feels in this one. Honestly, the stepfamily vibes were stronger than those with her father. I liked seeing them all get closer, but I wanted a little more from him. I won't spoil anything. When they got into the inevitable first fight, I thought it was so cute that she was basically happy about it, like "THIS is my first fight with my DAD." So cute. I also LOVED her new relationships with her stepmom and stepsiblings. It was so sweet.
Speaking of sweet relationships… ANDY. I loved him so much! Another thing I wish there was more about. She would tell the reader that they talked on the phone twice a week, but I wanted to witness more scenes with their relationship developing. This book was 400 pages, but I wish it was longer. Or, I wish there were more relationship-building scenes (both with her dad and with Andy) instead of some of the campaigning stuff.
There was a section towards the middle-end where I was so mad for Kate, and then immediately feelsy about her stepbrother. So many emotions within a 20 page stretch. Like I said before, I just loved the emotions I felt throughout the whole book. I loved Kate, I loved her family, I loved Andy. It was all fantastic.

| | |
| --- | --- |
| Plot & Premise | |
| Characters | |
| Writing Style | |
| Pacing & Flow | |
| Feels or Swoons | |
| Addiction Level | |
| Overall: | 4.7 |
Related Posts