I received this book for free (hey, thanks!) in exchange for an honest review. I promise that this does NOT affect my opinion of the book or the content of my review. For real.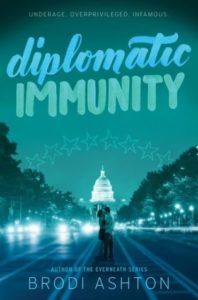 Diplomatic Immunity
by
Brodi Ashton
on September 6th 2016
Also by this author:
My Lady Jane
,
My Plain Jane
,
My Calamity Jane
(368 pages) •
Goodreads
•
Amazon
•
Barnes & Noble

Aspiring reporter Piper Baird decides to write a scathing exposé on the overprivileged students at an elite Washington, DC, school, only for her life to change when she begins to fall for the story's main subject, in this new realistic contemporary romance from Brodi Ashton, the author of the Everneath trilogy.

Raucous parties, privileged attitudes, underage drinking, and diplomatic immunity...it's all part of student life on Embassy Row.

Piper Baird has always dreamed of becoming a journalist. So when she scores a scholarship to exclusive Chiswick Academy in Washington, DC, she knows it's her big opportunity. Chiswick offers the country's most competitive prize for teen journalists—the Bennington scholarship—and winning will ensure her acceptance to one of the best schools in the country.

Piper isn't at Chiswick for two days before she witnesses the intense competition in the journalism program—and the extreme privilege of the young and wealthy elite who attend her school. And Piper knows access to these untouchable students just might give her the edge she'll need to blow the lid off life at the school in a scathing and unforgettable exposé worthy of the Bennington.

The key to the whole story lies with Rafael Amador, the son of the Spanish ambassador—and the boy at the center of the most explosive secrets and scandals on Embassy Row. Rafael is big trouble—and when he drops into her bedroom window one night, asking for help, it's Piper's chance to get the full scoop. But as they spend time together, Piper discovers that despite his dark streak, Rafael is smart, kind, funny, and gorgeous—and she might have real feelings for him. How can she break the story of a lifetime if it could destroy the boy she just might love?

I liked this one overall I guess. When I saw the synopsis, it definitely went onto my "jazzed up for this shelf" right away. I love reading about rich kids doing bad things, and this one held a lot of promise for those kinds of shenanigans. I was picturing some of my favorite old-school nostalgia-making books like Gossip Girl or Private. This didn't exactly happen, but I think it's okay.
Piper was a hard main character to get close to. I could understand her motivations in a general sense but it didn't make her any less difficult to vibe with. Her family was having money issues so she was determined to get a scholarship to cover the cost of college. She would really stop at nothing to get a good story for that reason. I definitely predicted how that plotline would go 100% so it was a little frustrating. It seriously made me cringe though because in terms of the "issue" or climax of the story, the stakes were really high for this one (compared to other contemporaries). Otherwise, Piper was kind of just weird? She blurted out whatever she was thinking most of the time and was incredibly awkward. She definitely grew on me a little bit throughout the story, but not one of my favorite main characters by any means.
I was expecting a bit more of a Gossip Girl feel with parties and drugs and all sorts of things, but that was definitely understated. There was more development with her relationship(s) than with anything else. She was very journalist-like, which is good considering her character arc, but it was hard to be in her head. She totally acted without thinking most of the time.
I LOVED RAF. He was such an interesting person and I was always wondering what his motivations were. He stayed mysterious for a super long time. I didn't really understand why he liked Piper though honestly (for all the reasons I said). I was on the fence about him towards the end because of some things I won't spoil, but he redeemed himself for me.
The ending was really sweet and I do have positive feelings about this one overall? My review sounds ranty but this was a quick read once I got into it. I read the vast majority of the book in one night.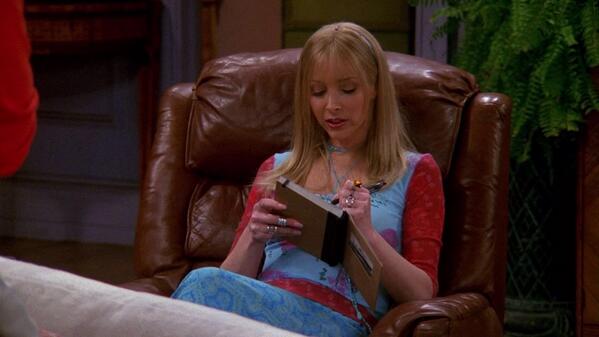 | | |
| --- | --- |
| Plot & Premise | |
| Characters | |
| Writing Style | |
| Pacing & Flow | |
| Feels or Swoons | |
| Addiction Level | |
| Overall: | 3.4 |
Related Posts