I was so thrilled when Alexa invited me along for the MY LADY JANE blog tour! I absolutely adored this book and truthfully haven't stopped thinking about it since I read it so many months ago.
I received this book for free (hey, thanks!) in exchange for an honest review. I promise that this does NOT affect my opinion of the book or the content of my review. For real.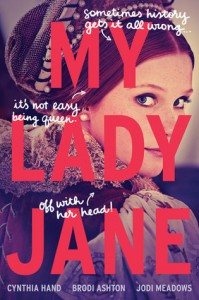 My Lady Jane
by
Cynthia Hand
,
Brodi Ashton
,
Jodi Meadows
Series:
The Lady Janies #1
on June 7th 2016
Also by this author:
The Afterlife of Holly Chase
,
My Plain Jane
,
My Calamity Jane
,
Diplomatic Immunity
(512 pages) •
Goodreads
•
Amazon
•
Barnes & Noble

For fans of The Princess Bride comes the comical, fantastical, romantical, (not) entirely true story of Lady Jane Grey.

Lady Jane Grey, sixteen, is about to be married to a total stranger—and caught up in an insidious plot to rob her cousin, King Edward, of his throne. But that's the least of Jane's problems. She's about to become Queen of England. Like that could go wrong.
(Get a taste of this novel by reading the prologue!)
More places to find it: HarperCollins / Book Depository / iBooks / Indiebound / Chapters Indigo
---

This book was absolutely unlike anything I've ever read, and it's placed firmly on my favorites shelf. There were seriously SO many fantastic elements to this story – I'm going to have a hard time sharing just how fun and special this book is. Let me break it down as best as I can:
Those narrators!
I just have to mention the three amazing women who wrote this book together. They often had little asides where they would address the reader directly, and it was always so funny. It never took you fully out of the story – it really just added to its charm in ways I can't explain. It was also super cohesive; it never felt like three different people wrote the book. Their voices and writing styles blended together perfectly and seamlessly.
Pop culture references in historical fiction??
Yep. It was awesome. They made little remarks here and there alluding to things happening today (like a Red Wedding, referring to main characters as the Royal We, and quotes from Monty Python and The Princess Bride). Those examples don't even scratch the surface; I would have to reread this book multiple times to pick up on everything, I'm sure.
Our characters ♥
The book alternated between Jane, Gifford, and Edward. They were so funny and wise beyond their years, unbeknownst to them 😉 All of the side characters like Pet, Gracie, Gran, and Bess were PERFECT. Everyone added something to the plot and I smiled like an ass the entire time I was reading, probably.
"Jane, as we mentioned earlier, loved books. There was nothing she relished more than the weight of a hefty tome in her hands, each beautiful volume of knowledge as rare and wonderful and fascinating as the last. She delighted in the smell of the ink, the rough feel of the paper between her fingers, the rustle of sweet pages, the shapes of the letters before her eyes. And most of all, she loved the way that books could transport her from her otherwise mundane and stifling life and offer the experiences of a hundred other lives. Through books she could see the world" (ARC pg. 26).
The swoons and the laughs
I loved all of the romances in this one and shipped Jane and G from their first meeting. Let's just say it was awesome to be in both of their heads during their sudden wedding! I laughed constantly at the references, the jokes, the miscommunication, and the banter. It's a book that set out to spoof history.
Some fantasy, too!
I didn't really know much about this book before starting it, but saw the "fantasy" shelving on Goodreads. I LOVED this element of the story. Learning about E∂ians (pronounced with a "th" sound) was a lot of fun. It's basically when humans can transform into animals. It was huuuuge to the plot, so calling this book a historical fiction fantasy is super accurate… and also one of my favorite genres I definitely need to read more of.
Any issues? Just the small issue of length. I haven't read a book longer than 300ish pages in a while. I don't think this book was TOO long, necessarily, but I could really feel its length. I cannot imagine a single scene that could have been removed, though. That's why I don't think it should be any shorter. I just feel like it's worth mentioning that the book FEELS long because it is long. This is not a book about the destination or even full of twists and turns. It's about the journey, the characters, and the humor. You'll be happy to go along this journey with them.
My Goodreads review: 
This was unlike anything I've ever read. A funny, spoofy, loosely based on history, historical fiction novel with – somehow – pop culture references. (I would probably have to reread this more than once to catch all of them!) I don't know how to describe it. It sort of felt too long at times, but I couldn't imagine it being any shorter. The whole story was a slow-burn that just felt right. Jane, Gifford, and Edward were SO fun to read about and I enjoyed following all three of them on their journey. I loved the asides from the narrators the most. I sincerely hope there are more books like this from Meadows/Ashton/Hand! A new favorite.
---
About the Authors
We're the authors of the upcoming young adult novel, MY LADY JANE, which will be out with HarperTeen on June 7, 2016. Our group is made up of Brodi Ashton (author of the EVERNEATH series and DIPLOMATIC IMMUNITY), Cynthia Hand (New York Times bestselling author of the UNEARTHLY series and THE LAST TIME WE SAY GOODBYE), and Jodi Meadows (author of the INCARNATE and the ORPHAN QUEEN series). Between the three of us we've written thirteen novels, a bunch of novellas, a handful of short stories, and a couple of really bad poems, but this is the first time we've taken a stab at writing a book together. We're friends. We're writers. We're fixing history by rewriting one sad story at a time.
FIND THE LADY JANIES: WEBSITE || TWITTER || FACEBOOK
---
Giveaway
Related Posts