Top Historical Time Periods I'm Interested in
(and the Historical Fiction Books I Plan to Read!)
Top Ten Tuesdays are hosted by The Broke and the Bookish, where we make lists of our top ten books (or something else!) based on that week's prompt. The topics are provided ahead of time and can be found here. Book links bring you to Goodreads or my review.
This week's topic can be widely defined as books in the past or future (Top Ten Historical Settings You Love/ Ten Historical Settings You'd Love To See or Top Futuristic Books You Love/ Ten Futuristic Societies I'd Love To Read in Books). I'm not really clever enough to think of futuristic things/time periods and am not a history buff. Because of this, I decided to put my own spin on this topic. I'll be sharing the top ten historical fiction books I plan to read, and the time periods they happen during. I hope you've read some of these so you can tell me what to read first!
I've only read a handful of historical fiction books, and most of them involve some kind of magical or fantasy elements. I'm not sure why I haven't read more, to be honest. I am generally interested in some parts of history and think these books could be super interesting. This list will hopefully be a nice jumping off point for me to get going on my history lessons. I started to compile this list by thinking of the time periods that have always interested me (the 1920s and the Holocaust/WWII), the books that I remembered right off the top of my head (Scarlet and A Mad Wicked Folly), and then filled in the gaps with this super helpful infographic (which really reminded me of all the others on this list that have been on my TBR, and helped me determine what the time periods are called).
WWII and the Holocaust
This was always the time period I was most interested in when learning in school. Something about it fascinated me. I read The Diary of Anne Frank and couldn't believe it. It's hard to imagine such cruelty and evil in the world…
A huge time period I'm calling "Super Early"
I knew I wanted to include Scarlet on here, but the closest book in the same timeframe was Grave Mercy. These books take place in the Middle Ages and the Renaissance, respectively, between 1100 and 1400. I realize this is a big period of time to lump together, but I'm lazy like that.
The 1920's in New York
Apparently both of these happen in New York. It seems like this time period and location are popular for historical fiction, and I'm definitely intrigued. I loved learning about flappers and women fucking WORKING IT. I think that's why this time period appeals to me.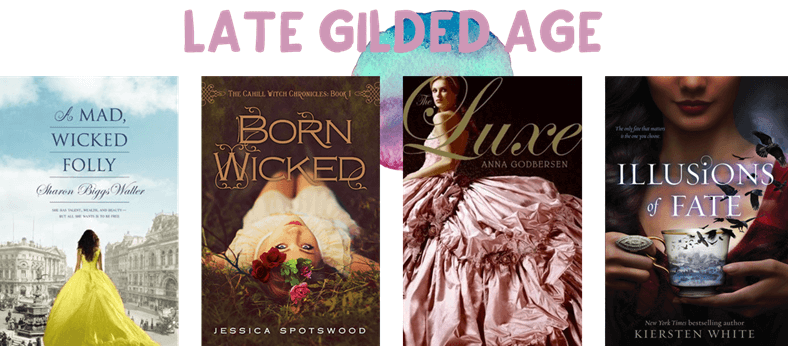 The Gilded Age
I am so bad with historical time period names, so thank you Epic Reads for helping me out with this one. All of these books feature women in pretty dresses who may or may not have cool magic involved. Girl power in the Gilded Age sounds good to me! (I said LATE Gilded Age because these ones all take place in the 1890s or 1900s.)
Related Posts