Do you ever look at a book and think
"HOW have I not read this yet?!"
I created a link-up for 2016 where you challenge yourself to make a list of those books and then read them, instead of sitting around and waiting for the next year to come and go again. These could be books you're super excited about and somehow never read (and maybe you even preordered them!).
I dubbed this challenge/link-up the Must Read in 2016 Challenge, and a few of you decided to join me! I said that we'd check in around the halfway point in the year just to say "oh shit I forgot about this!" and hopefully use it as motivation to READ. THOSE. BOOKS.
I welcome you to join in for the 2nd half of the year!
The linky is available for you to post your TBRs and the Rafflecopter is available to enter into the giveaway. That's really all you have to do. Sometimes making a TBR post alone is enough to get me to read the damn books.

I've edited the "rules" a little bit so they make more sense, now that half of the year has passed us by already somehow. So here's what you can do if you're interested in joining in still:
1. Write a blog post or create a Goodreads shelf that shows what books you were HYPED for in 2015 or early 2016 but somehow never got around to. It doesn't have to be 2015 or 2016 releases – just any book you discovered and got excited about, but never read.
2. Link your post up here using the linky! We'll check in again at the end of the year and enjoy the giveaway and wrap-up post.
…and that's it. You can be as involved or uninvolved as you want. Some people may want to be held accountable for millions of books and make monthly check-ins, which is fine! Some people may want to just write a post and link over here, and that's fine too! This is the challenge for people who don't like or care about challenges.
This is not a TBR pile challenge. This is not a 2015/2016 release challenge.
This is a link-up to motivate you to read books you were excited about but didn't get to.
You don't even have to "sign up" or use a button or track your progress every month.
Just decide what books you hope to (finally!) read… and read them!
Other pointers if you need them:
Bout of Books is a great time to plan out a TBR (cough like this one cough). There's another one coming your way from August 22nd through the 28th.
You can even link up with an OLD post from earlier this year, like the TTT post back in January about 2015 releases you can't believe you didn't read. That's fine!!
Now, let's check in on my progress…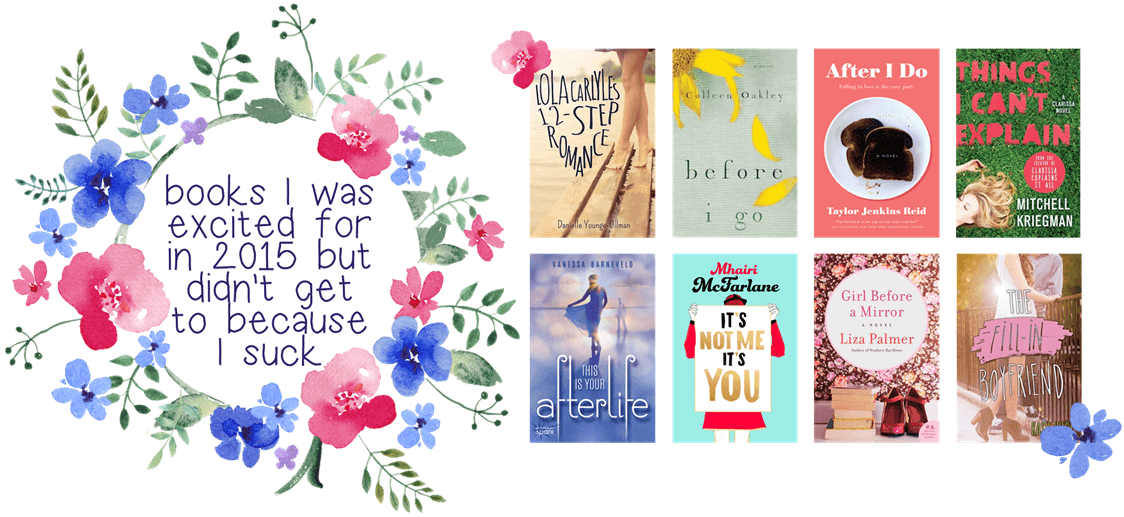 HAHAHA come and kill me because I've only read two of these books! My ultimate goal would be to read at least two more so that I can feel accomplished for knocking out half of them. Please. Someone help me.
What I've read so far: After I Do by Taylor Jenkins Reid and The Fill-In Boyfriend by Kasie West
---
That's it, folks. Join in if you'd like, with the linky below. I also have some buttons and instructions if you want to include them in your blog somewhere. Please just link to your LIST of books, not blog homepage URL.
A Giveaway for Participants!
If you feel like grabbing a button:
If you feel like sharing the "instructions" easily on your blog: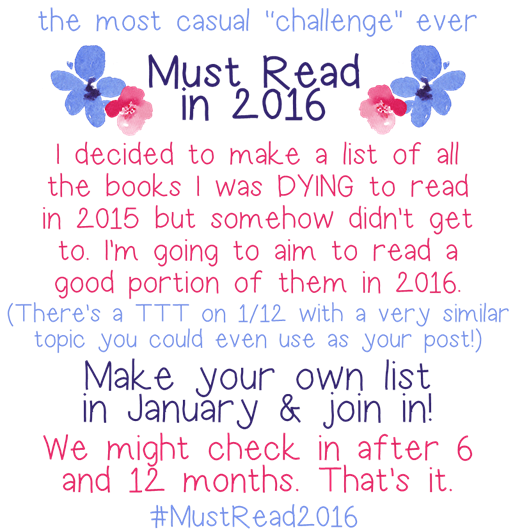 ---
Related Posts