Ten Books on my Fall TBR List
Top Ten Tuesdays are hosted by The Broke and the Bookish, where we make lists of our top ten books (or something else!) based on that week's prompt. The topics are provided ahead of time and can be found here. Book links bring you to Goodreads or my review.
I like to try to read a lot of different things, across genres, formats, and where I got them from. I am utterly terrible about sticking to a TBR each month because my moods change SO much. The only "required" reading I usually have to do is if I signed up for a blog tour, for my Book Buddies review, and for my real-life book club. I've wanted to find a TBR format that works for me so I can still have some kind of method to my madness and I've been lurking on Andi's TBR methods for a while. I decided to try it for the rest of September and October. Here are some of the categories I came up with…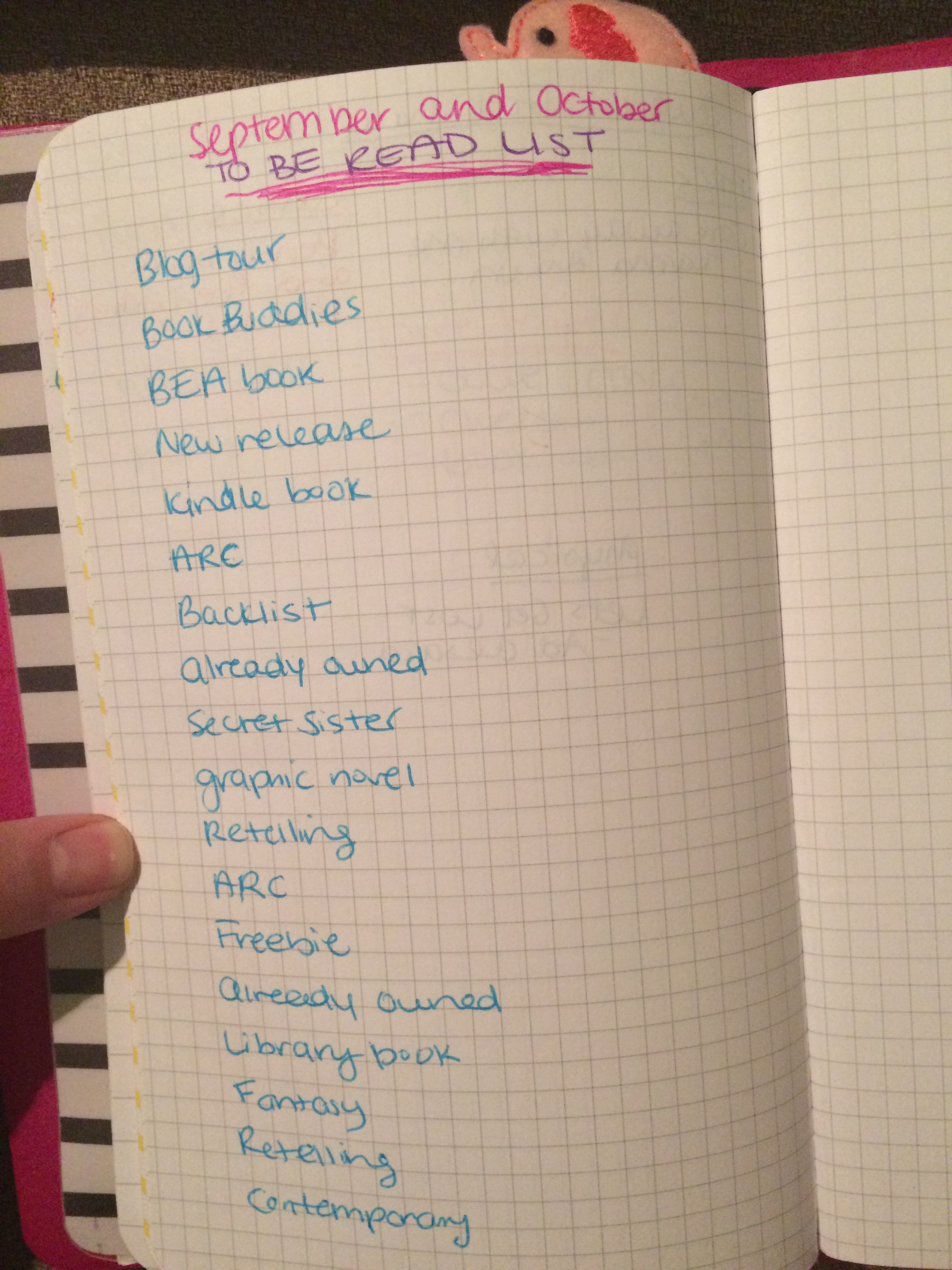 I tried to think of the books I genuinely want to read this fall, and what categories they may fall into. I don't want to restrict myself too much so I did leave a freebie option or two. I filled this page with categories – 18 books – but I will most likely exceed that number between the rest of September and all of October. That gives me even more wiggle room! Now, some of the ideas for books I may read based on these categories…

Book Buddies | A Madness So Discreet by Mindy McGinnis
Graphic novel | Ms. Marvel graphic novel
ARC from BEA | Juniors by Kaui Hart Hemmings
Secret sister pick | After I Do by Taylor Jenkins
Library book | Magnolia by Kristi Cook
Retelling x 2 | Scarlet and Cress by Marissa Meyer
Blog tour book | Water on the Moon by Jean P. Moore
Backlist | The Martian by Andy Weir
Kindle eBook | Hollow City by Ransom Riggs
Once summertime is over, I'm usually ready to jump into more fantasy titles. You can definitely see the lack of contemporaries (comparatively!) on this potential TBR. I usually don't read creepy books, but I have two on here that kind of go with the Halloween season. We'll see!
How do you plan your TBR?
Related Posts