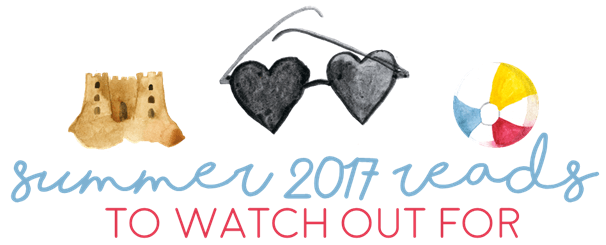 I have a tendency of reading summertime releases really early for some reason. I posted a round-up last year of summer 2016 releases to watch out for as a result of this weird habit. I happened to notice the same thing happening in 2017, so here we are today. A little more background: I love when bloggers make "save the date" style posts like Jamie and Ginger, so this is sort of a quick version of that. Here are a few books coming out in the summer (starting in May, because I can't resist) that I've already read and enjoyed.
---
This book was a breath of fresh air and really kicked my reading year off right. I love Emery Lord, but NAMES is easily her best story. I don't like reading about religion but this was incredibly well-done and accessible for people who don't like it. I wouldn't have read it if her name wasn't on it, but I'm so glad I did. I LOVED the characters, the ship, the family and friend feels, the setting… you name it.
I loved reading this geeky romance between Dimple and Rishi, whose parents are trying to push them together during a summer coding camp. I thought the Indian rep was really well-done from my seriously limited perspective. If yo're looking for a new OTP, I highly suggest this book. It was so fun to read and I couldn't believe how quickly I would fly through it in each sitting.
I expected to love this book because I was a huuuuge fan of Buxbaum's first YA book, but this was incredible. I loved the ship and the characters and the representation and the families. Everything about this story captivated me. It wasn't an easy story, but it was quick and addicting. David and Kit were fantastic characters with complex backstories.
This book truly caught me by surprise. I don't read a lot of the tough subject books about illnesses or mental disorders, so this book was out of my wheelhouse. I can't speak to the eating disorder representation, but it felt very accurate to me, based on my knowledge. I liked the friendship feels for this one and the bonds that these survivors developed during their time together.
I didn't have a lot of expectations heading into this book, but I loved the idea of a matchmaker in a family of witches. There were so many other magical creatures to take in, plus a fun ship and overall very cute story! It's a younger-feeling book that reminded me a lot of a classic Disney show about witches.
I was reallllly excited about this book when I saw it initially. I love the author, the Hollywood/aspiring actress storyline, and the floral font on the cover. I obviously read this one quite a bit early because I couldn't wait! I will read every YA book from this author now, it's official. I loved reading about Becca and her goals!
Related Posts