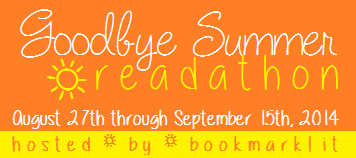 I've decided to create readathon – primarily for myself to get my summer butt in gear! Each summer, I like to mostly read books about the season. I love to read about girls who head off to summer vacations or go on road trips. There are quite a few summery books on my TBR list that I somehow avoided this summer. Now that the season is coming to a close, I've decided to make a list of these books and finish them by the end of "summer"! If you would like to join me, feel free to link up in the comments! You can use my image and just connect it with my blog so others can join in. Here's the official information page where I'll be filling in my updates, TBR list, and other information.
What I'm Doing
Making a list of the books I wanted to complete this summer but didn't get to. They'll all be books about the summer season and/or feature summery things, like road trips and vacations.
Setting a goal to read all of the books I add to my TBR list.
Joining with anyone else who decides to take part by checking out their posts and keeping up with their goals/TBR list.
Sitting back and enjoying the books! Bout of Books stressed me out more than it should have (I know that's not the point of it!), so I want to just relax with my summery books and see if I can read them all before the season slips away.
Feel free to join in! Link up on this post if you'll be participating with me.
Related Posts