The Night We Said Yes
by
Lauren Gibaldi
Genres:
Young Adult
,
Contemporary
Published by
Harper Collins
on June 16th 2015
Also by this author:
Autofocus
Format:
Hardcover
(304 pages) •
Source:
Library
Goodreads
•
Amazon
•
Barnes & Noble

Before Matt, Ella had a plan. Get over a no-good ex-boyfriend. Graduate from high school without any more distractions. Move away from Orlando, Florida, where she's lived her entire life.

But Matt—the cute, shy, bespectacled bass player who just moved to town—was never part of that plan.

And neither was attending a party that was crashed by the cops just minutes after they arrived. Or spending an entire night saying "yes" to every crazy, fun thing they could think of.

Then Matt abruptly left town, and he broke not only Ella's heart but those of their best friends, too. So when he shows up a year later with a plan of his own—to relive the night that brought them together—Ella isn't sure whether Matt's worth a second chance. Or if re-creating the past can help them create a different future.

In alternating then and now chapters, debut author Lauren Gibaldi crafts a charming, romantic story of first loves, lifelong friendships, uncovered secrets, and, ultimately, finding out how to be brave.

I don't really know where to start with this one! I enjoyed it overall but I don't think it's a book that will stick with me very long. The characters were pretty good, the style of storytelling was excellent, and the overall concept was cool. I think my biggest issue is that I took a break in the middle to read something else and when I came back, it just wasn't the same.
The story alternates between "then" and "now." In the "then" chapters, it shows the night that Ella met Matt, and they went out with another couple on a night where they said yes to everything. The "now" chapters are a year later, when Ella runs into Matt again for the first time in about six months. The synopsis makes it seem like the two of them had a magical night together and then he took off for a year. In reality, though, they dated for six months and then he left without a word. I had to adjust my expectations a bit once I realized that. Anyways, in the "now" chapters, Matt is trying to win Ella and her friends – Meg and Jake – back, when he returns to their town for college. He tries to recreate the night with Ella from a year before.
I loved the alternating chapters with the two different times. It was fun because they lined up nicely with each other. Each one ended on a mini cliffhanger, so I was always eager to read the next chapter that would be coming in that timeline. I think this book would actually make a great movie, too… especially with the time changes.
I liked the characters enough. I wasn't completely attached to them though. Overall I felt kind of detached for the story. I was rooting for Ella and Matt to get back together, but I think the moral of the story is kind of odd. Her friend, Meg, constantly goes back with her boyfriend, Jake, and they seem to have a fairly tumultuous relationship. They fight, break up, see other people, flirt with other people… and then get back together. She's apparently happy for some reason though. Matt left Ella without saying a word because of family reasons (that he eventually shares with her) and she entertains the idea of taking him back too. I don't know, I feel like both relationships aren't exactly healthy examples for teenagers. Matt and Ella definitely fell for each other quickly, too. I kind of just wasn't TOTALLY on board with the romance or the message that these kinds of relationships are healthy. Like, you're going to college far away! Enjoy it and move on. I don't know, that may just be my black sheep opinion. There was good chemistry and a bit of banter, which I always like, but not enough to make me fall in love with everyone. (Funniest moment was easily when Matt says "high five for being in bands?" LOL so good. If you read it, you'll appreciate the joke!)
The premise of the book and the style the story was told in really is what hooked me. I don't think I'll remember much about this story in a few months, but it was an enjoyable read. I teeter between 3.5 and 4 stars for this one, but I think I would recommend it. If the concept and set-up sound interesting to you, give it a try!

| | |
| --- | --- |
| Plot & Premise | |
| Characters | |
| Writing Style | |
| Pacing & Flow | |
| Feels or Swoons | |
| Addiction Level | |
| Overall: | 3.8 |
---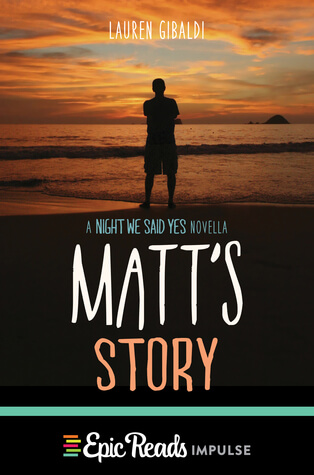 Matt's Story (Novella)
by
Lauren Gibaldi
Genres:
Young Adult
,
Contemporary
Published by
Harper Collins
on August 4th 2015
Also by this author:
Autofocus
Format:
eBook
(91 pages) •
Source:
Purchased
Goodreads
•
Amazon
•
Barnes & Noble
We've seen Ella's story in The Night We Said Yes, but now we'll hear Matt's tale in this e-original novella from Lauren Gibaldi.

Seventeen-year-old Matt had the perfect life in Orlando. He met the girl of his dreams, rocked out on bass in an awesome band, and partied with the best group of friends he could ask for. But then his family gets a call and he has to move back to Texas—immediately. Now stuck with no possibility of ever seeing his friends in Orlando again, Matt is ready to give up. But can he open up his heart to new friends and a second chance?
This was a pretty good addition to the first book. I'm glad it exists because I wanted to see inside Matt's head a little bit more, but I still don't think he's off the hook. I still don't totally agree with how he handled everything… but I guess it's a bit more understandable now.
Kat and Cindy were definitely weird characters at first but I ended up liking them by the end of the story. They were a cute addition; Matt really needed some friends or else this story would have been pretty boring.
I don't want to spoil the ending, but I wish View Spoiler »that it went all the way up until the moment they saw each other. I would have loved to see what was going on in his head during that timeframe. « Hide Spoiler
Related Posts