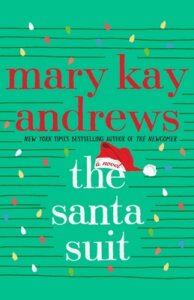 The Santa Suit by Mary Kay Andrews
Genres: Adult, Contemporary, Holiday
Published by Macmillan on September 28, 2021
Format: Audio/eBook (224 pages) • Source: Scribd
Goodreads • Amazon • Barnes & Noble

From Mary Kay Andrews, the New York Times bestselling author of Hello, Summer, comes a novella celebrating the magic of Christmas and second chances in The Santa Suit.

When newly-divorced Ivy Perkins buys an old farmhouse sight unseen, she is definitely looking for a change in her life. The Four Roses, as the farmhouse is called, is a labor of love—but Ivy didn't bargain on just how much labor. The previous family left so much furniture and so much junk, that it's a full-time job sorting through all of it.

At the top of a closet, Ivy finds an old Santa suit—beautifully made and decades old. In the pocket of a suit she finds a note written in a childish hand: it's from a little girl who has one Christmas wish, and that is for her father to return home from the war. This discovery sets Ivy off on a mission. Who wrote the note? Did the man ever come home? What mysteries did the Rose family hold?

Ivy's quest brings her into the community, at a time when all she wanted to do was be left alone and nurse her wounds. But the magic of Christmas makes miracles happen, and Ivy just might find more than she ever thought possible: a welcoming town, a family reunited, a mystery solved, and a second chance at love.
Story
This was a random choice this year after having been on my radar since it was released last year. When I decided to read 7 books in 7 days again, it was an easy selection due to its size (and audiobook on Scribd to switch between!). The story centers around freshly divorced Ivy heading to her newly purchased farm property in a small town. Her realtor turned handyman turned love interest Ezra is present throughout the novel.
Ivy finds a gorgeous vintage Santa Suit in the attic with a heartbreaking Christmas wish from a child written on a piece of paper in the pocket. She decides to track down the writer of the note and try to figure out what happened that Christmas back in the day. Along the way, she meets and befriends a lot of people in the town who help her on her quest (and beyond – everyone is quite friendly). The story was cute and cheesy, which is what I tend to expect from holiday books in most cases.
Wintery Setting & Holiday Feels
I love a southern small town romance with Christmas vibes! There was a cute Christmas market setting that I really enjoyed and totally wish was fleshed out more. The farm property was well-known (due to its previous owners) for its lights and Christmas cheer, so it was nice when Ivy got into the spirit with decorating. Overall, decent Christmas vibes but a short novella – so a little hard to get super detailed.
Overall
This was a cute story! The ending genuinely caught me by surprise in a really heartwarming way – totally didn't see any of that coming. I bumped my rating up a little bit for that reason alone. It was sweet overall and a bit corny in spots. I definitely wish it was a more full novel because I think it would have benefited from that.


---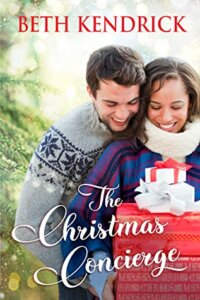 The Christmas Concierge
by
Beth Kendrick
Genres:
Adult
,
Contemporary
,
Holiday
Published by
Tule Publishing
on October 5th, 2022
Also by this author:
Second Time Around
,
Cure for the Common Breakup
,
New Uses for Old Boyfriends
,
Put a Ring on It
,
Once Upon a Wine
,
The Lucky Dog Matchmaking Service
,
In Dog We Trust
Format:
eBook
(201 pages) •
Source:
Purchased
Goodreads
•
Amazon
•
Barnes & Noble

From the bestselling author of Nearlyweds, a Hallmark Channel original movie, comes a charming Christmas romance filled with all the best parts of the holiday season. When your job is to make everyone else's Christmas wishes come true, who will grant your own wish?

Christmas concierge Holiday Smith, known as "the Wish Granter," procures impossible-to-find gifts for her elite clients. But after years of granting everyone's wishes but her own, she promises her family that this year she'll finally make it home for Christmas. Just one tiny glitch: a favorite elderly client begs Holiday to set up her grown granddaughter on a blind date with her old high school crush, tech-world escapee Alex Sappier…who's somewhere off the coast of Maine.

Famously private, Alex flatly refuses a date with an old classmate he doesn't even remember. And there's nothing this beautiful stranger can do to persuade him. Unless…she'd be willing to cast her wish-making magic on his own Christmas family crisis?

Holiday has less than a week to rescue Alex's family's Christmas, arrange a Grinch-defying Christmas Eve blind date, and get herself home before a blizzard closes the roads—or worse, before they give in to the growing attraction between them.

As Holiday teams up with exactly the right man at exactly the wrong time, can she find a way to make her own wish for love come true this Christmas?
Story
Man, I LOVED this. I shouldn't be surprised because Beth Kendrick (underrated queen) does not miss. I was excited to spot this random holiday novella from her this year, despite the cheesy cover. The story was so unique and drew me in right away.
Holiday – yes, that's her real name – is a Christmas concierge. She travels all around the world to help unattainable Christmas dreams and wishes come true. She's able to track down any gift, no matter how rare, for her clients and their loved ones. Her latest task is to head to a cute little fake town in Maine and set up a romantic blind date between her client's granddaughter and her high school crush, Alex.
Holiday and Alex embark on their own Christmas quest for his family in order to get him to agree to the date, and chaos ensues. I loved the concept of this story so much and actually think the novella/shorter format worked well here. Everyone felt like a real, fleshed out person, which is hard to do in novellas.
Wintery Setting & Holiday Feels
There is not a better spot for a holiday romance than Maine! I loved all the snow and it did feel like some of my favorite small towns on the Maine coast. The holiday feels were pretty good – lots of descriptions of the little town all decorated. I could have done with a little more, but clearly I have high holiday expectations for books! I'm giving it my full cheer-o-meter rating below because the concept of the book is very heavily Christmas-oriented, not just "a large part of the plot."
Overall
I love Beth Kendrick, truly. She writes such excellent romances. Please read her books y'all because I always need more. Overall, I couldn't have asked for more from a holiday novella – lots of cheer, unique plot, snowy Christmas setting, family feels, and great characters.


---

Related Posts