I received this book for free (hey, thanks!) in exchange for an honest review. I promise that this does NOT affect my opinion of the book or the content of my review. For real.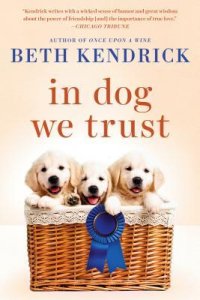 In Dog We Trust
by
Beth Kendrick
Series:
Black Dog Bay #5
Genres:
Adult
,
Contemporary
Published by
Penguin
on January 8, 2019
Also by this author:
Second Time Around
,
Cure for the Common Breakup
,
New Uses for Old Boyfriends
,
Put a Ring on It
,
Once Upon a Wine
,
The Lucky Dog Matchmaking Service
,
The Christmas Concierge
Format:
eARC
(336 pages) •
Source:
Publisher
Goodreads
•
Amazon
•
Barnes & Noble
From the author of Once Upon a Wine, a new novel set in the charming seashore town of Black Dog Bay, Delaware.

When everything has gone to the dogs . . .

When Jocelyn Hillier is named legal guardian for the late Mr. Allardyce's pack of pedigreed Labrador retrievers, her world is flipped upside down. She's spent her entire life toiling in the tourism industry in Black Dog Bay and never expected to be living the pampered life of a seasonal resident in an ocean side mansion, complete with a generous stipend. But her new role isn't without its challenges: The dogs (although lovable) are more high-maintenance than any Hollywood diva, the man she wants to marry breaks her heart, and she's confronted at every turn by her late benefactor's estranged son, Liam, who thinks he's entitled to the inheritance left to the dogs.

Jocelyn has worked too hard to back down without a fight, and she's determined to keep her new fur family together. As she strives to uphold the "Best in Show" standards her pack requires, Jocelyn finds love, family, and forgiveness in the most unexpected places.
When I arrived at the end of the Black Dog Bay series, I was not ready to leave that perfect setting. I loved the town and its characters, plus all of the quirky breakup-themed businesses there. I started to come to terms with the fact that I wouldn't get to visit there again because the final book came out in 2016 without any word of follow-ups. I was randomly browsing Netgalley one day and saw IN DOG WE TRUST. I was excited to see a new title by Beth Kendrick in general, but was even mooooore excited to see that we'd be returning to my beloved Black Dog Bay for the story. I knew I wouldn't be able to wait on this one and had to read it immediately.
The premise of the book, from the synopsis, is that Jocelyn is put in charge of some purebred Labradors after their owner passes away, and is suddenly working and living in a beachfront mansion, instead of cleaning up after tourists in her business with her mom. The late dog owner's son shows up, looking for his inheritence, and a legal battle (of sorts) ensues.
So… this wasn't exactly what I was looking for in my unexpected return to Black Dog Bay, my literal favorite book setting of all time. First, the romance was…bizarre. Without getting too far into spoilers, Jocelyn and Liam were essentially in a legal battle throughout the book, which led to a weird version of the "hate to love" romance trope. It didn't even feel like a romance for more than 50% of the story. He acted like a huge dick about the house and money, while sweet-talking her in a personal way. How was I supposed to swoon over this guy?!
Second, I definitely wished for more Black Dog Bay in general. It was great to see some returning characters and locations, but I just didn't FEEL it as much as I have in the past. The setting has always felt like another character to me, with its lively "breakup tourism" concept. Many were referenced, as I said, but I don't know – it just didn't feel the same.
On the plus side: I ADORED Jocelyn and Bree, her best friend. They were such solid and hilarious friends-who-are-basically-sisters! I am praying for another novel about Bree; she is the best. They grew up together and had such an easy, loving relationship. They were like the best friends who DON'T annoy you with constant inside jokes, but you can tell they're still reading each other's minds.
So yeah, overall? The premise was interesting and unique but just not as romancey as I would have liked? This much a friendship story for me, which could have been fine, but not what I expected.
Related Posts