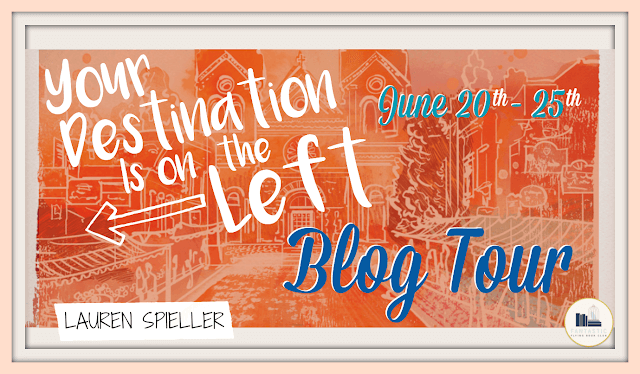 I received this book for free (hey, thanks!) in exchange for an honest review. I promise that this does NOT affect my opinion of the book or the content of my review. For real.
Your Destination Is on the Left
by
Lauren Spieller
Genres:
Contemporary
,
Young Adult
Published by
Simon and Schuster
on June 26, 2018
Also by this author:
She's the Worst
Format:
eARC
(304 pages) •
Source:
Fantastic Flying Book Club
Goodreads
•
Amazon
•
Barnes & Noble
Dessa Rhodes is a modern day nomad. Her family travels in an RV, their lives defined by state lines, exit signs, and the small communal caravan they call home. Among them is Cyrus, her best friend and long-time crush, whom she knows she can never be with. When your families are perpetually linked, it's too dangerous to take a risk on romance.

Instead, Dessa looks to the future. She wants to be a real artist and going to art school is her ticket to success and a new life. There's just one problem: she hasn't been accepted…anywhere. Suddenly her future is wide open, and it looks like she's going to be stuck traveling forever.

Then an unexpected opportunity presents itself: an internship working with a local artist in Santa Fe. Dessa struggles to prove to her boss—and herself—that she belongs there, but just as she finally hits her stride, her family suffers an unexpected blow. Faced with losing everything that she has worked for, Dessa has a difficult decision to make. Will she say goodbye to her nomadic lifestyle and the boy she loves? Or will she choose to never stop moving?
Review
After traveling with her family in a caravan of RVs since seventh grade, Dessa is ready to figure out the next steps in her own life. The caravan makes decisions as a group by voting, instead of allowing individual voices to be heard. This works for a while, for most situations (like when and where to go next), but can be harder when someone wants to break free and carve their own path. Dessa is a great artist that, for some reason, didn't get into any art schools. She's surprised by her acceptance into an internship with a great artist in Santa Fe, NM, so the caravan heads there.
I loved getting to know her grandmother and the artist, Fiona – they were two of my favorite characters. Many of the side characters, like her family and Cyrus, were hard for me. I understood that they needed and wanted to keep everyone together as a group, but it often felt like people were forced into things. Dessa knew what was right for her and no one wanted to let her do it. I appreciated that she fought for her independence and tried to make everyone understand that SHE deserved to make her own decisions. She's old enough to decide what to do next.
Cyrus was an okay love interest sometimes but I wasn't really sold on the ship… which is weird, because friends-to-more is my jam usually! The two of them have been traveling together since they started and it seemed like they were finally acknowledging their feelings toward one another. I don't want to spoil anything, but I will say that I liked the ending quite a bit. It felt very realistic and I loved that.
---
Cover Colors
I was so excited to pull together Color Covers for this one! The cover is absolutely gorgeous. I loved the blending of blues and oranges. The cover TOTALLY fits the book perfectly and it reminds me of a sunburst painting that Dessa created; very artsy! I knew I'd want to make two outfits for this cover as well: one that fits the nomad lifestyle, with basic pieces you can mix and match (that the MC would wear), and one that fits the gorgeous colors of the cover.
What Dessa Would Wear
I started out by making a simple outfit for Dessa. While she was an artsy person, her style was more simple than that. There isn't room in an RV to wear too many different outfits, so you have to be able to mix and match pieces to create new looks as needed. She wore a lot of basics, like a black tee shirt with shorts. She always referenced ankle boots so I had to include those here. I gave her a nice necklace and pop of color purse (that matches the book cover!) too. She wore a vintage Beatles shirt in one scene but I wasn't able to find one for this particular collage. In any case, this is right along the lines of what she would wear in the story.
Cover Colors
I had to make an outfit that matched the cover of the book and gave off some summery vibes. I picked a peach colored sundress with natural and blue accessories. I like how the browns and golds work together with the blue and orange colors, like the cover does. I think it stays very true to the theme 😉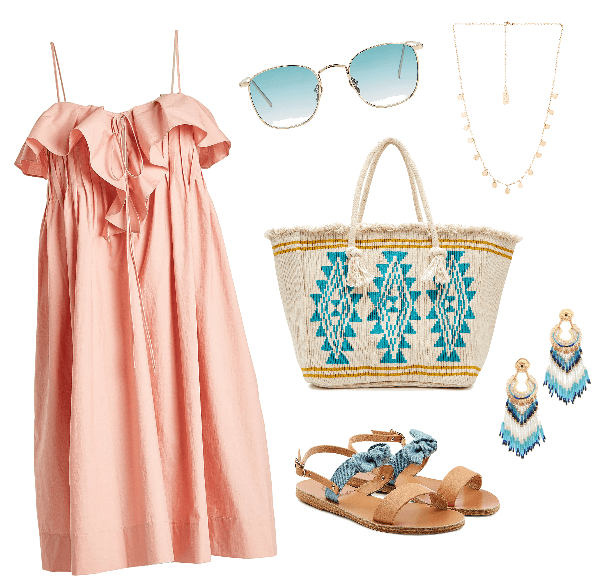 ---
About the Author
Author links: Twitter | Instagram | Tumblr | Website
More book links: iBooks | Kobo | Book Depository
Lauren Spieller is a literary agent who lives in New York with her husband. When she isn't writing, she can be found drinking lattes, pining for every dog she sees, or visiting her native California. YOUR DESTINATION IS ON THE LEFT is her debut novel.
---
Tour Info & Giveaway
Check out the rest of the tour stops here!
Hardcover copy of THE DESTINATION IS ON YOUR LEFT by Lauren Spieller
Related Posts