I received this book for free (hey, thanks!) in exchange for an honest review. I promise that this does NOT affect my opinion of the book or the content of my review. For real.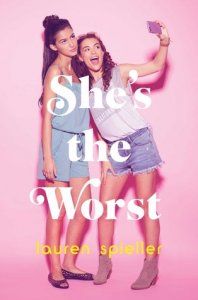 She's the Worst
by
Lauren Spieller
Genres:
Young Adult
,
Contemporary
Published by
Simon and Schuster
on September 3, 2019
Also by this author:
Your Destination Is on the Left
Format:
eARC
(320 pages) •
Source:
Publisher
Goodreads
•
Amazon
•
Barnes & Noble
Sisters April and Jenn haven't been close in years. Jenn's too busy with school, the family antique shop, and her boyfriend, and April would rather play soccer and hang out with the boy next door.

But when April notices her older sister is sad about staying home for college, she decides to do something about it. The girls set off to revive a pact they made as kids: spend an epic day exploring the greatest hits of their childhood and all that Los Angeles has to offer.

Then April learns that Jenn has been keeping a secret that could rip their family—and their feuding parents—apart. With only one day to set things right, the sisters must decide if their relationship is worth saving, or if the truth will tear them apart for good.
I have to say, I was super excited about this one but a bit nervous too. I didn't like Spieller's debut that much and was nervous that I'd be disappointed here. Honestly, it was so cute and fun! I read it in one sitting on a Saturday morning when I was desperate to read a little more on the final day of the month; it was the perfect book to just read at once.
April and Jenn were definitely "opposites" in most ways, with Jenn being the perfect sister that always helped their parents and got good grades. April was a bit younger and reckless, playing soccer instead of working at the family's store. It was hard to read about how easily they grew apart, and the fact that it was honestly mostly their parents' fault. I don't want to dive too much into them because I HATED THEM SO MUCH but they were incredibly unreasonable. I have to say, they were some of my least favorite parents I've read about.
April decides to give Jenn a tour of their memories around LA, where they live, and I won't disclose Jenn's secret, but it was a good idea for their sister day. They had a lot of issues to resolve within their relationship, as well as how they were impacted by their parents' choice to open – and fight about – an antique store for years.
There were other things touched upon, like Jenn's feelings about college, her boyfriend, and her two friends (who were going to the same school, without her), and April's ~boy~ situation and soccer-related dreams. I thought it was nice that they had SOME background elements that were fleshed out just the right amount, given that this story happened within one day.
Overall, this was a quick and cute read that those with sisters should especially enjoy. I reflected on my relationship with my sister, which is quite different than theirs for numerous reasons. The horrible parents dampened my reading experience and I don't think this will have much lasting power for me, so 3.5 stars it is!
---
I received this book for free (hey, thanks!) in exchange for an honest review. I promise that this does NOT affect my opinion of the book or the content of my review. For real.
Love on Lexington Avenue
by
Lauren Layne
Series:
Central Park Pact #2
Genres:
Adult
,
Contemporary
Published by
Simon and Schuster
on September 17, 2019
Also by this author:
Passion on Park Avenue
,
Marriage on Madison Avenue
,
To Sir, with Love
,
Made in Manhattan
Format:
eARC
(288 pages) •
Source:
Publisher
Goodreads
•
Amazon
•
Barnes & Noble

A Goodreads Best Romance

"Fans of The Devil Wears Prada will flip over Love on Lexington Avenue." —Karen Hawkins, New York Times bestselling author

From New York Times bestselling author Lauren Layne comes the second delightfully charming installment in the Central Park Pact series, following a young widow whose newfound cynicism about love is challenged by a sexy, rough-around-the-edges contractor.

There are no good men left in New York City. At least that's Claire Hayes's conviction after finding out her late husband was not the man she thought he was. Determined to rid her home of anything that reminds her of her cheating husband, Claire sets out to redesign her boring, beige Upper East Side brownstone and make it something all her own. But what starts out as a simple renovation becomes a lot more complicated when she meets her bad-tempered contractor Scott Turner.

Scott bluntly makes it known to Claire that he only took on her house for a change of pace from the corporate offices and swanky hotels he's been building lately, and he doesn't hesitate to add that he has no patience for a pampered, damaged princess with a penchant for pink. But when long workdays turn into even longer nights, their mutual wariness morphs into something more complicated—a grudging respect, and maybe even attraction...

Filled with laugh-out-loud scenes that blend perfectly with the touching friendships Layne brings to life on the page, this "hugely entertaining" (USA TODAY) novel is perfect for fans of Lauren Weisberger.
I'm really loving this series. There's something about the premise that totally works for me, and the first two books have been executed so well! ICYMI, three women meet when their significant other, Brayden, passes away. Yes, all three of them were with him. One is the casual hookup, one is the girlfriend, and one is the wife. Naomi, the hookup, was the first book in the series. For our second story, we learn about the wife – Claire.
Claire is itching to move on from her slimy ex by redoing the brownstone they shared for years. She can finally design it to her liking, so she hires a contractor. Scott is the best friend of Oliver from the first story. They've both been burned before and are afraid of commitment as a result. He's definitely a grumpy leading man, which usually works for me, and Claire was so innocent and cute. She determines that she's too vanilla and needs to "strawberry lemonade" up her life a little bit. She took that part a little too far at times but it wasn't terrible. I really enjoyed watching their relationship slowly develop throughout the story.
My biggest complaint is that because the book came in at under 300 pages, it felt underdeveloped at times. We got stories of Scott's past/backstory via other characters but never really in his own words to Claire. Sometimes he reflected on it during his POV chapters but not quite enough. At one point, Claire makes a comment about her parents not knowing her favorite color, and I feel like there must be more backstory into her family then? I feel like they were mentioned SO incredibly rarely. Some development surrounding Claire's future (mild spoiler so I'll avoid it) was very randomly thrown in. It made me happy in general, but I just needed a little MORE from this one.
This was a quick and enjoyable read; I immediately requested the third book on Netgalley upon completion! I can't wait to read Audrey's story, which BETTER BE best-friends-to-more.
Related Posts