I've read a few books at the end of last year (that didn't really involve the holiday season) and just wanted to share some quick thoughts, so we're here today with mini reviews!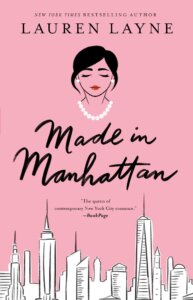 Made in Manhattan
by
Lauren Layne
Genres:
Adult
,
Contemporary
Published by
Simon and Schuster
on January 18, 2022
Also by this author:
Passion on Park Avenue
,
Love on Lexington Avenue
,
Marriage on Madison Avenue
,
To Sir, with Love
Format:
Audio/eBook
(304 pages) •
Source:
Scribd
Goodreads
•
Amazon
•
Barnes & Noble

From the New York Times bestselling author of the Central Park Pact comes a reverse My Fair Lady for the modern era about a pampered and privileged Manhattan socialite who must teach an unpolished and denim-loving nobody from the Louisiana Bayou how to fit in with the upper crust of New York City. Perfect for fans of Christina Lauren and Sally Thorne.

Violet Townsend has always been a people pleaser. Raised in the privileged world of Upper East Side Manhattan, she always says the right things, wears the right clothes, and never rocks the boat. Violet would do anything for the people closest to her, especially her beloved grandmother. So when she asks Violet to teach the newly-discovered grandson of her friend how to fit in with New York City's elite, Violet immediately agrees. Her goal? To get Cain Stone ready to take his place as heir to his family company…but to say he's not exactly an eager student is an understatement.

Born and raised in rural Louisiana and now making his own way in New Orleans, Cain Stone is only playing along for the paycheck at the end. He has no use for the grandmother he didn't know existed and no patience for the uppity Violet's attempts to turn him into a suit-wearing, museum-attending gentleman.

But somewhere amidst antagonistic dinner parties and tortured tux fittings, Cain and Violet come to a begrudging understanding—and the uptight Violet realizes she's not the only one doing the teaching. As she and Cain begin to find mutual respect for one another (and maybe even something more), Violet learns that blindly following society's rules doesn't lead to happiness…and that sometimes the best things in life come from the most unexpected places.
I've become a huge sucker for Lauren Layne's books. I adored the Central Park Pact series and found them super addicting, and her follow-up (TO SIR WITH LOVE) was excellent too. I just think her writing is so easy to read and exactly what I need in my life when I'm struggling with books holding my attention!
MADE IN MANHATTAN was a reverse "My Fair Lady" retelling. Posh NYC heiress Violet is asked by her de facto grandmother to help whip her newly discovered grandson, Cain, into shape so he can (hopefully) take over their family business. The two spend time getting to know each other and disagree on a ton of things before the obvious happens.
This was a cute story and I'm glad I finally picked it up – I definitely needed something light and breezy. Cain and Violet were nice characters with more in common than they thought. The ending was sweet and the drama was minimal, which is generally what I prefer from my romance these days! I'd recommend it if you like her other books for sure.

The Family Game
by
Catherine Steadman
Genres:
Adult
,
Mystery/Thriller
Published by
Penguin Random House
on October 18, 2022
Format:
Hardcover
(336 pages) •
Source:
Book of the Month
Goodreads
•
Amazon
•
Barnes & Noble

A rich, eccentric family. A time-honored tradition. Or a lethal game of survival? One woman finds out what it really takes to join the 1% in this riveting psychological thriller from the New York Times bestselling author of Something in the Water, Mr. Nobody, and The Disappearing Act.

Harry is a novelist on the brink of stardom; Edward, her husband-to-be, is seemingly perfect. In love and freshly engaged, their bliss is interrupted by the reemergence of the Holbecks, Edward's eminent family and the embodiment of American old money. For years, they've dominated headlines and pulled society's strings, and Edward left them all behind to forge his own path. But there are eyes and ears everywhere. It was only a matter of time before they were pulled back in . . .

After all, even though he's long severed ties with his family, Edward is set to inherit it all. Harriet is drawn to the glamour and sophistication of the Holbecks, who seem to welcome her with open arms, but everything changes when she meets Robert, the inescapably magnetic head of the family. At their first meeting, Robert slips Harry a cassette tape, revealing a shocking confession which sets the inevitable game in motion.

What is it about Harry that made him give her that tape? A thing that has the power to destroy everything? As she ramps up her quest for the truth, she must endure the Holbecks' savage Christmas traditions all the while knowing that losing this game could be deadly.
THE FAMILY GAME was a was super intriguing and addicting! Harry and her fiance begin spending more and more time with his family and she's quickly brought into their world. His father seems intense (and maybe a little crazy) when he gives her a small tape with family secrets on it. Why did he give it to her? What's the truth about this family she's supposed to be marrying into?
It was serendipitous that I read this in December and it has some Christmas elements and timing. I started to piece some things together early on but it was a wild and enjoyable ride with fucked up rich people doing fucked up rich people things. I don't think I could tell too much more about it without spoiling everything but overall a very "fun" read.

You're Invited
by
Amanda Jayatissa
Genres:
Adult
,
Mystery/Thriller
Published by
Penguin Random House
on August 9, 2022
Format:
Hardcover
(384 pages) •
Source:
Book of the Month
Goodreads
•
Amazon
•
Barnes & Noble

What could be worse than your ex-boyfriend marrying your childhood best friend? Getting accused of her murder…

From the author of My Sweet Girl comes a dangerously addictive new thriller about a lavish Sri Lankan wedding celebration that not everyone will survive.
When Amaya is invited to Kaavi's over-the-top wedding in Sri Lanka, she is surprised and a little hurt to hear from her former best friend after so many years of radio silence. But when Amaya learns that the groom is her very own ex-boyfriend, she is consumed by a single thought: She must stop the wedding from happening, no matter the cost.

But as the weeklong wedding celebrations begin and rumors about Amaya's past begin to swirl, she can't help but feel like she also has a target on her back. When Kaavi goes missing and is presumed dead, all evidence points to Amaya.
However, nothing is as it seems as Jayatissa expertly unravels that each wedding guest has their own dark secret and agenda, and Amaya may not be the only one with a plan to keep the bride from getting her happily ever after…
YOU'RE INVITED was a really strong, addicting read for me. It centers around a girl who randomly gets an invite to her childhood best friend's wedding, even though they haven't spoken for years, and decides to go. Turns out her friend is actually engaged to her ex-boyfriend, so she's determined to understand what happened. The story unfolds over time where you learn more and more about what happened between them, with plenty of little mysteries throughout.
I predicted a ton of it but still a fun ride, especially when you get past the halfway point – I was genuinely wondering how there were so many pages left until I hit a certain chapter haha. I think this was unlike a lot of mysteries I've read and I'm happy that I've been reading the genre more widely lately. It surprised me in a lot of ways and I found myself rushing to finish it and see how it all turned out.
Related Posts