In an effort to cut down on posts and burnout, my Review Roundups will feature 2-4 books I've read or listened to recently. Sometimes they're newer releases and sometimes they're all backlist titles. My ARC reviews usually get the solo treatment. Enjoy the mini reviews!
---
I received this book for free (hey, thanks!) in exchange for an honest review. I promise that this does NOT affect my opinion of the book or the content of my review. For real.
Undercover Bromance
by
Lyssa Kay Adams
Series:
Bromance Book Club #2
Genres:
Adult
,
Contemporary
Published by
Penguin
on March 10, 2020
Also by this author:
The Bromance Book Club
Format:
eARC
(320 pages) •
Source:
Publisher
Goodreads
•
Amazon
•
Barnes & Noble
Braden Mack thinks reading romance novels makes him an expert in love, but he'll soon discover that real life is better than fiction.
Liv Papandreas has a dream job as a sous chef at Nashville's hottest restaurant. Too bad the celebrity chef owner is less than charming behind kitchen doors. After she catches him harassing a young hostess, she confronts him and gets fired. Liv vows revenge, but she'll need assistance to take on the powerful chef.
Unfortunately, that means turning to Braden Mack. When Liv's blackballed from the restaurant scene, the charismatic nightclub entrepreneur offers to help expose her ex-boss, but she is suspicious of his motives. He'll need to call in reinforcements: the Bromance Book Club.
Inspired by the romantic suspense novel they're reading, the book club assist Liv in setting up a sting operation to take down the chef. But they're just as eager to help Mack figure out the way to Liv's heart… even while she's determined to squelch the sparks between them before she gets burned.
DNF: 33%
While I enjoyed the first book in this series, I certainly didn't love it like everyone else. I didn't really like Liv, the previous MC's sister, at all either. She was incredibly stubborn and overprotective to me. Needless to say, I wasn't thrilled when she was the lead character for book two. She proved to be just as irritating in this one – maybe even more so since we were in her head.
I enjoyed Mack as a character and thought he was way sweeter than his "smooth guy" persona implied from the previous story. I loved how quick he was to use his resources to help Liv take down the shitty restaurant owner she previously worked for.
I didn't read the synopsis of this one fully and was really just excited to see how book two would go, so I wasn't fully aware that this had the heavier topic of sexual assault/harassment at the forefront. I didn't realize it was central to the plot for whatever reason. I just couldn't read it.
Also, the first book had cute inserts from the romance that the book club was reading, and showed how it related to the story itself. This book didn't have that in the first third (it probably would come into play later as they did their sting operation) but I wasn't enjoying the book enough to push through and find out. The Bromance Book Club itself didn't really appear as much as I'd like either.
Usually with companion series, I'm happy to try the next book if I don't love certain elements of the first one. There are plenty of instances of this working for me. As long as it's not the author's writing style itself, I will assume the next plot or central characters will resonate more with me. Unfortunately I was enjoying this one even less and never felt compelled to keep reading, despite Mack's charm grabbing me a bit. I'm not sure I'll read the upcoming books in this series because clearly something isn't clicking or connecting.

I received this book for free (hey, thanks!) in exchange for an honest review. I promise that this does NOT affect my opinion of the book or the content of my review. For real.
The June Boys
by
Courtney C. Stevens
Genres:
Young Adult
,
Mystery/Thriller
Published by
Harper Collins
on March 3, 2020
Also by this author:
The Lies About Truth
Format:
Audio/eARC
(368 pages) •
Source:
Hoopla, Publisher
Goodreads
•
Amazon
•
Barnes & Noble
The Gemini Thief could be anyone. Your father, your mother, your best friend's crazy uncle. Some country music star's deranged sister. Anyone.
The Gemini Thief is a serial kidnapper, who takes three boys and holds them captive from June 1st to June 30th of the following year. The June Boys endure thirteen months of being stolen, hidden, observed, and fed before they are released, unharmed, by their masked captor. The Thief is a pro, having eluded authorities for nearly a decade and taken at least twelve boys.
Now Thea Delacroix has reason to believe the Gemini Thief took a thirteenth victim: her cousin, Aulus McClaghen.
But the game changes when one of the kidnapped boys turns up dead. Together with her boyfriend Nick and her best friends, Thea is determined to find the Gemini Thief and the remaining boys before it's too late. Only she's beginning to wonder something sinister, something repulsive, something unbelievable, and yet, not impossible:
What if her father is the Gemini Thief?
Well, that was a ride. I saw a review stating how confusing this was with the different timelines and how they didn't notice it until the end of the book, so I was glad to have that tidbit in my head throughout. I still managed to get confused though because of the characters included in each section.
I realized later, when putting in the publisher for this book, that this is kind of under a Christian fiction umbrella? There were some weird religious elements starting around the middle that were not my favorite. It's no secret I don't enjoy books with major religious themes and some of them here were just too much out of my wheelhouse, like people having signs from God to cover for their actions? It was not for me.
I honestly didn't take a lot of time to develop theories for this book because it was really hard for me to keep all of the characters straight. There were SO many because they introduced a lot of adults (uncles, aunts, family friends, parents of friends, etc.) as well as the teenagers. I just couldn't remember if Gladys was a friend or an aunt? What was the name of Aulus's dad again? Idk, it was hard for me!
I think the ending of this one took it to a better spot for me! I wasn't sure how things were going to shake out and definitely didn't see it coming. The castle element to the story was weird and added some intrigue (in terms of the suspect list, to keep it simple/spoiler-free) but I didn't really understand the point, aside from the aforementioned "God told me to do it" plot element that felt super out of place.
Overall, I was pretty addicted to this throughout. The writing style was pretty good and the mystery was intriguing; for once I didn't figure out the culprit or have any inkling really come true. There were multiple surprises/twists at the end that got to me and I definitely appreciate that! However, I'm not sure how long this book will stick with me? I didn't LOVE the writing and think it was a little too basic at times. I've seen a mixed bag of reviews for this one, so I'm honestly not sure how to recommend it!

I received this book for free (hey, thanks!) in exchange for an honest review. I promise that this does NOT affect my opinion of the book or the content of my review. For real.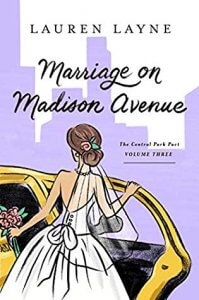 Marriage on Madison Avenue
by
Lauren Layne
Series:
Central Park Pact #3
Genres:
Adult
,
Contemporary
Published by
Simon and Schuster
on January 28, 2020
Also by this author:
Passion on Park Avenue
,
Love on Lexington Avenue
,
To Sir, with Love
,
Made in Manhattan
,
Emergency Contact
Format:
Audio/eARC
(288 pages) •
Source:
Publisher, Scribd
Goodreads
•
Amazon
•
Barnes & Noble

"The word charm is pretty much synonymous with Lauren Layne." —Hypable
From New York Times bestselling author Lauren Layne, the "queen of witty dialogue" (Rachel Van Dyken, New York Times bestselling author), comes the final installment of the Central Park Pact series, a heartfelt and laugh-out-loud romantic comedy that's perfect for fans of Sally Thorne and Christina Lauren.
Can guys and girls ever be just friends? According to Audrey Tate and Clarke West, absolutely. After all, they've been best friends since childhood without a single romantic entanglement. Clarke is the charming playboy Audrey can always count on, and he knows that the ever-loyal Audrey will never not play along with his strategy for dodging his matchmaking mother—announcing he's already engaged…to Audrey.
But what starts out as a playful game between two best friends turns into something infinitely more complicated, as just-for-show kisses begin to stir up forbidden feelings. As the faux wedding date looms closer, Audrey and Clarke realize that they can never go back to the way things were, but deep down, do they really want to?
Perfect conclusion to the series with the couple I've been waiting for! I was totally in for the best-friends-to-more trope inevitably coming when Audrey and Clarke were introduced. This could be my favorite book (or at least favorite couple) in the series.
I totally adored the premise of these three women coming together after the same man broke all of their hearts and abruptly died, leaving them to figure out how to move on from the array of relationships they had with him. Claire was his wife, Naomi was the casual fling, and Audrey was the girlfriend. They were obviously each hurt or affected by him, his actions/cheating, and his death, but the three came together and formed such a beautiful and natural best-friendship that I have LOVED reading about. I wish there were the possibility of more books in this series because I think I could read about these three couples forever.
The final story here featured Audrey, the youngest and the classic "Instagram influencer" type, who was a favorite of mine from the start. She and Clarke, her longtime best friend, decide to have a fake engagement to get some people off their backs and surprise, surprise – real feelings are there. I loved watching them both slooowly realize how they felt. There was minimal drama – something I've enjoyed overall about this series, if I remember the previous two books correctly – and minimal steam (unfortunately).
I think the lack of sexytimes was the biggest detractor for me personally because I feel like the two books before had a little more? Otherwise there were some *highly* predictable parts. Truth be told that was welcome given the current circumstances of the world, and I had faith that Audrey and Clarke would work things out no matter what happened. This book was perfectly quick, light, easy, and enjoyable. I can't recommend this series enough!
Related Posts