I received this book for free (hey, thanks!) in exchange for an honest review. I promise that this does NOT affect my opinion of the book or the content of my review. For real.
Mooncakes
by
Suzanne Walker
,
Wendy Xu
Genres:
Young Adult
,
Paranormal
,
Comic/Graphic Novel
Published by
Lions Forge Comics
on October 22, 2019
Format:
Paperback
,
eARC
(256 pages) •
Source:
Publisher, Purchased
Goodreads
•
Amazon
•
Barnes & Noble

A story of love and demons, family and witchcraft.

Nova Huang knows more about magic than your average teen witch. She works at her grandmothers' bookshop, where she helps them loan out spell books and investigate any supernatural occurrences in their New England town.

One fateful night, she follows reports of a white wolf into the woods, and she comes across the unexpected: her childhood crush, Tam Lang, battling a horse demon in the woods. As a werewolf, Tam has been wandering from place to place for years, unable to call any town home.

Pursued by dark forces eager to claim the magic of wolves and out of options, Tam turns to Nova for help. Their latent feelings are rekindled against the backdrop of witchcraft, untested magic, occult rituals, and family ties both new and old in this enchanting tale of self-discovery.
I had really high hopes going into MOONCAKES – it looked like a very cute, inclusive love story with a good amount of witchy magic and Halloween feels. I planned to read it ON Halloween but got sidetracked with finishing some other books for the end of the month, so I read it over the course of one night (the next day). I received an egalley for review but ended up purchasing the paperback after my review copy expired (whoops!).
This graphic novel is about Nova, a hearing-impaired witch, who lives with her two grandmothers. Her parents passed away but do appear in the story. When a wolf is discovered in the nearby woods, Nova goes to investigate. It turns out to be her childhood friend, Tam, a non-binary werewolf. The two, along with the Nanas, work to remove a demon from their town. Lots of family feels and little touches of side-stories that I'd love to read more about. An old flame reignites between Nova and Tam and it's THE CUTEST. I love childhood-BFFs-to-more storylines.
I have to say, a higher rating could very well have happened here but I seriously struggle with rating graphic novels. I know that they're just as good as reading a novel, obviously, but I personally rush through them. It's like I have a timer in my head saying I NEED to finish a comic in one sitting, just because I know I can. I blaze through them and it results in lessened enjoyment. Completely my fault. I still REALLY recommend this one. So cute.
---
I received this book for free (hey, thanks!) in exchange for an honest review. I promise that this does NOT affect my opinion of the book or the content of my review. For real.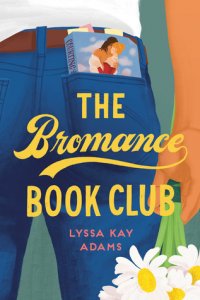 The Bromance Book Club
by
Lyssa Kay Adams
Series:
Bromance Book Club #1
Genres:
Adult
,
Contemporary
Published by
Penguin
on November 5, 2019
Also by this author:
Undercover Bromance
Format:
eARC
(320 pages) •
Source:
Publisher
Goodreads
•
Amazon
•
Barnes & Noble
The first rule of this book club:You don't talk about book club.

Nashville Legends second baseman Gavin Scott's marriage is in major league trouble. He's recently discovered a humiliating secret: his wife Thea has always faked the Big O. When he loses his cool at the revelation, it's the final straw on their already strained relationship. Thea asks for a divorce, and Gavin realizes he's let his pride and fear get the better of him.

Welcome to the Bromance Book Club.

Distraught and desperate, Gavin finds help from an unlikely source: a secret romance book club made up of Nashville's top alpha men. With the help of their current read, a steamy Regency titled Courting the Countess, the guys coach Gavin on saving his marriage. But it'll take a lot more than flowery words and grand gestures for this hapless Romeo to find his inner hero and win back the trust of his wife.
I saw a few mixed early reviews for this one but I was still pretty excited to finally get to it! The concept of a book club where some ~manly men~ read romance novels sounded quite nice. I loved the idea that this series (or at least the first book, so far) is about men trying to "date" and win back their wives. The couple is already together but in a rough patch, so the MC will fight to make up for the past and learn from their mistakes.
The first book in the series is about Gavin. He and his wife Thea got married quickly after a surprise pregnancy and three years later, things have fallen apart. He's not as attentive as he should be, she's been faking orgasms for the entirety of their relationship, and countless other small issues that have added up. Part of the reason Thea is looking for a divorce is because she wants to get out before things get worse and her twin girls have to see a fighting couple. She's operating from experience based on her father's past and relationship issues.
This book was frustrating a lot of the time because I just wanted them to COMMUNICATE. It's hard to read books about adult relationships when both parties are acting like teenagers. I read YA books and understand there could be some miscommunication that ruins the relationship (not my favorite way to create the black moment, but I know it's real), but I just want people in adult romance books to grow up. I loved the lengths that Gavin went to in order to fix his marriage and try to make up for past mistakes, but there was a lot of work that needed to be done on her end too. Relationships are partnerships; there's always going to be some kind of compromise and effort from both parties to make things work when there are issues.
Overall, I enjoyed the steamy scenes in this one quite a bit and though Adams had a nice writing style. It was an addicting, fast read, and I would generally recommend it. There are some contrived elements and clearly pieces of the story didn't work for me (I didn't like either character for really the first half of the book) but it was all worth it by the end.
Related Posts