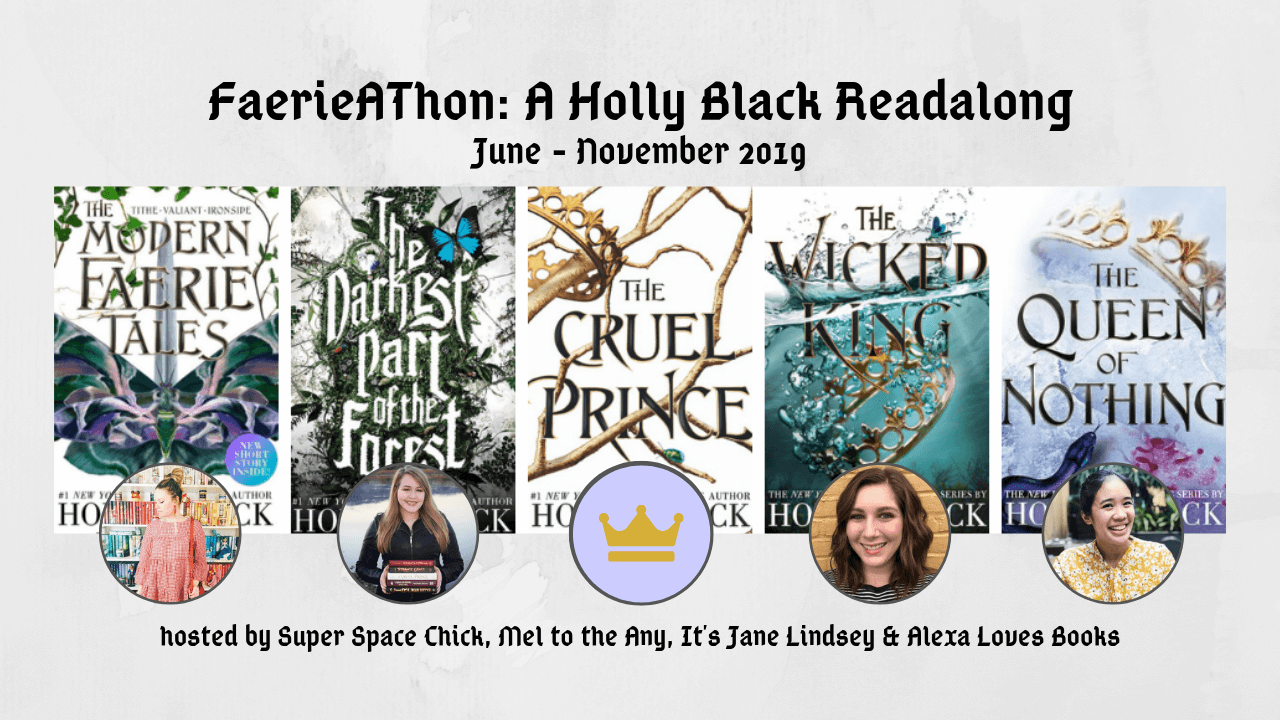 FaerieAThon is hosted by Super Space Chick, Mel to the Any, It's Jane Lindsey, and Alexa Loves Books. It's a six-month-long event that involves reading or rereading all of Holly Black's books set in the fae world. This includes the Modern Faerie Tales series, The Darkest Part of the Forest, and The Folk of the Air series. Each month has daily chapters to read and live shows to recap/discuss. Links above are directly to announcement posts and videos. I'll be including my thoughts on the book and anything else I want to discuss related to the fae world!
---
The Modern Faerie Tales: Tithe, Valiant, and Ironside
by
Holly Black
Genres:
Young Adult
,
Fantasy
Published by
Simon and Schuster
on June 4, 2019
Also by this author:
My True Love Gave To Me
,
The Darkest Part of the Forest
,
The Cruel Prince
,
The Wicked King
,
The Queen of Nothing
,
How the King of Elfhame Learned to Hate Stories
,
The Stolen Heir
Format:
Paperback
(332 pages) •
Source:
Purchased
Goodreads
•
Amazon
•
Barnes & Noble

Welcome to the realm of very scary faeries!

Sixteen-year-old Kaye is a modern nomad. Fierce and independent, she travels from city to city with her mother's rock band until an ominous attack forces Kaye back to her childhood home. There, amid the industrial, blue-collar New Jersey backdrop, Kaye soon finds herself an unwilling pawn in an ancient power struggle between two rival faerie kingdoms - a struggle that could very well mean her death.
---
Tithe

Quick facts
Is this one a first time read or a reread? Reread! I read it the first time probably within the first few years after it was published? I would venture to guess early high school.
If rereading, did my review or rating change? I didn't rate this one the first time around but it was one of those classic "this is one of my favorite books!" situations. I didn't really have a place to track ratings around 2006! I feel like I considered this a "favorite book" back then though and this time I only rated it 3 stars.
Did I keep up with the reading schedule as planned? Yes! I was very diligent about the daily chapters. It was helpful to have the ebook on Scribd so I could read here and there throughout the day. I tried to finish them during work breaks so I didn't have to cram anything in before bed. The last segment of chapters was split between Saturday night and Sunday morning, but whatever – close enough!
Review
Man, I totally forgot how gritty this book is. The first few chapters kind of caught me off guard, if I'm being honest. Kaye has been touring around with her mother, staying out late at various venues and bars, smoking cigarettes, and not attending school. I didn't remember any of the setup for this novel so I was eagerly awaiting the arrival of faeries!
The friendship aspect of this novel was weird. Kaye and Janet had a very bizarre relationship, where they had been friends and kept in touch when Kaye was gone, but there were some instances in the beginning of the book that were just… not friend-ish? Corny, Janet's brother, became important (which I kind of remembered) throughout the story when Kaye realizes what's actually happening to her. I have to say, this book was quite a bit diverse, which feels like an anomaly for the time it was written? The main character is half-Japanese, Corny is gay, and most of the characters are poor. However, there were a lot of bits and pieces that don't age particularly well. Just very weird situations and descriptors that probably could have been changed or edited out when this went out for a reprint in this new edition. An updated 2019 version of this series would have made a lot of sense…
Seriously though… this book is so dark. I kept comparing it the entire time to the Folk of the Air series and that was probably to its detriment. Not specifically because one is darker than the other (I'll have to reread those to figure it out) but because the story feels super different and not as good this time around.
---
Valiant

Quick facts
Is this one a first time read or a reread? I always thought or assumed I read this one but I genuinely remember ZERO of this book upon my reread.
If rereading, did my review or rating change? Well I have no idea if this is even a reread sooooo…
Did I keep up with the reading schedule as planned? Yes, surprisingly. I didn't have much motivation to read this one after not loving TITHE like I remembered. This one was even darker and grittier so it was harder to read, but I mostly stayed on top of things.
Review
These books are so firmly set in the early 2000s, it's wild. I remember thinking I was such a badass reading about this bad-girl main characters and their insane lives. I didn't remember that the first two books followed different main characters; I was fully expecting to hop back in with Kaye and her life in VALIANT. Instead, we're introduced to an even darker setting and character experience with Val. After she discovers something terrible at home, she starts hanging with homeless teens in NYC in the Subway.
I still strongly believe that these should have been updated for the reprint. I know it would be hard to change a lot of the story but there are so many little things that don't make sense in 2019. Holly Black's writing has improved so much since this series was written too. I feel like these books are/were trying too hard to be edgy and show these badass characters, even though it was really kind of lame. Like, ~I'm going to eat this rotten apple because I can~ kind of stuff. Really? lol.
Those scenes, plus a few other terrible and/or pointless and/or disgusting ones, led to a pretty bad reading experience overall. It's an unpopular opinion here but I think from an overall plot perspective, I much preferred TITHE.
---
Ironside

Quick facts
Is this one a first time read or a reread? First time apparently!
If rereading, did my review or rating change? N/A
Did I keep up with the reading schedule as planned? Yes I did. There were a few times where I was going to get lazy but I always managed to get shit done. This was one where I really wished I had an audiobook to alternate with too.
Review
Yet again, I have to say: these books are so gritty and yucky at times haha. I will also say that this was definitely the best book of the three. I don't know that I was fully invested in the story, to be honest, because I was so down on the first two. I had only readathon motivation to keep me going, really. I liked that all of the characters (sort of) came together in this one too. The ending was interesting and there were some good twists. Holly Black's writing even improved as she got to the final book in this trilogy. Overall, I am glad I finally read or reread this series, since it had been on my mind for a while, but I am SO grateful that Black's writing has gotten so much better over time. I hope to see some easter eggs from this series in the new trilogy now.
Related Posts