In an effort to cut down on posts and burnout, my Review Roundups will feature 2-4 books I've read or listened to recently. Sometimes they're newer releases and sometimes they're all backlist titles. My ARC reviews usually get the solo treatment. Enjoy the mini reviews!
---
I received this book for free (hey, thanks!) in exchange for an honest review. I promise that this does NOT affect my opinion of the book or the content of my review. For real.
Chasing Lucky
by
Jenn Bennett
Genres:
Young Adult
,
Contemporary
Published by
Simon and Schuster
on November 10, 2020
Also by this author:
The Anatomical Shape of a Heart
,
Alex, Approximately
,
Starry Eyes
,
Serious Moonlight
Format:
Audio/eARC
(416 pages) •
Source:
Publisher, Scribd
Goodreads
•
Amazon
•
Barnes & Noble

In this coming-of-age romance perfect for fans of Jenny Han and Sarah Dessen, a rule-abiding teen embraces her more rebellious side while falling for her ex-boyfriend's arch-nemesis.

Budding photographer Josie Saint-Martin has spent half her life with her single mother, moving from city to city. When they return to her historical New England hometown years later to run the family bookstore, Josie knows it's not forever. Her dreams are on the opposite coast, and she has a plan to get there.

What she doesn't plan for is a run-in with the town bad boy, Lucky Karras. Outsider, rebel…and her former childhood best friend. Lucky makes it clear he wants nothing to do with the newly returned Josie. But everything changes after a disastrous pool party, and a poorly executed act of revenge lands Josie in some big-time trouble—with Lucky unexpectedly taking the blame.

Determined to understand why Lucky was so quick to cover for her, Josie discovers that both of them have changed, and that the good boy she once knew now has a dark sense of humor and a smile that makes her heart race. And maybe, just maybe, he's not quite the brooding bad boy everyone thinks he is…
I've pretty much loved all of Jenn Bennett's books and this one was good! I have to say it might be my least favorite, but still a very cute, atmospheric read. Annoyingly, I can't really put my finger on the things that bother me or prevent it from being a fave.
Josie returns home to Beauty, RI (kind of like Newport, in my eyes) and encounters her long lost best friend, Lucky, after they were essentially ripped apart five years before. Josie and the women in her family are "cursed" and have bad luck with men. This didn't really play into the story as much as I expected but was somewhat of an underlying theme. She and her mom are back in Beauty to run her grandma's bookstore while she's away with her aunt. It was fun to read about this coastal Rhode Island town but I didn't get as many fun New England seaport vibes as I was hoping for? The bookstore was THERE but not as present as I would have liked either for some reason.
There are a lot of plot points I didn't expect or remember from the synopsis, if they were in there, like the breaking of a store window and a complete butthead of a Harvard student being a jerk every time they turned around. There was kind of a lot happening in this one. I liked the romance with Lucky and learning about each of their families. There were some fun scenes exploring the town a little bit or venturing out on his boat.
Overall, I enjoyed reading it, and am glad I finally got to it! The egalley had been sitting on my Kindle since long before the original pub date and I can't believe I wanted this long to read a Jenn Bennett book!

The Hunting Party
by
Lucy Foley
Genres:
Adult
,
Mystery/Thriller
Published by
Harper Collins
on February 12, 2019
Also by this author:
The Guest List
,
The Paris Apartment
Format:
Audio/Physical
(336 pages) •
Source:
Book of the Month
,
Scribd
Goodreads
•
Amazon
•
Barnes & Noble

Everyone's invited...everyone's a suspect...

For fans of Ruth Ware and Tana French, a shivery, atmospheric, page-turning novel of psychological suspense in the tradition of Agatha Christie, in which a group of old college friends are snowed in at a hunting lodge . . . and murder and mayhem ensue.

All of them are friends. One of them is a killer.

During the languid days of the Christmas break, a group of thirtysomething friends from Oxford meet to welcome in the New Year together, a tradition they began as students ten years ago. For this vacation, they've chosen an idyllic and isolated estate in the Scottish Highlands—the perfect place to get away and unwind by themselves.

They arrive on December 30th, just before a historic blizzard seals the lodge off from the outside world.

Two days later, on New Year's Day, one of them is dead.

The trip began innocently enough: admiring the stunning if foreboding scenery, champagne in front of a crackling fire, and reminiscences about the past. But after a decade, the weight of secret resentments has grown too heavy for the group's tenuous nostalgia to bear. Amid the boisterous revelry of New Year's Eve, the cord holding them together snaps.

Now one of them is dead . . . and another of them did it.

Keep your friends close, the old adage goes. But just how close is too close?
I really enjoyed Lucy Foley's previous book, THE GUEST LIST, so I was excited to see another of hers on the BOTM list. I keep forgetting to cancel my membership lol. Anyways, THE HUNTING PARTY is really reminiscent of the previous book. They both take place on deserted islands or places, involve groups of people coming together with secrets, staff members who also have secrets, and a dead body that isn't revealed until late in the story. It's kind of wild how similar they are, especially to both be featured as BOTM picks/options.
The two books do diverge at some point around the middle. I really liked trying to figure out who the victim was while reading and my theory was basically true from the beginning (the victim – not the perpetrator). Some interesting red herrings throughout too.
I know I always say this but man, it's hard to root for or care about any characters in mystery books like this. You assume everyone is the killer so you don't want to get attached! It makes it a lot of fun but also harder to invest in, in some ways?
Overall, I'll definitely continue reading Lucy Foley's thrillers as they come out. Her writing style is very addicting, which was welcome for me in 2020.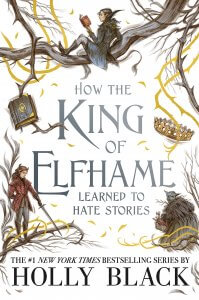 How the King of Elfhame Learned to Hate Stories
by
Holly Black
Series:
The Folk of the Air #3.5
Genres:
Young Adult
,
Fantasy
Published by
Hachette
on November 24, 2020
Also by this author:
My True Love Gave To Me
,
The Darkest Part of the Forest
,
The Cruel Prince
,
The Wicked King
,
The Modern Faerie Tales: Tithe, Valiant, and Ironside
,
The Queen of Nothing
,
The Stolen Heir
Format:
Hardcover
(173 pages) •
Source:
Purchased
Goodreads
•
Amazon
•
Barnes & Noble
An illustrated addition to the New York Times bestselling Folk of Air trilogy, that started with The Cruel Prince, from award-winning author Holly Black.

An irresistible return to the captivating world of Elfhame.

Once upon a time, there was a boy with a wicked tongue.

Before he was a cruel prince or a wicked king, he was a faerie child with a heart of stone. #1 New York Times bestselling author, Holly Black reveals a deeper look into the dramatic life of Elfhame's enigmatic high king, Cardan. This tale includes delicious details of life before The Cruel Prince, an adventure beyond The Queen of Nothing, and familiar moments from The Folk of the Air trilogy, told wholly from Cardan's perspective.

This new installment in the Folk of the Air series is a return to the heart-racing romance, danger, humor, and drama that enchanted readers everywhere. Each chapter is paired with lavish and luminous full-color art, making this the perfect collector's item to be enjoyed by both new audiences and old.
This ended up being my final book of the year. It felt right to end 2020 with these characters and a series I love so much!
While I generally welcome any excuse to return to a favorite world (I also forgot that these take place in Portland, Maine when they're in the mortal world!), novellas or short stories aren't my favorite thing. Sometimes they add something to the story or series but most of the time they don't. I'll usually read the book or selection of stories and shrug my shoulders.
This was no exception for the most part, except for two key differences. The stories had a narrative thread connecting them that I definitely appreciated. They also had beautiful illustrations! I need to flip back through at some point and really take my time with them, because I was honestly kind of rushing to finish before the end of the year haha.
I'm happy to have this cute little book on my shelves, especially to look through later. This series is wonderful.
Related Posts