I received this book for free (hey, thanks!) in exchange for an honest review. I promise that this does NOT affect my opinion of the book or the content of my review. For real.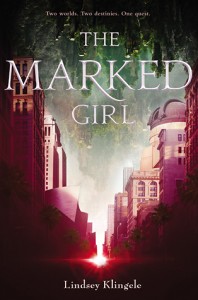 The Marked Girl
by
Lindsey Klingele
Series:
Marked Girl #1
Genres:
Young Adult
,
Fantasy
Published by
Harper Collins
on June 21st 2016
Also by this author:
The Broken World
Format:
ARC
(400 pages) •
Source:
Around the World ARC Tours
Goodreads
•
Amazon
•
Barnes & Noble

Once upon a time, in a land far, far away (Los Angeles)…

When Cedric, crowned prince of Caelum, and his fellow royal friends (including his betrothed, Kat) find themselves stranded in modern-day L.A. via a magical portal and an evil traitor named Malquin, all they want to do is get home to Caelum—soon. Then they meet Liv, a filmmaker foster girl who just wants to get out of the system and on with her life. As she and Cedric bond, they'll discover that she's more connected to his world than they ever could've imagined…and that finding home is no easy task…

I really liked this a lot! It took me a little while to get engaged with this for some reason; I think the beginning threw me off. After the first few chapters, I started getting really into it and was super curious about where it was heading. The synopsis says that Liv is in some way connected to the people who come in from the other realm, so I was wondering nonstop how all that was going to connect at some point. The basic idea behind the book is that a girl, Liv, finds these three people (Cedric, Kat, and Merek) who end up explaining that they came in from another land (Caelum) through a portal. I haven't read a lot of books like this, but it reminded me immediately of a cross between Thor and The 20th Kingdom (I'll admit I've only seen one episode, but the premise at least seems similar!). I became hooked soonafter.
I'm a bad judge of what a GOOD fantasy story is because I read so few of them. To me, this book was really unique and super interesting. As I said, I've never read a book involving realms and portals; I'd only seen it on the shows/movies. So yeah, I thought this book was unique and engaging for sure. Not sure how experienced fantasy readers will feel!
There were lots of twists and turns that I honestly didn't see coming, which was refreshing. Lately I've been on a kick where I'm too good at predicting what's going to happen in books. There were some interesting developments and I'm honestly not sure how she can make the next book twistier!
As for the characters, I was pretty invested in them. I hope to see more of their personalities in the upcoming books because there wasn't too much time for character development in this book. There was a lot of action and plan-making, but not much else with them. I DID ship Cedric and Liv, but again – there was a decent amount of chemistry but not as much as I would like. Romance is ~there~ kind of, but not at the forefront. It could have been better and more pronounced. I didn't trust a couple of people (especially as betrayals started happening), so I kind of kept my distance from the characters. I do that in mystery novels because I start suspecting everyone, but somehow that happened here too.
The ending! Lots of action and intrigue, in my opinion. There was sort of a cliffhanger but it doesn't have me absolutely itching for the next book. I'm okay with waiting for it, I think. The story itself was full of action and I loved how everything came together at the end. I'm reaaally looking forward to learning more about Caelum.
Overall, I would definitely recommend this book if you're interested in multiple realms/portal-based fantasy without a complicated system of magic. There really wasn't MAGIC (yet?) aside from that aspect. It was easy and pretty quick to read. I can't wait to see where things go next.
---
I received this book for free (hey, thanks!) in exchange for an honest review. I promise that this does NOT affect my opinion of the book or the content of my review. For real.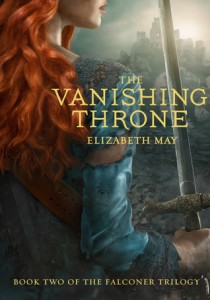 The Vanishing Throne
by
Elizabeth May
Series:
The Falconer #2
Genres:
Young Adult
,
Fantasy
Published by
Hachette
on June 7th 2016
Also by this author:
The Falconer
,
Toil & Trouble: 15 Tales of Women & Witchcraft
Format:
eARC
(384 pages) •
Source:
Publisher
Goodreads
•
Amazon
•
Barnes & Noble
The second book in the Falconer trilogy is packed with surprises and suspense.

Aileana Kameron, the Falconer, disappeared through the portal that she was trying to close forever. Now she wakes up in the fae world, trapped and tortured by the evil Lonnrach. With the help of an unexpected ally, Aileana re-enters the human world, only to find everything irrevocably changed. Edinburgh has been destroyed, and the few human survivors are living in an uneasy truce with the fae, while both worlds are in danger of disappearing altogether. Aileana holds the key to saving both worlds, but in order to do so she must awaken her latent Falconer powers. And the price of doing that might be her life.

Rich with imaginative detail, action, fae lore, and romance, The Vanishing Throne is a thrilling sequel to The Falconer.

When I read THE FALCONER last year, the cruelest cliffhanger E V E R had me totally geared up for the second book ASAP. I wasn't sure how I was going to wait until June for the next book. Luckily, I was approved for the egalley in January (just a handful of months after I finished the first one) and I just never got around to it. I finally sat down and resolved to read it during the Bookish Bingo readathon… and it took me FOREVER. The first one was also slow-going for me, so I shouldn't have been surprised… but wow. I usually read a book every 2-3 days and this one took me 10 days.
My biggest issue with this world (and often with fantasy in general) is that it just is a lot for me to digest. I have a hard time staying focused and interested because my apparently tiny brain can't wrap my head around the world. I read the book in bite-sized pieces every day because I couldn't keep my brain focused on it. Every time I picked up the book, I remembered everything that had previously happened. It was nice because I just felt very connected to the characters and the story, even when I read so little each day.
In hindsight, the book really did have a nice mix of action, world-building, and character development. I can't deny that it's a super well-rounded fantasy. I don't know what my issue is with the pacing. Anyways, we learned sooo much more about the faerie world and how their "ranks" are (each type of faerie and how they all know each other). I loved getting to meet all of these new, crazy characters. Speaking of characters. THE ROMANCE. I loved it. I ship it for sure. Aileana is a badass and so is Kiaran and just YES.
Of course, this one also ended with a cliffhanger. It wasn't as bad as the first book, but definitely just enough to keep me waiting around eagerly for the third installment! The ending overall was really the best part of the story – packed with action and revelations about who everyone REALLY is.
Overall, this feels like a middle book (as Debby eloquently talked about) because it's a lot of explanations and setting up for the next. Good character development and some swoons too!
Related Posts