I received this book for free (hey, thanks!) in exchange for an honest review. I promise that this does NOT affect my opinion of the book or the content of my review. For real.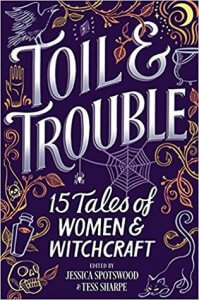 Toil & Trouble: 15 Tales of Women & Witchcraft
by
Tess Sharpe
,
Jessica Spotswood
,
Brandy Colbert
,
Zoraida Córdova
,
Andrea Cremer
,
Kate Hart
,
Emery Lord
,
Elizabeth May
,
Anna-Marie McLemore
,
Tehlor Kay Mejia
,
Lindsay Smith
,
Nova Ren Suma
,
Robin Talley
,
Shveta Thakrar
,
Brenna Yovanoff
Genres:
Paranormal
,
Young Adult
Published by
Harlequin
on August 28, 2018
Also by this author:
The Last Summer of the Garrett Girls
,
Summer Days & Summer Nights
,
Open Road Summer
,
The Start of Me and You
,
When We Collided
,
The Names They Gave Us
,
Meet Cute: Some People Are Destined to Meet
,
The Map from Here to There
,
The Falconer
,
The Vanishing Throne
,
Hungry Hearts: 13 Tales of Food & Love
Format:
Audio/eARC
(405 pages) •
Source:
Hoopla, Publisher
Goodreads
•
Amazon
•
Barnes & Noble
A young adult fiction anthology of 15 stories featuring contemporary, historical, and futuristic stories featuring witchy heroines who are diverse in race, class, sexuality, religion, geography, and era.

Are you a good witch or a bad witch?

Glinda the Good Witch. Elphaba the Wicked Witch. Willow. Sabrina. Gemma Doyle. The Mayfair Witches. Ursula the Sea Witch. Morgan le Fey. The three weird sisters from Macbeth.

History tells us women accused of witchcraft were often outsiders: educated, independent, unmarried, unwilling to fall in line with traditional societal expectations.

Bold. Powerful. Rebellious.

A bruja's traditional love spell has unexpected results. A witch's healing hands begin to take life instead of giving it when she ignores her attraction to a fellow witch. In a terrifying future, women are captured by a cabal of men crying witchcraft and the one true witch among them must fight to free them all. In a desolate past, three orphaned sisters prophesize for a murderous king. Somewhere in the present, a teen girl just wants to kiss a boy without causing a hurricane.

From good witches to bad witches, to witches who are a bit of both, this is an anthology of diverse witchy tales from a collection of diverse, feminist authors. The collective strength of women working together—magically or mundanely--has long frightened society, to the point that women's rights are challenged, legislated against, and denied all over the world. Toil & Trouble delves deep into the truly diverse mythology of witchcraft from many cultures and feminist points of view, to create modern and unique tales of witchery that have yet to be explored.
I recently worked my way through this anthology in the week leading up to today – Halloween! – so I thought it would be perfect to post it today. I've had the egalley for a while and mixed in the audiobook too. As usual with anthology reviews, you can see reviews for each story below, along with the cumulative star rating in the book info area above. The cumulative rating for the stories came to about 3.25 stars, so I decided to round up to 3.5 stars. I enjoyed this anthology overall more than my ratings may imply. There were a lot of great stories and it comes as no surprise to me that my favorites were more contemporary-oriented. It was harder for me to get into the historical ones or straight-up paranormal/fantasy. However, it's nice that this feels super well-rounded! I think there's a story in here for readers of all genres and types.
---
Starsong by Tehlor Kay Mejia

This story was actually my first foray into bruja books. I've had some on my TBR but I don't often read witchy books to begin with. I loved the main character, Luna, and her interest in (or abilities related to) astrology. The fact that her story/romance involved fighting with an astronomy enthusiast was awesome. Opposites attract, eh?
Afterbirth by Andrea Cremer
Interesting and odd, but not for me I guess? I know it's hard to do a lot in a short amount of pages but this one, unfortunately, felt a little pointless. There were strong religious tones and it was set way back in the 1800s (if I remember correctly), so it just wasn't my cup of tea. I liked seeing a historical perspective of witchy things though! It was interesting while I was reading it but I definitely won't remember it.
The Heart in Her Hands by Tess Sharpe

This was pretty great. I loved the main character and how badass she was in just a short story! It amazes me in general the amount of "worldbuilding" Sharpe was able to do in that time frame as well. The whole concept of soulmates through witchy means was awesome. I was slightly confused in certain parts, especially toward the end, but I definitely liked it overall.
Death in the Sawtooths by Lindsay Smith

Hmm not sure what to make of this one. I think this falls in the "should be a longer story/book" category. I wish there was more world building too. I finished reading this story earlier this morning (at the time of writing this review) and I think I remembered it the least.
The Truth About Queenie by Brandy Colbert
This was really good for most of the story but gahhh the ending. I need more than that; I have so many questions and I'm bummed it didn't end how I personally wanted it to lol. I liked the contemporary feel, unlike most of the earlier stories. The skateboarding stuff was pretty good but I'm super picky when skating is referenced in books lol.
The Moonapple Menagerie by Shveta Thakrar
I loved the coven of girls here and the ending, but I think I got somewhat lost in the middle. (What else is new?) Without getting too spoilery, I liked the twists! The writing was quite nice and the characters had a lot of personality for being such a short story.
The Legend of Stone Mary by Robin Talley

This one was short, straightforward, and kind of simple… but I liked that. It was a good story about forgiveness with a hint of witchiness. Stories involving some kind of bullying always make me sad but I think how everything came together made me feel better. This was a solid short story that genuinely didn't need any more or less pages, which is hard to come by!
The One Who Stayed by Nova Ren Suma

Sad and powerful. I liked the unique way it was written and the fact that it was purposefully vague, but you still knew what was going on. I would have liked a little bit more from it, maybe just in terms of added details and length? I'm curious about this author now; I've had books on my TBR but haven't gotten to them yet.
Divine are the Stars by Zoraida Cordova

Another one that confused me but I think it could be my fault; my mind was kind of elsewhere for some reason? Beautiful writing and a good message, I think. Strong messages about family – both good and bad people that you happen to be related to – with intriguing witch vibes.
Daughters of Baba Yaga by Brenna Yovanoff
Very revenge-filled and badass. Maybe the gals were a bit on the "bad witch" side but I enjoyed that; some area of gray can be fun. On that end, I do also wish there was a little more relating to the title (Baba Yaga). The writing style was too choppy though and it made the story feel scattered when transitioning between scenes, but I enjoyed the plot!
The Well Witch by Kate Hart

Maybe I'm an idiot but this was not witchy at all? I mean the title implies something, so I think I can see the witch-related part in hindsight, but I don't know… I was intrigued by the first half and some of the potential romance but it went downhill quickly. The ending was not great and it deserved a better one.
Beware the Girls with Crooked Mouths by Jessica Spotswood

This was fascinating and beautifully written! I could have gone for more pages, especially with the ending. Some stories in this collection could have used more pages in a bad way (the endings were abrupt and the stories didn't have enough time to be fleshed out) and other stories could have used more pages in a good way (I loved them and wanted more!). This one falls somewhere right in between those two, but it's probably one of my favorites in the collection still.
Love Spell by Anna-Marie McLemore

Interesting! I knew this one would probably not be for me, with the religious aspects involved, but I think it exceeded my personal expectations. I can see why people love this author though, she has some seriously pretty writing! The writing style and concept definitely made it a solid read for me.
The Gherin Girls by Emery Lord

Yes, of course I loved Emery Lord's story. She's the best. I loved these three sisters and their somewhat subtle powers. She really just knows how to write relationships, romantic or familial or friends. There were some heavier moments balanced in the relationship of these three sisters. Perfect.
Why they Watch Us Burn by Elizabeth May

"There are too many people in this world that would rather see a woman burn than wield power." This was the right story to end this collection, even if it was sad. Really powerful allegory for today's society. I couldn't tell fully when this book takes place, because it could honestly happen at any time. Again, that's why I thought it was so appropriate and timeless.
Related Posts