I received this book for free (hey, thanks!) in exchange for an honest review. I promise that this does NOT affect my opinion of the book or the content of my review. For real.
Rise of Fire
by
Sophie Jordan
Series:
Reign of Shadows #2
on February 7th 2017
Also by this author:
Reign of Shadows
(304 pages) •
Goodreads
•
Amazon
•
Barnes & Noble

The richly suspenseful sequel to Sophie Jordan's romantic fantasy Reign of Shadows.

Luna and Fowler have escaped the kingdom of Relhok, but they haven't escaped the darkness. When a battle against the dark dwellers mortally injures Fowler, Luna is faced with a choice: put their fate in the hands of mysterious strangers or risk losing Fowler forever.

Desperate to keep the one bright part of her life alive, Luna accepts the help of soldiers from a nearby kingdom. Lagonia's castle offers reprieve from the dangerous outside world—until the king discovers both Fowler's and Luna's true ties to Relhok and their influence over the throne.

Now pawns in each kingdom's political game, Luna and Fowler are more determined than ever to escape and build the life they've been dreaming of. But their own pasts have a tight hold on their hearts and their destinies. Luna must embrace the darkness and fire within her before she loses not only Fowler, but the power she was destined to inherit.
Initial Excitement
The reviews for REIGN OF SHADOWS were incredibly mixed. I was very happy to fall on the "loved it" side of the spectrum. I was so addicted to reading it and was eager to read RISE OF FIRE. The cliffhanger from the first book was Cruel with a capital C. I loved the twists and turns and hoped for much of the same in book two. Needless to say, I hopped at the chance to read this one early… aka ASAP.
Warning about this review:
The previous book ended with a cliffhanger, wondering if Fowler was going to survive what happened to him. The synopsis of this book gives this away completely; you know before even starting whether he survives. My review is going to operate under the assumption you already know THIS because you read the synopsis.
Quick Summary
This book picks up right where the previous story left off. Thank god, after that cliffhanger! I actually did forget quite a bit that happened in book one, but the beginning of RISE OF FIRE did a great job of setting the stage and reminding you what just happened. The story follows Luna and Fowler as they travel away from the dwellers with a group of men that find them. Fowler is in bad shape and she decides getting him medical attention should be the #1 priority, so she decides to go with these men. The two end up in Lagonia with a king and his two children, caught between all of them, and trying to escape as soon as possible.
Storytelling, Setting, and Feels
I was pretty captivated with this story in the same way I was with REIGN OF SHADOWS. It was missing just a little something for me though? I can't say I really disliked any major part of the book, but perhaps it just didn't measure up to the first one. I think many who enjoyed the first book will feel the same way.
I don't mind love triangles but was pretty disheartened when I thought there was about to be one. I won't spoil anything but don't worry: there wasn't one in really any way. There were some other people who tried to get in the way of everything, but yeah – no concerns there.
The story itself was certainly different than the first book. REIGN OF SHADOWS felt more like a quest book, where people have to journey together through the dark (!). It was a bit creepier because of that aspect. I was excited to see how the world opened up, and I suppose it did a little bit. I expected more world-building though. Since RISE OF FIRE took place in a castle with new characters, it did have a new feel to the story. Different conflicts arose but the same general purpose of the story continued.
Characters
Luna and Fowler are essentially captives in Lagonia, with a few twists and turns happening throughout their time there. Luna made me really happy a few times because she chose honesty instead of letting little lies add up over time. This is always a pet peeve of mine in books because you know the lies come crashing down eventually. Her being upfront about lots of things made for a less stressful story in a lot of ways. However, as you'll see below, she did piss me off a time or two.
Negative Stuff
There were some things I really loved about the story and Luna's characterization, but there were a few times she frustrated the hell out of me. I appreciated when she was honest about her background and blindness because lying about it would have made things worse. She avoided that classic trope/mistake the MC makes in most books. Then, she went ahead and did the annoying cliche thing. She overheard a conversation with Fowler and someone else, then immediately jumped to conclusions without listening to the rest of the conversation. The whole "I've heard enough so now I'll walk away and make assumptions" thing is annoying, especially when she'd been smart about ~other things~ throughout the book. I think I'm being nitpicky but for some reason that particular scene annoyed me and seemed out of character for her.
Ending Feels
Even though I liked how the story wrapped up, I felt that it was definitely abrupt at times. There was a bit of a climax that made a few things get resolved very quickly… and then there was the END. Everything was essentially wrapped up, which is nice, but they all got there too fast for me. I would have liked maybe 20 more pages in a few of the final chapters. Again, I'm happy with HOW things wrapped up… but could have used more!
TL;DR?
The bottom line for me is that if you liked the first one, you'll probably enjoy this one too. I also think that the same "issues" some people had with book one will appear again – maybe the pacing or the lack of a full connection. I don't think those problems were fully resolved. There were less twisty spots but I was surprised a few times! I enjoyed the new setting, new characters, and new challenges for our main characters. The writing was just as good as book one as well. I would recommend this duo if you enjoy light fantasy books. (There actually isn't even really magic in this series?) Go forth and read these!!
Thoughts in a Gif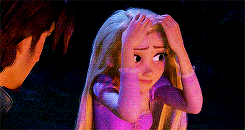 Related Posts