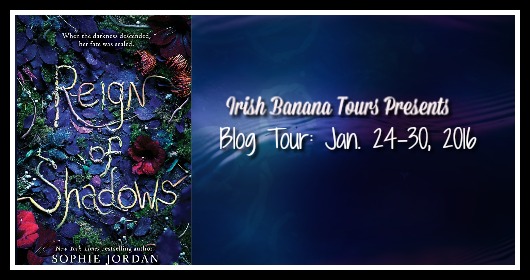 I received this book for free (hey, thanks!) in exchange for an honest review. I promise that this does NOT affect my opinion of the book or the content of my review. For real.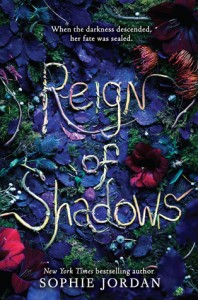 Reign of Shadows
by
Sophie Jordan
Series:
Reign of Shadows #1
on February 9th 2016
Also by this author:
Rise of Fire
(304 pages) •
Goodreads
•
Amazon
•
Barnes & Noble

Seventeen years ago, an eclipse cloaked the kingdom of Relhok in perpetual darkness. In the chaos, an evil chancellor murdered the king and queen and seized their throne. Luna, Relhok's lost princess, has been hiding in a tower ever since. Luna's survival depends on the world believing she is dead.

But that doesn't stop Luna from wanting more. When she meets Fowler, a mysterious archer braving the woods outside her tower, Luna is drawn to him despite the risk. When the tower is attacked, Luna and Fowler escape together. But this world of darkness is more treacherous than Luna ever realized.

With every threat stacked against them, Luna and Fowler find solace in each other. But with secrets still unspoken between them, falling in love might be their most dangerous journey yet.
MORE LINKS: Goodreads | Amazon | B&N | Indiebound | iBooks | The Book Depository

Oh man, what a book! Within the first few pages, I didn't want to stop reading. I had pulled it up on my Kindle and wanted to see how the beginning would go and kept reading for 10 minutes (even though I had somewhere else I needed to be). I didn't expect to be so interested and engaged within the first few pages of the book! This feeling did not end; I couldn't stop reading until I reached the last page.
The book reminded me a bit of Princess of Thorns, which I absolutely adored. There was a journey with someone who didn't necessarily want to journey with another person, a tiny bit of gender-bending, and interesting creatures/people along the way. I just love stories like this apparently. (Any recs for other journey-style fantasy books?!)
I loved Luna and Fowler. The set-up for the story was fantastic, with Luna living in her tower, letting Fowler and his companions into their lives, and starting their journey. I shipped them kind of immediately. I couldn't help it. I liked that the two of them took a little while to get to the same place as me, re: their feelings for each other. I shipped them before they even knew they liked each other.
Like I said above, this book featured a cool journey in the DARK because there's a perpetual eclipse over the kingdom. I think this plot point has SO MUCH POTENTIAL for the rest of the series! I want to know why this is happening (especially with the coincidence of when she was born and her name, duh). I hope we learn more in the next book and someone has special powers to fling around. Anyways, I love when two characters set out on a journey and encounter different things. This sounds like a very vague statement, but I'll stick with it. There are some seriously creepy sounding things out there (hence the Friends gif below) – people couldn't walk anywhere without risking their lives.
Overall, this story kept me captivated and interested from start to finish. When I look back on the book, I feel like there weren't as many legitimate plot points and wasn't much action. I don't think this is a bad thing, especially because the book still kept me really intrigued throughout! It reads as a super quiet fantasy story, which is just what I like. I absolutely can't wait to see where this series goes! (Also, I hope the next cover is equally fabulous and flowery and kind of creepy.)

| | |
| --- | --- |
| Plot & Premise | |
| Characters | |
| Writing Style | |
| Pacing & Flow | |
| Feels or Swoons | |
| Addiction Level | |
| Overall: | 4.3 |
About Sophie Jordan
Sophie Jordan took her adolescent daydreaming one step further and penned her first historical romance in the back of her high school Spanish class. This passion led her to pursue a degree in English and History.

A brief stint in law school taught her that case law was not nearly as interesting as literature – teaching English seemed the natural recourse. After several years teaching high school students to love Antigone, Sophie resigned with the birth of her first child and decided it was time to pursue the long-held dream of writing.

In less than three years, her first book, Once Upon A Wedding Night, a 2006 Romantic Times Reviewers' Choice Nominee for Best First Historical, hit book shelves. Her second novel, Too Wicked To Tame, released in March 2007 with a bang, landing on the USA Today Bestseller's List.
LINKS: Website | Twitter | Facebook | Instagram 
Blog and Book Tours
St. Louis, MO | February 9, 2016
Main Street Books, off-site at Spencer Road Library, 7 PM
Naperville, IL | February 10, 2016
Anderson's Bookshop, 7 PM
Washington, D.C. | February 11, 2016
Politics & Prose, off-site at the Bethesda Library, 7 PM
Fairfax, VA | February 12, 2016
Barnes & Noble, 7 PM
Bensalem, PA | February 13, 2016
Barnes & Noble, 1 PM
New York City | February 14, 2016
Books of Wonder, 4 PM
*Billed as "Epic Reads Presents: A Date with Royalty"
Giveaway: Three Finished Copies!
Related Posts