I received this book for free (hey, thanks!) in exchange for an honest review. I promise that this does NOT affect my opinion of the book or the content of my review. For real.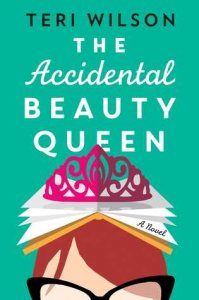 The Accidental Beauty Queen
by
Teri Wilson
Genres:
Adult
,
Contemporary
Published by
Simon and Schuster
on December 4, 2018
Format:
eARC
,
Paperback
(304 pages) •
Source:
Blog Tour, Publisher
Goodreads
•
Amazon
•
Barnes & Noble

In this charming romantic comedy perfect for fans of Meg Cabot and Sophie Kinsella, critically acclaimed author Teri Wilson shows us that sometimes being pushed out of your comfort zone leads you to the ultimate prize.

Charlotte Gorman loves her job as an elementary school librarian, and is content to experience life through the pages of her books. Which couldn't be more opposite from her identical twin sister. Ginny, an Instagram-famous beauty pageant contestant, has been chasing a crown since she was old enough to enunciate the words world peace, and she's not giving up until she gets the title of Miss American Treasure. And Ginny's refusing to do it alone this time.

She drags Charlotte to the pageant as a good luck charm, but the winning plan quickly goes awry when Ginny has a terrible, face-altering allergic reaction the night before the pageant, and Charlotte suddenly finds herself in a switcheroo the twins haven't successfully pulled off in decades.

Woefully unprepared for the glittery world of hair extensions, false eyelashes, and push-up bras, Charlotte is mortified at every unstable step in her sky-high stilettos. But as she discovers there's more to her fellow contestants than just wanting a sparkly crown, Charlotte realizes she has a whole new motivation for winning.
On Sale: December 4, 2018
Gallery Books | Trade Paperback Original
Available for purchase here
ISBN: 9781501197604 | $16.00
E-ISBN: 9781501197611 | $7.99
Audio-ISBN: 9781508283553 | $17.99
---
Review
Once I learned that this author had written books and Hallmark movie adaptations, I was sold on this book. I also tend to love books that are billed as more "romantic comedies" as well, a la Sophie Kinsella. Another key point? The reference to Miss Congeniality. I'm so happy that this book lived up to my expectations!
Charlotte and Ginny are twin sisters. The former is a children's librarian and the latter is a beauty queen… until they have to secretly switch places. While Charlotte visits with Ginny in Florida for a pageant, Ginny suffers an allergic reaction that would otherwise derail her participation in the pageant. Much to Charlotte's initial dismay, Ginny begs her to compete instead… and she agrees.
It was interesting to see these two seemingly different sisters try to bond and essentially become the same person for a few days. It was even better to meet others in the competition and see how Charlotte's biases toward them completely changed; she was able to see that her sister was right – they ARE about more than just outward appearances. The contestants are supportive and encouraging to each other, and there were a lot of sweet scenes along those lines.
Of course, it wouldn't be a rom-com without the romance element! It's not exactly in the synopsis so I won't spoil too much, but the romance was pretty great. It didn't take up a lot of focus though – the book was nicely balanced between family dynamics and romance. The love interest himself was swoon-worthy and he had great chemistry with Charlotte. I mean, most of their banter was about Harry Potter and other literary references! What more could you want from a man!?
My only area of concern would be around the pacing? The last chapter or two felt slightly rushed and could have used a little more build-up or focus. However, I loved the way the book ended in general from a plot perspective. It was heartwarming and appropriate given all of the shenanigans the girls pulled throughout the story. Overall, if you liked Miss Congeniality and lots of witty banter surrounding literary references, I have a good feeling you'll love this one too!
---
About the Author & Interview
Teri Wilson is the author/creator of the Hallmark Channel Original Movies Unleashing Mr. Darcy, Marrying Mr. Darcy, and The Art of Us, as well as a fourth Hallmark movie currently in development. Teri is a double finalist in the prestigious 2018 RWA RITA awards for her novels The Princess Problem and Royally Wed. Teri also writes an offbeat fashion column for the royal blog What Would Kate Do and is a frequent guest contributor for its sister site, Meghan's Mirror. She's been a contributor for both HelloGiggles and Teen Vogue, covering books, pop culture, beauty, and everything royal. In 2017, she served as a national judge for the Miss United States pageant in Orlando, Florida, and has since judged in the Miss America system. She has a major weakness for cute animals, pretty dresses, Audrey Hepburn films, and good books. Visit her at TeriWilson.net or on Twitter @TeriWilsonAuthr.
Thank you, Teri, for taking some time to join me on my blog! Tell me a little about yourself and how you came up with the idea for this book.
Hi! Thanks so much for having me. My name is Teri Wilson and I write women's fiction and contemporary romance. Most of my books have a fun, rom-com vibe. I'm also the author/creator of four original movies for the Hallmark Channel. I'm super excited about my newest book, The Accidental Beauty Queen. I like to describe it as Miss Congeniality meets The Parent Trap. I got the idea for the book last summer when I served as a judge at the national Miss United States pageant, which is the actual pageant featured in Miss Congeniality (it's a real thing!). I'd never been a part of a pageant before, and it was a fantastic experience. Honestly, the book sort of wrote itself. I can't wait for readers to get their hands on it.
What is your ideal environment for writing?
It varies. Switching things up helps to keep things fresh, but my two favorite places to write are Bird Bakery, a gorgeous cupcake place in my neighborhood, and at home with my sweet dogs at my feet.
When you aren't writing movies or books, what can you be found doing, watching, or listening to?
I'm a big Hallmark Channel fan, so I always catch the new Hallmark movie on Saturday night. And there's never been a rom-com I haven't loved, so I see a lot of movies. I also love ballet, so I like to see live dance performances and musical theatre. Some of my other favorite things are baking yummy desserts, knitting and travel. My son is in English teacher in Korea, and my husband and I just went to visit him in Seoul a few months ago.
I'm a huge fan of Hallmark movies, so I was excited to see that you'd developed and written some! How did you get involved with that and what is it like to work within their trademark style?
My fourth Hallmark movie premieres on December 15! I honestly can't believe it. I've always been a huge Hallmark fan, so I just about fainted when they optioned my first project with them. The first book of mine that was adapted by Hallmark was Unleashing Mr. Darcy, and my literary agent just thought it would be a really great fit for them. So she asked a longtime family friend of hers, who happened to be a television producer, if she could pitch it to the network as a personal favor. She did, and it took a while for them to decide, but about a year later they optioned the book. The movie was very popular and has kind of become a Hallmark fan favorite, and I think that's probably opened other doors for me with the Hallmark family. They do have a very specific house style, but working within those parameters hasn't been a problem for me simply because I've watched so many of their movies that it comes pretty naturally. They produce the types of stories I love, so it's a great match.
You seem to be heavily involved with blog and guest posts about all things Royal – how and when did your interest in that topic get started?
I've been a big fan of the royals since I was a child. When I was a little girl, they seemed like real-life fairy tale characters to me. Then when I was thirteen years old, my father died in a car accident right around the time Princess Diana became engaged to Prince Charles. Something about Diana's kindness and compassion really touched me and gave me hope during a very difficult time. I wrote an essay explaining my feelings about Diana and the royals a few years ago for HelloGiggles, which can found here: https://hellogiggles.com/news/princess-diana-on-her-birthday/
Do you have any exciting things in the pipeline you can talk about for 2019?
I have a book coming out in February titled How to Rescue a Family that's part of a six-book, multi-author series for Harlequin Special Edition called Furever Yours. All of the books are romances with strong pet rescue themes and there's an animal shelter central to the series. I'm so excited about this project because I'm a big dog lover! As soon as I heard about Harlequin's plans for it, I was emailing my editor begging for a slot.
I always like to do a "lightning round" of questions – here we go!
Favorite season?   Winter/the holiday season
Favorite place to read a book?    Bed
Favorite vacation spot?   London, England
Favorite movie?    Love Actually
Favorite TV show?    Project Runway
Tacos or pizza?    Pizza (I make homemade pizza every Thursday night!)
Coffee or tea?    Coffee
Staying in or going out?   Staying in
Cooking or baking?    Baking
Plans or spontaneity?    Spontaneity
Comedy or drama?      Comedy
Related Posts