I received this book for free (hey, thanks!) in exchange for an honest review. I promise that this does NOT affect my opinion of the book or the content of my review. For real.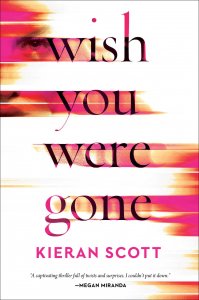 Wish You Were Gone
by
Kieran Scott
Genres:
Adult
,
Mystery/Thriller
Published by
Simon and Schuster
on November 2, 2021
Also by this author:
Only Everything
,
Complete Nothing
,
Something True
,
Pretty Fierce
Format:
eARC
(352 pages) •
Source:
Publisher
Goodreads
•
Amazon
•
Barnes & Noble

For fans of the Netflix hit original series Dead to Me comes "a captivating thriller" (Megan Miranda, New York Times bestselling author) about what happens when the death of a husband and father isn't the tragedy everyone believes.

Emma Walsh's looks-great-on-the-outside marriage is at the breaking point, and she's finally worked up the courage to confront her husband James about his drinking—his alcoholic rages, his blackouts, the uncertainty and fear his behavior has created for her and their two kids. But James never shows up to meet her as planned, and all her righteous words go unsaid. And unsaid they remain, because the next time Emma sees James, his body is crumpled amidst the wreckage of his flashy car, smashed to its final resting place halfway through the back wall of their suburban house's roomy garage.

In the aftermath of the fatal crash, she and her teenage children, Kelsey and Hunter, begin to imagine life without the looming, volcanic presence of their husband and father. Buoyed by the support of her two closest friends, Emma struggles to deal with her grief, complicated by the knowledge that James's legacy as an upstanding business owner and family man shines only because so many people were so willing, for so long, to keep his secrets—secrets that twist into new and unexpected shapes as the mysterious details of his last day of life begin to come to light.
I've loved Kieran Scott (also known as Kate Brian) for many, many years. Her PRIVATE series has been on my list to reread (or at least finally complete) for YEARS. I hold that series up with GOSSIP GIRL and THE A-LIST as some of my favorite addicting series about rich and/or terrible teenagers. As Kate Brian, she blew me away with the SHADOWLANDS trilogy (some of the first reviews on my blog!). She also wrote a fun mythology-based trilogy a number of years ago that I really enjoyed as Kieran Scott. Since then, she wrote two horror/mysteries (that I haven't gained the confidence to read yet) and a fun political-ish YA thriller. I love that she's taken a turn writing adult mystery/thrillers because honestly it seemed right up her alley.
WISH YOU WERE GONE is her adult fiction debut. It follows a family rattled by the sudden death of the patriarch. Emma and her son, Hunter, hear a crash one night and discover that her husband, James, has crashed through the garage and died. They both know he was probably drunk at the time. Her daughter, Kelsey, rushes home to see what's happened. Turns out, James wasn't the best guy and has more secrets than he can count. The story alternates between multiple characters, including Emma and her kids, to really understand who James was. There's an interesting power struggle between Lizzie and Gray, Emma's two best friends who don't really get along, and Gray's husband (James' business partner).
This was a super addicting story that I was eager to finish once I really got into it. There were so many twists and turns. Naturally Emma, her friends, and her kids try to pursue "leads" about James's last day (how is it possible that his leg is out of the car if he crashed into the garage and died on impact? Why is his tie in the bushes?) and learn all they can about his life. Like I said, he had plenty of secrets – some were known to others in town and some were known by no one.
Usually when reading mysteries or thrillers, I can come up with a theory or two that ends up partially true or mostly true. It sometimes takes the fun out of reading because I don't get nearly as shocked as I want to. With WISH YOU WERE GONE, I was constantly surprised. I thought some reveals were too easy, only to learn even more shocking twists in the coming chapters.
Overall, this was an impressive debut in a new genre for Kieran Scott – I hope she has more stories like these in the works!
Related Posts