Complete Nothing
by
Kieran Scott
Series:
True Love Trilogy #2
Genres:
Contemporary
,
Mythology
,
Young Adult
Published by
Simon and Schuster
on September 30th 2014
Also by this author:
Only Everything
,
Something True
,
Pretty Fierce
,
Wish You Were Gone
Format:
Paperback
(336 pages) •
Source:
Purchased
Goodreads
•
Amazon
•
Barnes & Noble

True is not exactly loving New Jersey. Banished from Mount Olympus and tasked with helping couples find love without using her powers, the goddess-formerly-known-as-Cupid is having a tough time. Especially now that True's immortal love, Orion, has also appeared at her New Jersey high school—but with no memory of their relationship. To distract herself from seeing Orion flirt with another girl, True focuses her efforts on making a match: Peter and Claudia. Peter is the star quarterback and the most popular guy in school. But he's insecure about his future, so he preemptively dumps Claudia, his girlfriend. (If she won't want to be with him later, why stay together now?) Claudia doesn't take the breakup too well, and she's ready to show the quarterback of their rival school just how ready she is to get over it. But True sees something in these two seniors. She believes they should be together—but can she help them find their way back to each other (and get herself closer to home)? Or have things already spun too far out of control?
 Mild spoilers ahead if you haven't read book one!
---

I liked that Orion showed up on earth and that he didn't know who True was. It definitely added a little something to the plot and finally gave a bit of chemistry. It was hard to ship True and Orion when he wasn't around! (Especially when the whole point of the book is for her to save him because she loves him)
The second installment in the trilogy featured a couple (Claudia and Peter) breaking up and True trying to get them back together. I liked that it was a different situation than the couple in the first book. They were cute together and I shipped them even though they didn't have a lot of time together.
It was cool seeing True get some of her powers back, learn more about Heath, and learn even more about Mount Olympus and its intricacies. I wish I remembered more Greek mythology (so I could see if some of the stories are accurate!) – but it's fun either way.
The set-up for the next book was, as usual, perfect! It made me anxious to keep going and finish off the trilogy. I have a feeling that True and Orion will finally get some airtime (based on the fact that True, Darla, and Orion are the next POV's) which will definitely be a great way to end things.

Because of True's sublplot gaining some interesting stuff, there was even more going on in this book than the first. It's already a bit too much with the three POV's, but adding more things to each person's story just makes it almost too much. It's not like it's difficult to follow or anything (since their voices are all different), but still – seemed like things could have been fleshed out more if there was less going on.
It gets a little tiring that the couple has to be with other people throughout the whole book before reaching their final "true love." I know that it just adds to the roadblocks and keeps the story interesting, but I rolled my eyes a bit. It's hard to ship people when they have no interactions!
Again, I had the issue of it holding my attention sometimes.
Another cute installment in the trilogy! Claudia and Peter were a great couple; you could tell they should be together. I loved watching True interact with Orion and also try to figure out what was going on up at Mount Olympus. There was a bit more drama added to the story, but I was just as interested (if not a little more) in this book than the previous. Hoping for an even stronger finish with the final book!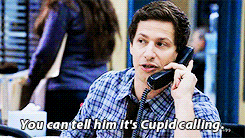 Related Posts