In an effort to cut down on posts and burnout, my Review Roundups will feature 2-4 books I've read or listened to recently. Sometimes they're newer releases and sometimes they're all backlist titles. My ARC reviews usually get the solo treatment. Enjoy the mini reviews!
---
I received this book for free (hey, thanks!) in exchange for an honest review. I promise that this does NOT affect my opinion of the book or the content of my review. For real.
Date Me, Bryson Keller
by
Kevin van Whye
Genres:
Young Adult
,
Contemporary
Published by
Random House
on May 19, 2020
Format:
eARC
(336 pages) •
Source:
Publisher
Goodreads
•
Amazon
•
Barnes & Noble

What If It's Us meets To All the Boys I've Loved Before in this upbeat and heartfelt boy-meets-boy romance that feels like a modern twist on a '90s rom-com!

Everyone knows about the dare: Each week, Bryson Keller must date someone new--the first person to ask him out on Monday morning. Few think Bryson can do it. He may be the king of Fairvale Academy, but he's never really dated before.

Until a boy asks him out, and everything changes.

Kai Sheridan didn't expect Bryson to say yes. So when Bryson agrees to secretly go out with him, Kai is thrown for a loop. But as the days go by, he discovers there's more to Bryson beneath the surface, and dating him begins to feel less like an act and more like the real thing. Kai knows how the story of a gay boy liking someone straight ends. With his heart on the line, he's awkwardly trying to navigate senior year at school, at home, and in the closet, all while grappling with the fact that this "relationship" will last only five days. After all, Bryson Keller is popular, good-looking, and straight . . . right?

Kevin van Whye delivers an uplifting and poignant coming-out love story that will have readers rooting for these two teens to share their hearts with the world--and with each other.
Oh man, this book was EXACTLY what I needed. I'd been struggling with reading during quarantine (and honestly was behind on my challenge BEFORE too) so Chris suggested I take a break from the book that was taking me forever and putting me in a slump, and read something quick and fun. I was able to sit down and read DATE ME, BRYSON KELLER in one sitting on a Monday night and it was exactly the kick in the pants I needed to read more and finish April stronger.
The story is about a dare that popular guy, Bryson Keller, takes on at the end of their senior year. He vows to date one person per week until spring break, based on whoever asks him out first on Monday morning. He shows up late to school and royally messes up Kai's morning, so he randomly spits out "date me, Bryson Keller" and to his surprise, Bryson says yes. Kai is a closeted gay teen who really just wants to experience having a boyfriend and see what it'd be like to hang out with Bryson all week.
Needless to say, sparks fly between the two boys and it was THE CUTEST. I was literally squealing multiple times throughout the story. I like that Bryson was so easygoing about everything (especially compared to the inner turmoil poor Kai was going through), so there was a nice balance of the two "extremes" when it comes to "coming out," family reactions, school/friend reactions, etc. Yes, they were both extremes, I'd say.
I thought their chemistry built up REALLY nicely throughout the week and felt so real to me. It just made me smile and keep reading all night. All of the swoons made up for the writing style, to be honest – I didn't love it? There were a loooot of unnecessary descriptions in this one that could have been eliminated easily. It could have easily been a five-star read for me otherwise.
I highly recommend this one if you need something similar to SIMON VS. but honestly? This had even more swoons and chemistry and smiley moments for me. It got super real at the end, so be prepared for homophobia triggers from various sources. Otherwise though, this book made me so happy and I can't recommend it enough for this time in our lives.

I received this book for free (hey, thanks!) in exchange for an honest review. I promise that this does NOT affect my opinion of the book or the content of my review. For real.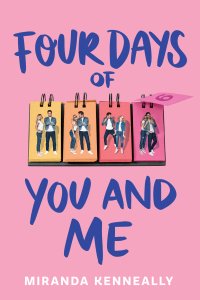 Four Days of You and Me
by
Miranda Kenneally
Genres:
Young Adult
,
Contemporary
Published by
Sourcebooks
on May 5, 2020
Also by this author:
Breathe, Annie, Breathe
,
Catching Jordan
,
Jesse's Girl
,
Stealing Parker
,
Things I Can't Forget
,
Racing Savannah
,
Defending Taylor
,
Coming Up for Air
Format:
Audio/eARC
(352 pages) •
Source:
Publisher, Scribd
Goodreads
•
Amazon
•
Barnes & Noble
A new swoon-worthy romance following a couple's love story on the same date over four years.

Every May 7, the students at Coffee County High School take a class trip. And every year, Lulu's relationship with Alex Rouvelis gets a little more complicated. Freshman year, they went from sworn enemies to more than friends after a close encounter in an escape room. It's been hard for Lulu to quit Alex ever since.

Through breakups, make ups, and dating other people, each year's class trip brings the pair back together and forces them to confront their undeniable connection. From the science museum to an amusement park, from New York City to London, Lulu learns one thing is for sure: love is the biggest trip of all.
I've been a huge fan of Miranda Kenneally for years and though this new kind of book from her was bound to be a new favorite. Unfortunately my expectations did ruin that a little for me, but this was a cute story overall.
The book generally focuses on Lulu and Alex every year on May 7th, when their class goes on a field trip, and shows how their relationship ebbs and flows over their high school years. I was hoping this would ONLY take place each May 7th but there were a lot of disjointed chapters that went back in time as well. While they provided more context that I appreciated, the format was really hard to read and keep track of sometimes.
I LIKED both characters enough and Lulu's journey to publish her graphic novel was fun to read (albeit slightly unrealistic for a high schooler, no?)… but there really wasn't as much chemistry as I hoped? They had some good moments and I understand the pining after one another but I wasn't super duper invested in their relationship… I more wanted them to get together so I didn't have to read any more back-and-forth. I will say that I loved how their relationship did genuinely grow and mature throughout high school though. It was so realistic that they acted like selfish morons freshman year and realized their mistakes by senior year.
Overall, totally appreciate what Kenneally was trying to do here but I wish it worked more for me.

I received this book for free (hey, thanks!) in exchange for an honest review. I promise that this does NOT affect my opinion of the book or the content of my review. For real.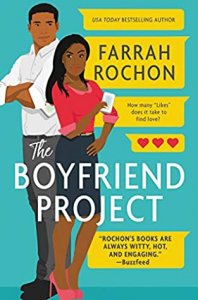 The Boyfriend Project
by
Farrah Rochon
Series:
The Boyfriend Project #1
Genres:
Adult
,
Contemporary
Published by
Hachette
on June 9, 2020
Also by this author:
The Dating Playbook
,
The Hookup Plan
Format:
eARC
(368 pages) •
Source:
Publisher
Goodreads
•
Amazon
•
Barnes & Noble

USA Today bestselling author Farrah Rochon launches a new series about three young women who become friends when the live Tweeting of a disastrous date leads them to discover they've all been duped by the same man.

Samiah Brooks never thought she would be "that" girl. But a live tweet of a horrific date just revealed the painful truth: she's been catfished by a three-timing jerk of a boyfriend. Suddenly Samiah-along with his two other "girlfriends," London and Taylor-have gone viral online. Now the three new besties are making a pact to spend the next six months investing in themselves. No men, no dating, and no worrying about their relationship status . . .

For once Samiah is putting herself first, and that includes finally developing the app she's always dreamed of creating. Which is the exact moment she meets the deliciously sexy, honey-eyed Daniel Collins at work. What are the chances? When it comes to love, there's no such thing as a coincidence. But is Daniel really boyfriend material or is he maybe just a little too good to be true?
THE BOYFRIEND PROJECT is a book I was incredibly excited for and planned to read immediately when the egalley made it to my Kindle. At the time of writing this, I'm 8 books behind on my Goodreads challenge SO clearly reading is still an issue for me, and this book didn't get read until it was published. Womp.
I have said this time and time again, but there's no better feeling EVER than when a book you're anticipating for actual years (like, when it's announced) lives up to your super-high expectations. It was amazing.
The story follows Samiah, a woman of color in the tech field, and Daniel, a new employee in Samiah's workplace who is there for ~secret business.~ I won't spoil anything or talk in specifics, but I actually thought his whole backstory and job were fascinating. It was definitely unique! The two hit it off right away but there are a few problems. Samiah is coming off of a terrible relationship where she learned on Twitter that her boyfriend was dating two other women at the same time. This was reminiscent of the CENTRAL PARK PACT series that I loved so much, and was one of the original reasons I was so excited for this book. Samiah and the other two ladies, Taylor and London, hit it off and form a wonderful trio of friends, all working on The Boyfriend Project (where they abstain from dating and men for six months). Clearly Samiah is about to fail that project!
Samiah is the kind of character you root for unequivocally. I wanted her to have the whole world because she deserved it. The other two women made great side characters and naturally I'm SO pumped to read their stories as upcoming companion novels. I think this book had great pacing with logical issues, fights, etc., which is always appreciated. Daniel was definitely mysterious for a bit and I have to say that I didn't love him at first. He kind of came off as cocky, but those inner thoughts of his faded pretty quickly? I grew to love him and completely forgot about my first impression.
Overall, I'm so thrilled that this story was as good as I wanted it to be! Like I said, I totally can't wait to read more about Samiah's friends in their upcoming stories.
Related Posts