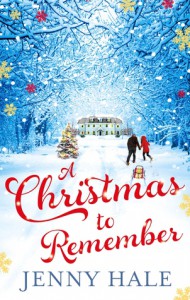 A Christmas to Remember by Jenny Hale
Genres: Adult, Holiday, Romance
Published by Bookouture on October 10th 2014
Also by this author: Coming Home for Christmas, Christmas Wishes and Mistletoe Kisses, All I Want for Christmas, We'll Always Have Christmas, It Started With Christmas, The Summer House, Christmas at Silver Falls, Christmas at Fireside Cabins, The Christmas Letters
Format: eBook (318 pages) • Source: Purchased
Goodreads • Amazon • Barnes & Noble


A beautiful story about the magic of childhood Christmas memories, the strength of family and falling in love when you least expect it. Fans of Carole Matthews, Susan Wiggs and Scarlett Bailey - and anyone who loves the sound of Christmas songs and the sparkle of decorations on the tree - will adore this festive holiday treat!

Everyone loves Christmas - don't they? Carrie Blake loves her job as a nanny but, while her friends are settling down, all of Carrie's spare time is spent with other people's families. Though it breaks her heart, her New Year's resolution is to embark on a new career and fix her love life. As Carrie starts her last job, she's sure she'll be going out on a high - the house is amazing, the kids are adorable, and she's in charge of decorating the tree! The only problem could be her boss... single-dad, Adam Fletcher might be both handsome and successful, but he's always working. Doesn't he realise he's missing out on precious moments with his son and daughter? As Adam's family arrive for Christmas including his sensitive sister, Sharon, and his fun-loving, elderly Grandpa, Walter, Carrie realises that she might just have found the perfect allies in her quest to persuade Adam to loosen up. There's still time for Carrie to make this the best Christmas ever... after all, Christmas is the time for miracles, isn't it? Let the festivities begin!
I have a feeling my review for this book is going to be a jumbled mess of feels because that's essentially what A Christmas to Remember gave me. There was one major thing that REALLY bugged me throughout the book, but the end result / everything else throughout the book was just so damn PERFECT that I have to give this a great rating and recommendation.
Let me get out of the way quickly what bugged me about the book. The main character, Carrie, was an anxious mess. This was FINE. I've just never experienced a book where the MC is so incredibly self-conscious, anxious, nervous, and unsure of herself. People out there certainly have these thoughts, so it was definitely a different but realistic perspective for me. I also sensed that there would be some major character growth throughout the story as a result. She's spent her whole life as a nanny, which she loves, but she's put her social/romantic life on hold as a result. She spends the vast majority of the book weighing the pros and cons of EVERYTHING, changing her mind a million times, and contradicting herself a lot. She would say how she needed to stop nannying to move on with her life, then one chapter later she would say that she loved it too much to stop, and then she'd be back on planning to quit. There was constant back-and-forth in her head. It got annoying, but I think it just went along with her personality. She spent a lot of time dwelling on this other woman, Andy, that she met one time and had no real information about. She assumed a little too much and it bugged me. She felt comfortable around Adam one minute, and then was comparing herself to Andy the next. She told him it was okay to take his phone call, and then got mad when he did. Honestly I get that all of this was necessary in characterizing someone with major anxiety, but it was hard to deal with the back and forth. However, all of that was worth it.
This book is literally the epitome of a cozy, family-oriented, Christmassy romance. Seriously. I wish I read this in front of a fire and Christmas tree instead of at my desk or in my bed. I was a little nervous at first embarking into an adult Christmas book, because I don't normally read books that involve parenting…or being an adult in general. Oddly enough, the kids in this book were one of my favorite parts! Olivia and David were so cute. I sat there with a smile on my face when Carrie interacted with them; she really loved her job and made a different in their lives. I loved Adam's family, too. This book was really about strengthening family relationships more than anything. Carrie came into their lives and made such a difference. It was pretty damn heartwarming. Even if you screw up with your family, you can count on them to forgive you once you've come to your senses.  The secondary characters (Adam's parents, sister, grandpa, etc.) were amazing additions to the story. I felt like I knew them.
Aside from the family aspects, the sloooow burn romance was awesome. There was a lot of chemistry but not a lot of sexual tension, if that makes sense.. it wasn't that kind of "romance book." It ended up working out okay, but I definitely expected some kind of steamy scenes? I don't know. Regardless, I was so in love with the two of them that I was willing to wait. View Spoiler »And clearly so was Carrie! I can't believe it took them a full year of friendly talking before they ended up together. I was hesitant about that at first, but I ended up deciding that I liked that. I think it made more sense that way; Carrie needed time to find herself and make a life for herself. It would have been a little too sudden if he had just asked her to stay there permanently and move in as his girlfriend. The epilogue was great – I'm so glad it was included! It gave me the closure I really wanted. « Hide Spoiler
In the end, this book was really just a perfect cozy holiday read. I was really unsure about reading an "adult" Christmas book, as I said, because I usually gravitate towards young adult books in general (obviously). After seeing the adorable cover online and someone (I don't remember who!) adding it to their TBR, I couldn't resist. I couldn't be happier that I read this book. The adorable family scenes and the slow burn romance completely outweighed Carrie's constant insecurity. It made her character more relatable but sometimes a little flip-floppy.  Regardless, I smiled like a jackass throughout the whole book.
Someone should make this into a Hallmark Christmas movie. Sign me up.
 
Related Posts